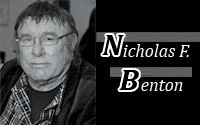 "Did you read between the lines in tonight's State of the Union address? Between the bloviated claims about our present and the false promises for our future, there was an inexorable truth: This administration only intends to make our country safe and strong for people who look a certain way, worship a certain way, and love a certain way."
This post-State of the Union comment in a GLAAD (Gay and Lesbian Alliance Against Defamation) press release captured the essence of President Trump's latest sleight of hand.
A tad more polished and deceptive than his speech before a joint session Congress a year ago, Trump's remarks Tuesday night were a veritable minefield of deception and dissembling fakery about phoney bipartisanship, involving the same noxious mix of racism and fascism he's represented all along.
For the uninitiated, or the willful truth-compromisers, there were an abundance of salient examples, beginning with the very theme of "America First," a carryover from the days of Trump's parents, when a powerful movement by that very phrase in the 1930s touted the virtues of Hitler's Germany and Mussolini's Italy. For fascist "true believers" swelling their ranks across the U.S. now, "America First" is a key-and-code phrase that's a shout out to them all.
Trump declared, "In America we know that faith and family, not government and bureaucracy, are the center of American life. The motto is, 'In God We Trust.'" This directly echoed the dominant Nazi theme of the 1930s, "Kinder, Kuche, Kirche" (translated, "children, kitchen and church") that was a call to pacified domestication against the rising movements toward social equality in that era. "The woman's place is in the kitchen" was the essence of its meaning, implying the dominion of male supremacy and all the ugliness that that represents. It was a cruel slap in the face to the "#MeToo" movement.
The reference to faith, of course, and subsequent references to "religious freedom" were unmistakably explicit references to rolling back the legal, social and legislative gains of the lesbian, gay, transgender and related elements of the U.S. population under Trump's affirmations of the right of persons to discriminate against such people in the same of "freedom of religion." It was a slap in the face to the entire LGBT+ community.
Trump referenced, "Why we salute our flag, why we put our hands on our hearts for the Pledge of Allegiance, and why we proudly stand for the National Anthem."
This was a hardly-veiled slap in the face to the Black Lives Matter movement and to all who've recognized that kneeling for the national anthem at National Football League games, a symbolic gesture initiated by Colin Kaepernick. It was a denial of the time-worn sacred American tradition of recognizing that dissent is often patriotic.
Trump issued a hardly-veiled slap in the face to America's most disadvantaged by suggesting that receipt of social safety net programs be conditioned by "work." Moving from idleness to "work" is also what was done in Nazi death camps, where "Work Will Make You Free" was cruelly preached to the victims of their genocide.
Then there were Trump's remarks on immigration. He had to condescend to overwhelming public support for DACA protections — for those brought to the U.S. illegally through no fault of their own. But he tied it to a deal on building his pet project, the wall on the U.S.-Mexican border, thus holding all 1.8 million DACA people hostage to that totally ridiculous demand.
While he cited the crimes of the MS-13 gangs who have engaged in criminal assaults and terrorized people, he made no mention, whatsoever, of domestic, white male instigated terrorism, including the taking of over 50 innocent lives in Las Vegas, the violence precipitated in Charlottesville, and so many other cases. Nor of climate.
There was more, but thank God, the night didn't end with Trump. A few moments later came U.S. Rep. Joseph P. Kennedy III with a brilliant and impassioned Democratic rebuttal.
To this, I tweeted, "Watch out GOP and your greed driven patrons! Here comes Joe Kennedy III and his generation, and Dreamers, and LGBTs, and the disenfranchised with them!" Amen to that.
---
Nicholas Benton may be emailed at nfbenton@fcnp.com.