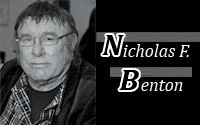 As the Russian probe noose tightens, President Trump is ramping up his personal hysteria, with attacks calling Democrats who didn't cheer for him at the State of the Union "treasonous," and now ordering up a military parade down Pennsylvania Avenue to present himself as a patriotic strong man.
Yes, he wants to use the U.S. military as a prop for his cosmetic image-making, like a panicked fugitive digging through a dresser drawer for something to use as a disguise to make a getaway. Few military professionals will be fooled by this, and will be challenged to suppress their disdain for the idea in the name of decorum.
These are truly bizarre times in our nation's history. Donald Trump is broadcasting his guilt by every evasive move he makes to attack and suppress the Russia probe. If we are to take this guilt seriously, then we are sitting flat in the middle of the greatest scandal in our history: not only did a strategic adversary interfere with a U.S. election, but our Commander in Chief has been complicit not only in reaping the rewards of this, but in obfuscating and covering up the evidence to our severe strategic global detriment.
Normally, a leader would be leading the charge to get to the bottom of not only what the Russians did in 2016, and are continuing to do. Why not now? Why no interest in doing so? And to add insult to injury, most of his Republican pliant sycophants in Congress are providing him cover in this exercise. How can they be thinking history will evaluate their behavior?
Author Garrett Graff commented on CNN this week that Special Investigator Robert Mueller's request to interview the President himself means that his wide-ranging probe into all elements of the Russian interference has provided him with "all he needs to know" to feel comfortable questioning the president.
His range of knowledge through the probe extends from Trump's past business dealings (he's been entangled with the Russian mafia in New York since the 1970s), including money laundering, Russian means of interference in the 2016 presidential election, continuing cyber intrusions into the U.S. electoral process (such as propagandizing through Twitter #releasethememo rants this past week in support of quelching the probe) indicating they have no intention of letting up on their interference, to evidence of obstruction of justice at the highest levels.
So, let's stop talking about Trump coming clean if he has nothing to hide. Obviously, he has a great deal to hide. Bottom line, he is a criminal through and through, who's avoided the slammer all these years only because he had thugs like the infamous New York mob lawyer Roy Cohn to protect him.
Cohn was effectively profiled as Trump's mentor in David Von Drehle's column in the Post last week, "The Gospel According to Cohn Has a True Believer." At his height of power, "nobody did anything in New York politics, in New York real estate, without going through Roy Cohn," Von Drehle quoted Alan Dershowitz saying, adding, "He would surely have advised exactly the sort of tactics Trump and Co. are now deploying: attack, leak, distort, impugn."
His approach was to accuse his adversary of exactly the crimes that he was committing.
In his exhausting 1988 biography of Cohn, "Citizen Cohn," writer Nicholas Von Hoffman, who died in New England at 88 just this week, wrote, "Roy was an erratic virtuoso, mixing law, politics, business, high society and crime," adding, "He always used to say, 'I don't care what the law is, tell me who the judge is.'"
On his relationship with Trump, Von Hoffman wrote, "The Trump-Roy relationship was that mixture of business and social which Roy sought, and while some people around Roy dismissed Trump as a 'user,' he stuck by Roy to the end."
One of the best profiles of Cohn as the unrepentant user and crook lawyer dying from AIDS in 1985 was done by playwright Tony Kushner in his two-part Tony and Emmy award-winning masterpiece, "Angels in America," now enjoying a revival on Broadway. In the HBO-TV version, Cohn was played by Al Pacino in an Emmy-winning rendition.
---
Nicholas Benton may be emailed at nfbenton@fcnp.com.