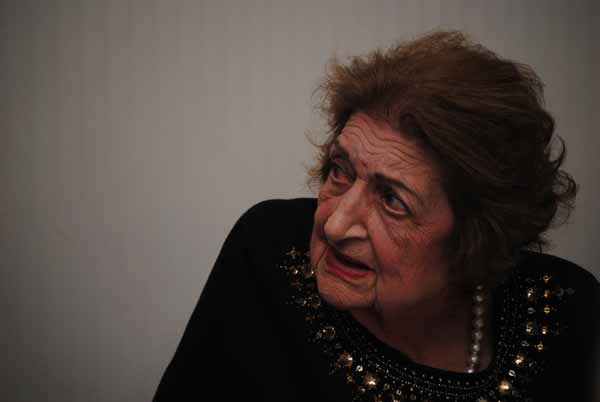 Legendary journalist and current News-Press columnist Helen Thomas was the guest of honor at a reception at the National Press Club in Washington, D.C. last Thursday.
Just outside the small banquet hall, where 40 guests attended a gathering honoring the 91-year-old former White House correspondent, hung a photo of a younger Thomas.
She was then the White House bureau chief for United Press International, and the photo was taken upon her receiving the 1984 Fourth Estate Award from the National Press Club. It was a relic from earlier days when praise flowed freely for Thomas – recognizing her longtime coverage of the White House, from the Eisenhower to Obama administrations, and her many "firsts" that paved the way for fellow female reporters.
Nowadays, the awards don't come as often. In fact, some awards once given in Thomas' name have been taken away.
After making remarks critical of Israel – "tell them to get the hell out of Palestine," she said when asked for comments on Israel for RabbiLive.com in May 2010 – public cries of anti-Semitism against the first-generation Lebanese American were followed by her resignation from her Hearst Newspapers columnist post the following month.
In December of that year, Wayne State University, Thomas' alma mater, discontinued its Helen Thomas Spirit of Diversity Award. The following month, the Society of Professional Journalists (SPJ ) did away with its Helen Thomas Award.
Retirement lasted only a few months for Thomas, as she was brought on to the Falls Church News-Press' staff in January 2011 by its owner, publisher and editor, Nicholas F. Benton. Benton was co-host of the "Helen Unplugged!" event at the National Press Club this week along with former SPJ national president and career journalist Christine Tatum.
In opening remarks at the informal gathering, Benton recalled how he ran Thomas' syndicated column when she worked for Hearst and how he was eager to include her opinions on national affairs in his weekly community newspaper.
"Nick took me in out of the cold," Thomas interjected.
Tatum, in introducing Thomas, recalled first seeing Thomas on television as a fourth-grade student and shared what an impact looking up to Thomas as a role model had on her career.
"This person, as far as I am concerned, is a national treasure," Tatum said.
Tatum led an effort to reinstate the Helen Thomas Award at the SPJ national convention in September, which resulted in a virtual dead heat in a floor vote, failing narrowly.
Addressing those gathered for the affair – guests who flew in from across the country to honor her, as well as notable journalists such as Al Eisele, editor-at-large and former editor of The Hill; Lou Chibbaro Jr., senior news reporter at The Washington Blade; and Tonda Rush and Carol Pierce of the National Newspaper Association – she spoke little of the damning remarks she made last year. Beyond affirming her lifelong commitment to human rights and justice and adding "I am more Semitic than any of those who attacked me," she humbly thanked those who stuck by her.
"I am overwhelmed with all my heart," Thomas said.
She kept her remarks brief, opting instead to take questions from the audience, which focused on her observations and opinions, drawing upon her nearly 70 years experience as a Washington, D.C.-based journalist and – through some nudging from those who have spoken with Thomas before and know her many stories – she recalled several anecdotes from her time as a White House correspondent.
The best Presidents? Johnson for his policy and Kennedy for his sharp wit, she said. Her least favorite? George W. Bush undoubtedly, she said to laughter, but maybe also Nixon, she added. How has the Internet changed the game? The public is better informed but there are more writers who aren't being held to a code of ethics, she said to nods and an "amen" from the crowd of journalists young and old.
Between a downplaying humor ("This is a pretty good beat," she said of covering the White House) and more brazen remarks ("Reagan was getting by with 20-year-old jokes," she quipped), the discussion was dotted with appreciative laughter. Being a journalist is the "best profession in the world," she said.
Thomas stayed late into the night, signing books and copies of her latest column in the News-Press, shaking hands, talking at length about public affairs, posing for myriad photographs, and thanking those who came to hear her speak.
{gallery}139/helen{/gallery}