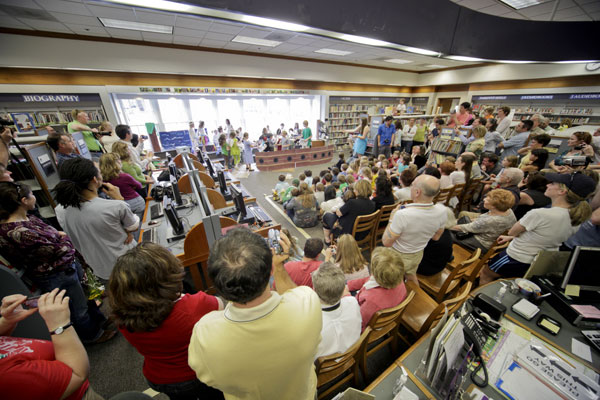 Close to 200 people packed into Mary Riley Styles Public Library to watch 28 young performers last Sunday for the library's Reader Theater production of "Peter Pan."
Close to 200 people packed into Mary Riley Styles Public Library to watch 28 young performers last Sunday for the library's Reader Theater production of "Peter Pan."
The local child actors, ranging in ages 5 to 10 years, were assisted along the way by Mary Riley's Teen Advisory Group, completely run by teen volunteers and responsible for an array of children's activities and library assistance.
Youth Services Supervisor Cary Frostick, who oversees the group, said, "They were all interested in doing programming for children. One of them is very much into theater, so I ran the idea of a reader's theater by her, but found that I had four other teens just as interested in taking part in this project."
She said the teens found a script, adapted it, put together fliers to announce the program, organized and ran the meetings with the actors, helped the children make their costumes and constructed stage sets all by themselves.
All the volunteers and participants have devoted almost every Sunday since mid-January to pull the production off..
Frostick called it an "interesting process, but I've been most impressed by the teens' level of commitment."
More than twice the number of children wanted to sign up, but there were only so many parts to fill.
Sunday's performance, which Frostick said "went very well," was followed by a cast party, complete with pizza.
Next up for teens, and all others interested, is the third meeting of Mary Riley Styles Public Library's brand new "Twilight" Club next Wednesday, March 31 at 7:30 p.m. The group was started and is run by 17-year-old Youth Services volunteer Ambar Atta, a senior at McLean High School. To register, call 703-248-5034.