"Skinny people can't be trusted." So read the sign above Chef Leland Atkinson at last month's Falls Church Farmer's Market Chef Series presentation.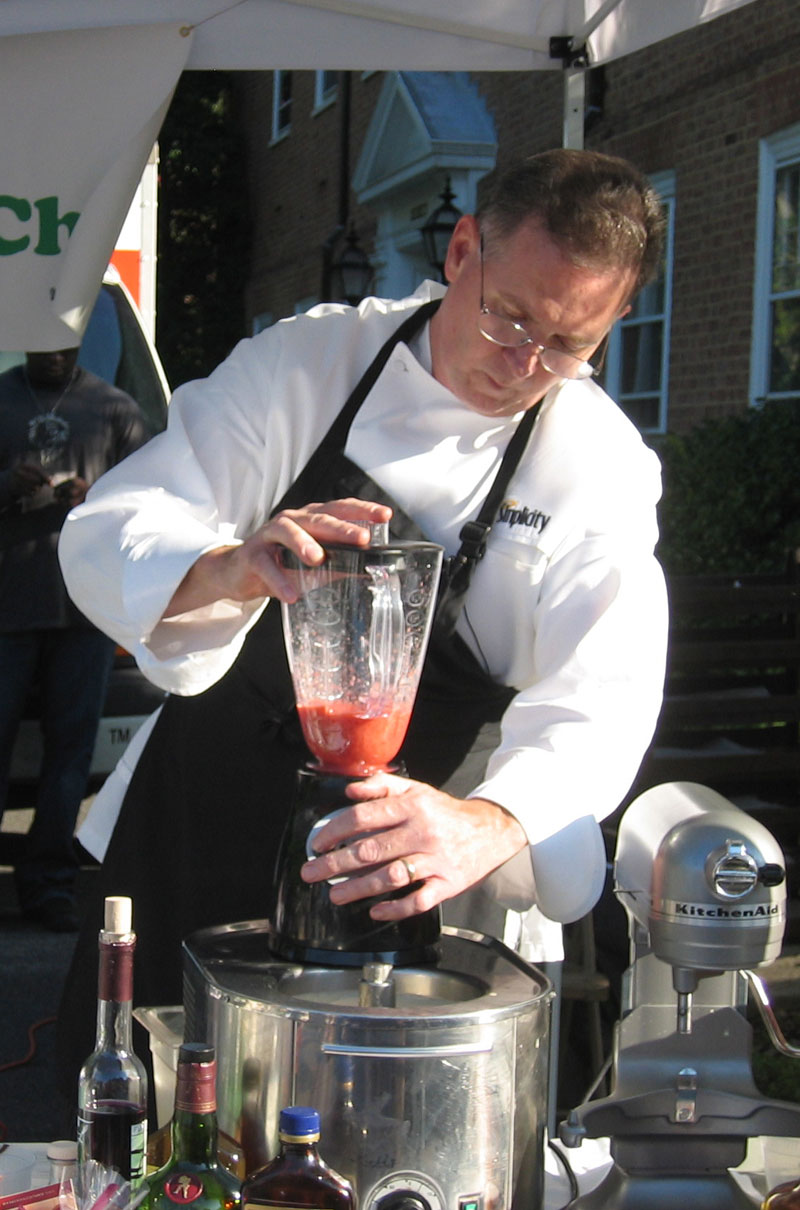 "Skinny people can't be trusted." So read the sign above Chef Leland Atkinson at last month's Falls Church Farmer's Market Chef Series presentation.
Considering his tutorial recently, which included the making of homemade ice cream and other delectable desserts, it is an understandable belief for the Chef and Co-owner of Sinplicity, a Falls Church catering and ice cream making enterprise.
Before founding Sinplicity, Atkinson apprenticed with Omni Hotels in Atlanta. Later, he won the prestigious Julia Child award for his first cookbook, Cocina! A Hands on Guide to the Techniques of the Southwestern Kitchen.
Sinplicity was Atkinson's dream become reality. The business moved to Falls Church about a year ago. Atkinson has been pleased with the new location.
"We run our catering business and make our ice creams in the basement of the BB&T building near Seven Corners. You can be anywhere in 15 to 20 minutes," said Atkinson.
First up in the ice cream class was the foundation, Atkinson explained while whipping up his concoction for the audience, namely the Sinplicity Ice Cream Base. Once the base is prepared, it can then be used in many different recipes. It's simply a matter of customizing the flavor.
The ice cream menu for the market's presentation included Caramel Apple, Blue Ridge Strawberry-Mascarpone with Grand Marnier and "Bourboned" Butter Pecan with ingredients pulled from the shelves of surrounding vendors.
The Caramel Apple ice cream tasted like a cold and creamy version of a county fair caramel apple, minus the stick. It was like savoring a fresh baked apple pie, adorned for consumption with a swirl of thick caramel.
The creamy texture of the Blue Ridge strawberry-mascarpone with Grand Marnier ice cream was reminiscent of a rich Italian cheesecake, topped with the slight tartness of fresh picked strawberries and then mellowed with an underlying hint of sweet orange.
Lastly, the "Bourboned" Butter Pecan ice cream was more nutty than overpoweringly sweet. The pecan pieces tasted toasted and played off the buttery cream of their surroundings.
Not alone in the market's make-shift kitchen, Atkinson was assisted by his wife and two daughters.
"Sarah Puddin' Pop Atkinson, she's the tall brunette, age 9, and Emily da Smurf Atkinson, is the shorter little blond chick, age 7," he said.
The girls helped scoop ice cream and pass out samples to the audience while their father instructed onlookers.
Serving 500 samples, Atkinson received a lot of feedback. "If you can please persnickety people, you've done your job well," he said.
Most people seemed pleased, wasting no time in finishing off every last bit of the tasty samples, full of compliments and questions.
Overall, Atkinson was equally pleased with the exhibition, admitting being a bit nervous at the beginning.
"I made them too complicated. It seemed like I brought my entire kitchen out to that little tent," he said.
In the end, the masses were more than appeased.
"The crowd really enjoyed it and it was a great way to promote the market," he said.
Atkinson said that he didn't find ice cream, but ice cream found him. "I guess that I just fell in love with the process. Good ice creams are hard to make since it takes three days to find out if you've created something special," he said.
For those who missed Chef Atkinson at the Farmer's Market, do not despair. Sinplicity's hand-crafted ice cream is sold in all Balducci's stores and is also served in many of the area's fine restaurants and hotels.
Sinplicity is also a regular vendor at the Falls Church market. "I really do believe that it's the best farmer's market in the D.C. area," he said.
So stop by Atkinson's booth at the Falls Church Farmer's Market some Saturday morning and as the Sinplicity motto states, "Let the Sin begin."