McLean High School senior Jessi Ende resembles your average high-school student at the seams, sipping from a mug outside Starnut Gourmet during our interview and beaming as she talked about where her college plans might take her.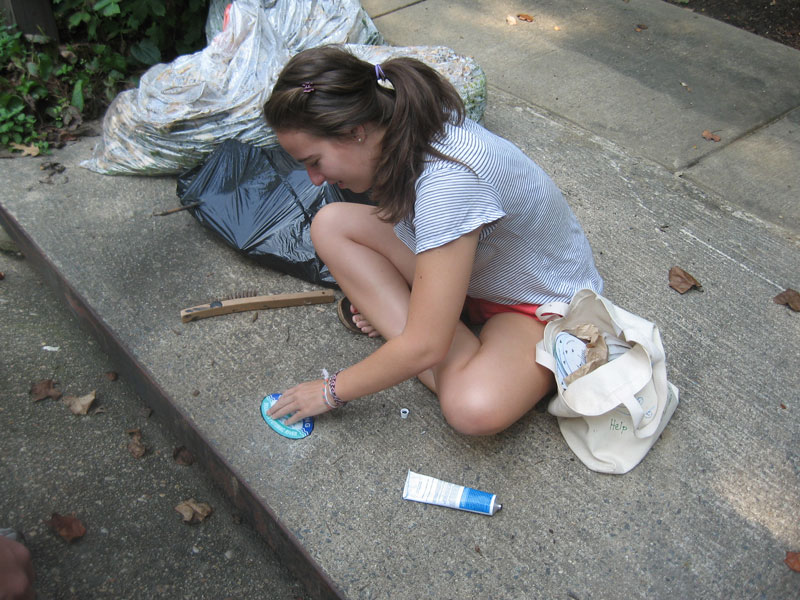 McLean High School senior Jessi Ende resembles your average high-school student at the seams, sipping from a mug outside Starnut Gourmet during our interview and beaming as she talked about where her college plans might take her. But those close to her know this more-than-meets-the-eye 17 year old bubbles with passion beyond the adolescent clichés of what she'll be wearing to prom.
She's voluntarily marked 110 storm drains in an effort to save the Potomac River and, ultimately, the Chesapeake Bay from being polluted.
And she's not done yet.
Those college plans Ende so eagerly spoke of were to study environmental science so, as a future architect, she could build green homes and structures.
Ende, who's place of worship, Temple Rodef Shalom, preaches not only Judaism but also the occasional green-living sermon, began marking storm drains in 2005 as part of her bat mitzvah project. Captivated by how such a simple task could influence whether or not a dog walker chooses to throw pooch feces down what feeds directly into local streams, Ende decided to keep the project going.
Next stop? The Chesterbrook Woods Citizens' Association (CWCA) neighborhood, where the Ende family lives.
"The project I did at Temple Rodef Shalom was funded by my family," said Ende, who originally thought a larger-scale project would require financing by CWCA.     Prepared to make the hefty request for labels and supplies, she was surprised to learn Fairfax County was willing to foot the bill if Ende agreed to team up with Fairfax County's storm drain education project. Volunteers are given supplies by the county in exchange for promising to educate nearby residents.
Often a hot-ticket venture for scout troops and volunteer organizations, Ende's solo endeavor was a bit of a novelty compared to group-effort projects done in the past.
She met with Christin Jolicoeur, a watershed specialist with the Northern Virginia Soil and Water Conservation District (NVSWCD), after surveying her neighborhood to find out how many markers were needed. Eventually, fellow volunteers were recruited – Ende's McLean High peers, Gill Hunt, Cameron Meade, Odette Channell and Alison Shapiro – and the marking began.
"When I'm out there labeling, people are curious about what I'm doing," said Ende, noting it's created an open window to educate her neighbors on how littering threatens the water quality and aquatic life in the nearby Pimmit Run stream, which feeds into the Potomac River.
One of the effort's main three components is educating the community about nonpoint source pollution, or that which enters our water system through storm drains. Project leaders are encouraged to pass out fliers in the vicinity of the marked drains or write an informative piece for their neighborhood's newsletter.
Impressed, Jolicouer recalled meeting with Ende last spring as "noteworthy because [Jessi] wasn't doing this to get anything back."
She continued, "It wasn't for an award or recognition. She just wanted to work in the community benefiting the environment, taking on a rather large project for a teenager."
Echoing what Jolicouer calls a "relatively robust" program, 26 storm drain projects were completed during FY2009 by 372 participating volunteers. Just over 2,000 markers were put down and more than 16,000 homes in Fairfax County were educated.
A 2009 report released by the Chesapeake Bay Foundation concluded that waters in the Bay have become unsuitable for not only the fish, but also for the people drinking contaminated water, noting that "Pennsylvania, Maryland and Virginia issued 76 no-swimming advisories last year because of unhealthy bacteria levels."
Jolicoeur said sometimes community issues this vexing are best relayed to the public by relatable volunteers.
"When you start working in a particular field, you start using a certain set of language that may not mean something to the average person," she said, making the point that volunteers are able to internalize the issue and are "more apt to plug into what it is about that issue that will influence peoples' behavior."
Fellow volunteer and McLean senior, 17-year-old Meade said teaming up with Ende helped her "connect environmental problems around the world to [her] life and lifestyle."
"Since then, I've thought carefully about how my [actions] affect the environment," added Meade.
Ende credits her seventh-grade science teacher at Longfellow Middle School, Paul O'Connor, for planting the environmentally-conscious seed. O'Connor told Ende and her classmates that one way to reduce pollution was to install warning markers on storm drains.
Almost five years later, O'Connor was just happy to hear one of his students was paying attention when contacted for a comment.
"It's definitely flattering, but unexpected too because you never really know if a middle-schooler is listening or not. [Jessi] was always attentive and interested, a great student all around, so it doesn't surprise me," said O'Connor. "But to hear my passion was transferred over makes me feel good. Finally, my job was done."
Senior Rabbi Amy Schwartzman of Temple Rodef Shalom in Falls Church was equally impressed to hear about Ende's continued drain marking.
"I'm very excited Jessi is involved with another project that educates and helps the environment. [We do] many projects within our congregation and outside of it to help the environment," said Schwartzman.
Ende hopes other young people get on board to help their community in some way, urging them to never underestimate themselves.
"Every little change or push helps," said Ende. "It doesn't matter how small your voice is."