Normal 0 false false false EN-US X-NONE X-NONE MicrosoftInternetExplorer4
Fad diets point the finger at a new culprit each year – carbs, trans fat, sugar or is it animal products. It's hard to keep up. In a day and age where calories are the enemy and sweet-tooth cravings are seen as the devil's doing, it's often an internal battle to have your cake and eat it too, until now.
From pizza to cupcakes, owners of local restaurants are doing their grandest to keep their menu options healthy without putting customers on a diet of bland tastes. Just ask Natalia Kost-Lupichuk, owner of Falls Church's Natalia's Elegant Creations on West Broad Street.
"One thing I don't skimp on is the quality of my ingredients," said Kost-Lupichuk, who swears by Whole Foods Market and can be spotted buying summer tomatoes for her gazpacho from the local farmer's market at the Falls Church City Hall.
Only organic fruits and vegetables and the highest-quality meats grace the plates and palettes of those who frequent the café. Notably, Kost-Lupichuk devotes a portion of her menu to gluten-free and vegan offerings. Crediting her Ukrainian heritage, her European cooking style often produces low-sugar edibles by default, saving her customers from the ever-so-common heavy aftertaste that sweet treats leave on their taste buds.
"With every bite, you're just tasting the flavor, not that filmy taste that you get from over-processed foods," said Kost-Lupichuk.
With the clean flavor of fresh ingredients also comes the health benefits. Kost-Lupichuk said many of her non-vegan regulars are now opting for the vegan options with their waistline in mind. Since traditional vegan recipes don't use any animal products, customers can rest assured that they'll be cutting out some cholesterol and fat, which comes from items like cream and eggs, while still being able to chow down on one of Natalia's signature vegan cupcakes.
Her gluten-free desserts, like Mocha Orange Gateau or Chocolate Rum Cream Ganache Torte to name a few, cater to wheat-sensitive customers or those with celiac disease, an autoimmune disorder that can cause adverse reactions to the intake of many common baking ingredients.
"Whether it's something with nuts, something with chocolate or something without either, I really try to offer something for all my customers," said Kost-Lupichuk, who can tailor special orders for clients with other food allergies.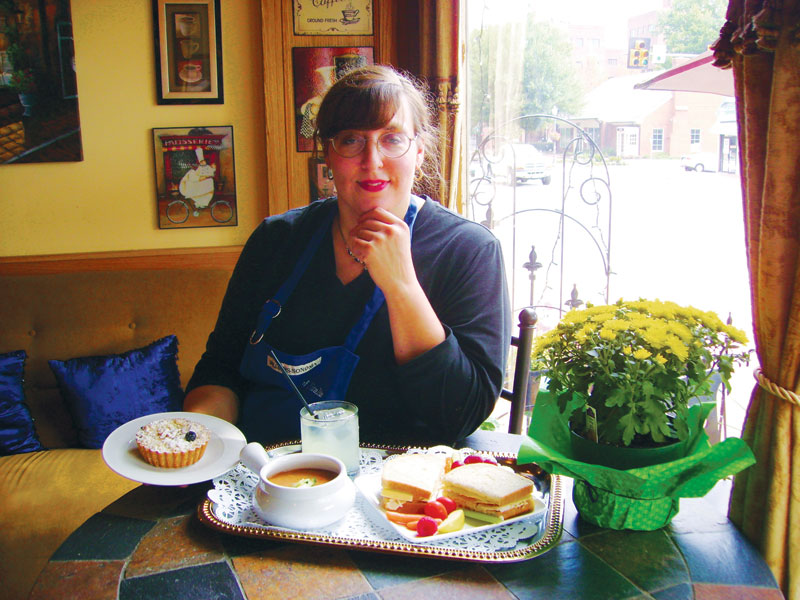 Aside from accommodating customers with special diets who still crave a good cheesecake, Natalia's menu covers all bases of breakfast and lunch. Locals can start off the day with a freshly-baked apricot butter croissant or grab a turkey, apple and gouda cheese gourmet sandwich with honey mustard for lunch. While the day to day selection may vary, all sandwiches are garnished with a health-conscious side from a versatile selection – baby carrots, tomatoes, fresh berries, grapes, snow peas, peppers, celery and cucumber sticks – versus the calorie-packed french fry norm.
Zpizza in Falls Church is doing its own part in the fight against fried foods – by not serving any. When owner Mike Smith was in the market to franchise a restaurant years ago, an old colleague clued him in on the pizza chain that was all the rage on the west coast. After flying to Los Angeles to see for himself, Smith said it was love at first bite and soon introduced the first zpizza to the east coast.
"The minute that I tasted the food, I just knew this was going to be big," said Smith.
Zpizza's signature organic tomato sauce is perhaps just the foundation of its empire built solely on a philosophy of health. Ingredients range all the way from Wisconsin skim mozzarella, additive-free sausage, MSG-free pepperoni and Montana winter wheat dough, with topping choices like roasted eggplant, pine nuts, kalamata olives, capers and more. Smith believes it comes down to their tailor-made taste when battling it out with other local competitors.
"Every pizza that comes out of our store is truly customized for the customer from start to finish. Everyday we make the dough, let it rise slowly overnight and roll it out the next day," said Smith.
Smith's business plan must be working, seeing as he said that the Falls Church location on West Broad Street is the second busiest zpizza in the country, while probably being the smallest in accordance to square-footage.
"The amount of customers that come through those doors and the amount we deliver to is just astronomical compared to that little space," said Smith.
Smith said that zpizza strives to dream up new menu items at least twice a year to keep up with the trends. Their most recent addition is the Rustica, a free-form, crispy-crusted pizza available in chicken sausage and arugula, curry chicken and yam, mediterranean, and pear and gorgonzola cheese. Smith said they're not done yet in their quest for healthy living. Zpizza's dough preparation method will be switching to organic flour in the next few months.
"We sell a lot of wheat pizzas. I really think people like feeding their kids the healthier pizza," said Smith.
Kost-Lupichuk and Smith attested that eating a variety of foods, while steering clear of single-factor deprivation, is key when it comes to winning the fight against calories.
"Enjoy life. If you deprive yourself of everything, you're worse off in the long run than if you treat yourself once in awhile," said Kost-Lupichuk. "It's everything in moderation."
• Contact Natalia's Elegant Creations at 703-241-8040 and Falls Church's Zpizza at 703-536-6969 for more information.