The J.E.B. Stuart Raiders snapped a 25-game losing streak on Friday evening at home, beating McLean High School from the Liberty District 30-14.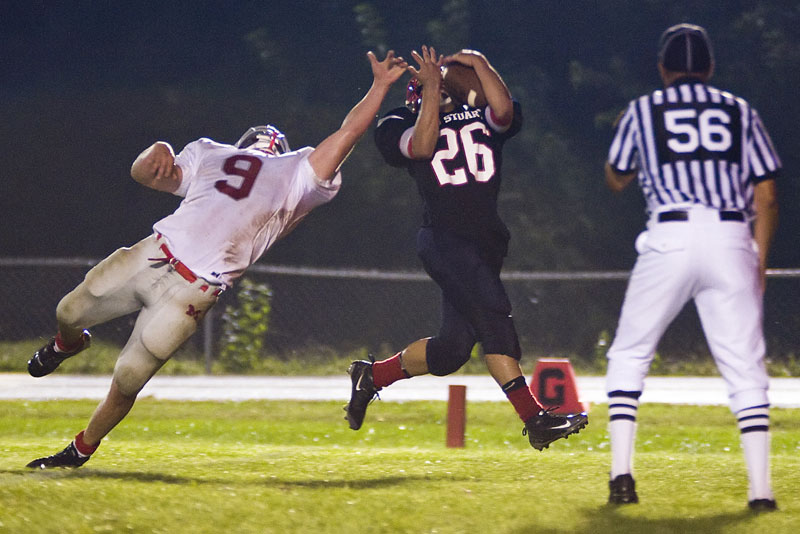 His second tenure at Stuart and only the second game into the 2008 season, Head Coach Roy Ferri helped the Raiders break the bad run that dated back to the 2005 season. This Friday the Raiders will travel to Lake Braddock where they will look to continue a new type of streak.
George Mason traveled to Page County on Friday night where they faced a rude awakening from a revamped Panther team, which trounced Mason 36-20. Page County avenged its 19-42 rout at Mason last year, and continued a strong 2008 campaign. The Panthers caught Mason off guard in the first half, capitalizing on several miscues. After allowing a quick start, Mason responded in the second half with touchdowns from Joel Chandler and Jamal McLean, but it was too little, too late. Mason will seek vengeance 7:30 p.m. this Friday when they host Stonewall Jackson.
The Marshall Statesmen lost 7-26 last Friday to Fairfax County in a smash mouth style game away in Fairfax. Marshall jumped out in front with a Victor Vanegas touchdown run before becoming stagnant on offense the rest of the game. Fairfax found their groove in the second half, putting up a relentless ground attack and all 26 of their points in the final two quarters. The Statesmen put a 1-1 record on the line as they continue non-district play, hosting Stone Bridge this Friday.
Falls Church High School failed to get their first win once again last Friday when they were soundly beat by South County 7-27. Sloppy weather, along with a sharp South County defense, caused troubles for the normally potent Jaguars offense. Falls Church will look to cease their offensive woes on Sept 12 in a home game against South Lakes.