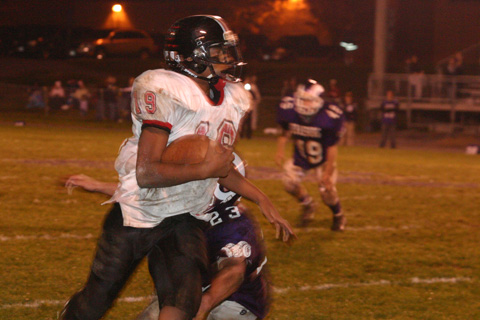 Somewhere in the Russian countryside, local government corruption is about to get a run for its money in George Mason High School's production of "The Inspector General."

In Nikolai Gogol's renowned 1836 satire, news that the Inspector General is planning an incognito visit sends the less-than-virtuous town officials into disarray. In their panic, they take young dandy Ivan Alexandrovich Hlestakov for their dreaded undercover inspector. He plays along, manipulating the situation to his own benefit. Slapstick shenanigans commence.
George Mason's high energy production was tip-top full of elaborate physical comedy choreographed by student directors KK Bracken, Nathan Ward and Joseph Kendra, all of whom also played key roles.
Nathan Ward was charming as Ivan Alexandrovich, spinning his grandiose tales with ease. He played off of the worries of his servant, Osip (the pleasant Christian Holmes) and Osip's flirtatious wife, Natalia (Anna McDonald) with poise. Ivan's two-timing courtship of the wife and daughter of the egotistical town mayor (Joseph Kendra) was uproarious. The wife, Anna, portrayed by the talented KK Bracken, was a comical treat, putting on airs as others put on scarves. She and her attention-starved daughter, Marya (an adorable turn by Anna Lathrop) had an endearingly competitive onstage rapport.
The other district dignitaries, such the anxious schoolmaster Luka Lukitch (Jack Brorson) and the gentleman duo Bobchinsky (Tim Koning) and Dobchinsky (Adam Frost), frolicked sleazily about with admirable zeal. There was a scattering of anachronistic moments, but even so the actors pumped them full of verve.
The large set, designed by Nils Westergard, was polished and handsome, touched with vibrant colors and period pieces from which the lighting occasionally distracted. It was, however, well adorned by the detailed props collected by Mary Grace Burkey.
While it is easy for nuances to be lost in translation from the original Russian, the cast and crew at George Mason made a commendable effort to bring extra pizazz to Gogol's classic.