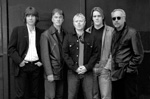 Luis Dubuc didn't like the view from the back of the stage. As the drummer for a metal band, he felt boxed in, beating out the same rhythms to the same monotonous songs over and over. He wanted a change.
Dububc stepped out from behind his drum kit, ditched the metal group, changed his act, changed his sound and even changed his voice. Now, Dubuc, performing as The Secret Handshake, is garnering national attention for his experimental electro-pop concoctions.
"When I was with the metal band, I was still at the mercy of other people," Dubuc says. "I've always been into other types of music. It was a welcome change."
Of course, a "welcome" change is not necessarily an "easy" change. Out on his own, Dubuc started writing and touring as a singer-songwriter with his acoustic guitar. The catch was that he was still working his contacts from his metal days to set up live shows.
"I ended up playing a lot of punk venues as this singer-songwriter guy," Dubuc says. "It was a little weird."
Dubuc's breakthrough came after he purchased an auto-tune unit and began running his vocals through it. Suddenly his singer-songwriter sound was tinged with a tad of "Tron," with "The Matrix"-like noises mixing with his acoustic guitar.
"When I bought the auto-tune unit, people were like 'oh, now, what's this?" Dubuc recalls.
From there he dialed up the electronic side to find his current formula, which sounds like a blend of dance hall electronica and high-energy power pop. The mix caught the ear of Drive Thru/Purevolume and ended up on their "Bands You Need to Know" compilation.
This September, Dubuc debuted his first LP on Triple Crown Records, One Full Year. It's the result of a layered songwriting process that Dubuc uses to fill every nook and cranny with as much sound as he can.
"After I write the song, I ask what else could this song use," he says. "I want to make a huge, full-sounding record, not something that's tinny and electronic."
Sometimes even that process isn't enough. Dubuc already flaunts an EP of remixes, including a heralded revisitation of "Too Young," remixed by Toxic Avenger.
"I was super blown away by that remix," Dubuc says of the end product he received after e-mailing the emotronic artist and asking him to provide his take on the track. "The dude's just sitting over there in France. He doesn't even speak English."
Dubuc is planning on sharing that mix with everyone on his current tour, which stops into D.C.'s 9:30 Club this Saturday night when Dubuc opens for Hawthorne Heights. Doors open at 6 p.m. and tickets are $20.
• For more on The Secret Handshake, visit www.thesecrethandshake.net.