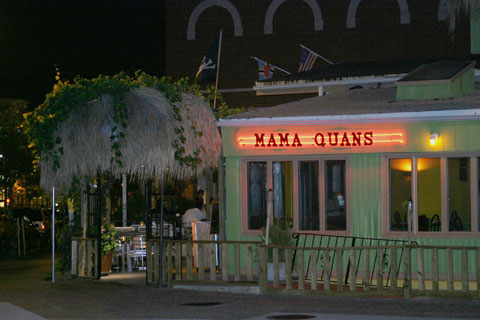 With the golden crusted ducks and chickens hanging prominently in the restaurant's glass window, it is easy to be reminded of the many restaurants that line the streets of New York's Chinatown, but this Hong Kong style eatery is located in fair Falls Church.

Mark's Duck House, inside the Willston Center, is practically hidden. Although the center is just off of Route 50, it is set back in a maze-like parking lot among bodega's and beauty schools. If you like Peking Duck and fresh seafood, go ahead and brave the labyrinth.
After passing the hanging fowl, the dining room awaits. It is large, almost like a big conference room, with emerald green carpet and tables set up as if to host a wedding reception spread throughout the room. Walls are covered with a pastel floral wallpaper on the top section and a marblesque chair rail lines the bottom. One of the more unique murals found hanging on the wall, displays a wild stampede of glowing mother of pearl horses running by a deep blue lake. Something must have been chasing them. The requisite large tables are in the back, with a big lazy susan in the middle, made for easy sharing that's helpful to the large families that are so often found dining in the restaurant. The music playing is an amazing collection of 1980s love ballads. They are all covers, but strangely it's okay. It is not a quiet restaurant. Lining the back of the dining room are large tanks filled with fish, not the pretty kind watched to reduce stress, but the kind that may soon be your dinner. That's fresh.
Starting with a Tsingtao is advisable, after all the bottle says it's "the finest beer in China" and that's hard to top. A waiter carries a hotpot with steam overflowing around the edges; it looks exotic, stewed eel perhaps? The house specialty is the Peking Duck, $12.50 for half and $23.95 for the whole.
When in a duck house, it is advisable to try the duck. The Peking Duck, described as a tender Long Island duckling marinated and then roasted, with golden crispy skin and juicy delicious meat, arrived in thick slices with the accompanying shredded scallions, hoisin sauce (plum sauce) and pancakes. John, the waiter, made the first rolls, but I took it from there. The duck's skin was crispy. Good skin means that I am forced to tell myself to stop picking it out and eating it on its own. The meat was moist and not too fatty and the scallions were fresh and snapped when bitten. The little round pancakes were warm and the hoisin sweet and thick.
Baby Bok Choy, $12.95, which makes me think it is just regular Bok Choy with the outside ripped off, arrived with nice large garlic chunks. It was a bit mushy, but the garlic helped spice things up. They didn't have Choy Sum, another Asian vegetable. When it is available, it's worth trying and should arrive in a pile of dark emerald green. I had enjoyed this dish on previous visits. Always ask about the greens available. There are many types that are not on the menu and that are quite appetizing. The cost was a bit high, considering they are vegetables, but apparently they are "seasonal." Make sure to ask.
Dry Cooked Green Beans with Minced Pork, $8.50, was a nicely sized portion. Beans retained their deep green hue and the pork was in small cubes not large enough to dominate the flavor of the dish.
In any case, if you like Peking Duck and don't feel like trekking to D.C. or N.Y., Mark's Duck House is like having our own Little Chinatown, here in Falls Church.
Mark's Duck House
6184-A Arlington Blvd., Falls Church
703-532-2125
Hours: Sun. – Thurs. 10 a.m. – 12 a.m.
Friday: 10 a.m. – 1 a.m. and Saturday: 10 a.m. – 2 a.m.