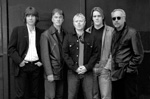 The album artwork for Dave Barnes' latest release Chasing Mississippi, paints an interesting picture of the Nashville-based troubadour. Sure, there are the liner notes and the thank yous, but there is also a series of pictures depicting Barnes in a number of martial arts poses. On a tour poster, Barnes is seen performing a jump kick that would make Chuck Norris blush. Images like that almost suggest that Barnes requires some sort of suitable label for himself, like Dave Barnes: Ninja Guitarista. So is the singer-songwriter ready for musical melee?
"That's a negative," Barnes says over the phone and well out of jump kick range. "I took [martial arts] lessons for like six months and I think I still have a pulled groin. I know a few things to look quasi imposing, but I can't do too much damage."
The images are there, Barnes says, to show off his lighter side that isn't always on display in his music.
"I'm kind of a weird bird. I'm zany," he pauses, before proving the description accurate. "Man, I love that word. That word gets a lot of mileage with me. Zany." He pauses again before regaining his train of thought and concluding that "music is more my contemplative side."
Barnes's songs aren't particularly dark, but they aren't karate kick crazy either. As one would expect from a southern songwriter, Barnes's compositions fold in a few laments for loves lost that then segue into several soaring tunes to get you swingin' and stompin'.
The former would include the album's final tune, "I Have and I Always Will," a song recorded with Christina Pop singer-songwriter Amy Grant. The track, which chronicles an undying love, can be heard on Barnes's MySpace page, where it's logged over 265,000 plays, or likely at an upcoming wedding near you. The album also features an appearance by Grant's guitarist husband Vince Gill on track "Jackson."
But rather than another album full of bluesy beats and weepy-six strings from south of the Mason-Dixon, Barnes's work owns a more soulful R&B feel. A good number of tracks, like opener "A Lot Like Me," and second tune "Everybody But You," strongly echo influential musicians like Santana and Stevie Wonder. They also remind a little of the more recently lauded John Mayer, which could be why Barnes claims Mayer to be a fan.
The blend of genres works well with Barnes's smooth and dynamic (he changes keys in a number of tracks, including three times in the opener) voice.
"I grew up mainly on funky Motown, The Doobie Brothers, The Temptations, Stevie Wonder," Barnes says of his influences. "I was trying to sort of recapture some of that. I've always been drawn to the funkier, groovier stuff."
When he's not writing for himself, Barnes has penned songs for and with Marc Broussard, Bethany Dillon, Bebo Norman, Josh Hoge, Ed Cash and Matt Wertz. It's a practice Barnes enjoys even more than writing for himself.
"When I'm writing for myself, it's quite the maze," he says. "I have to walk through it and figure out the rules and abide by them. When I'm writing for other people, I can sort of adopt where they want to go. It's more freeing. I'm not filling every role."
He's currently working on a new album, planned to be released in the Fall of 2007 on Razor and Tie Records, with whom Barnes will be signing shortly. He says he's already got about 20 or so songs to choose from. Some of those might be on display Friday night at Jammin' Java, where he'll play a pair of shows at 7 and 9:30 p.m.
"I love playing somewhere for the first time," Barnes says. "It's weird as an independent artist. Some venues I'll get crowds of like 1,000. When I come to Vienna for the first time, I'll be enthused to have 50."