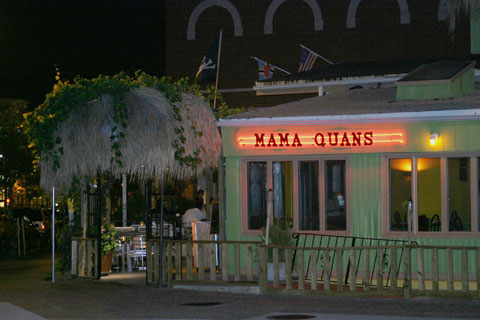 It's a rarity these days to find a delicious spread of food at a buffet. It is also difficult to discover a scrumptious Sunday brunch with all the fixings. Brion's Grille is a local favorite in Fairfax, with hungry George Mason students coming in packs to the friendly eatery across the street on Braddock Road. What makes Brion's Grille different from the rest is their lunch buffets that run 11:30 a.m. till 2 p.m. every day in addition to their Sunday brunch that runs from 9:30 a.m. – 2:30 p.m. for all of those who like to sleep in on weekends.
Green booths, tall stools and tables line the walls of this eatery. Free Wi-Fi is offered and the occasional student can be seen working on a school assignment on their laptop, if they are not chatting it up with a schoolmate over Asian spring rolls. Gold fabric is also included in the décor, and brass bars line the walk way, an attempt to display Mason colors and show school spirit. Photos of Mason athletes adorn the walls along with banners reading "GO MASON." Last year during the height of March Madness, Brion's was the place to be. George Mason basketball players could sometimes be seen eating lunch after classes.
A long bar sits in the middle of the grill, offering an assortment of beers on draft.
Dressed in white attire, the chefs of Brion's Grille greet you among the fresh fruit and sweet-smelling muffins every Sunday morning. Along with scrambled eggs, there are two kinds of breakfast potatoes, biscuits and sausage gravy, bagels, muffins, doughnuts, corn beef hash, southern grits, bacon, sausage, omelets and Belgian waffles. The food is cooked in skillets before you and when satiated diners leave through the glass doors the escaping aroma only attracts more.
If you can't make the Sunday brunch, stop by for lunch any day of the week. Steaming hot, freshly-made dishes are available at the lunch bar. There are 14 fresh homemade salads, fruit salad, baby field greens, made-to-order pasta dishes, pizzas and sandwiches, including delicious tortilla wraps. The options are always changing.
Anytime of the day is a great to hit up Brion's. Entrees like the lump crab cake and 1.5 lb t-bone can be a little pricey, going up to $28, but most of the menu is moderately priced. And everything on the menu has the taste of a home cooked meal though most of the meals are a little more creative then grandma's. Take for example a simple mixed green salad, at Brion's Grille you don't get just a salad, you get a delicious creation of fire roasted corn, red onions, shredded carrots, blueberries and pistachios with a tart cranberry vinaigrette topped with Gouda cheese for only $3. Still hungry? Blackened Mardi Gras chicken breast served on top of angel hair pasta and a Cajun cream sauce will fill your belly. Seafood is very good choice as well with golden fried rock fish served with fries for $10. Maybe you have a craving for salmon? In that case, center cut salmon served with creamy risotto and steamed veggies ($14) will leave your taste buds satisfied.
10621 Braddock Road
Fairfax, Va. 22032
703-352-7272
Sunday 9:30 a.m.-9 p.m.
Monday – Thursday 11:30 a.m.- 11 p.m.
Friday and Saturday 11:30 a.m.- 12 a.m.