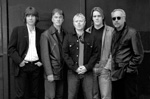 Four days. That's all it took for Joe Purdy to write and record his album Julie Blue. That's how long it took him to record his tales of Indian myths, recuperative bliss and local hospitality at an island cabin amid the waters of the St. Lawrence.
The album is not the Sistine Chapel — many of the songs are basic. It isn't polished — you can hear the muffled sounds of the river lapping at the dock in the background. But it is true. And that's all Joe Purdy ever wanted.
"Even if you're lying in person, you should still tell it true in song," says Purdy, 26, who named Julie Blue after a girl he met on his excursion. "If you're lying, I, [as a listener], can see it coming a mile away and it makes me cringe."
Such a belief leads him to dub singers like Jessica Simpson and James Blunt "The Pretenders," and also keeps him adherent to his dogma of authenticity.
Thus Julie Blue is unfiltered and unfettered. Most of the tracks feature no more than Purdy's whispered tones over an acoustic guitar or mandolin, and as a whole it feels more like a running diary than a production of high art. In fact, Purdy intended it as just that, leaving the tracks in the order he recorded them, musically retelling the events of the stay and their effect on him.
"We went skinny dipping with local girls. We drank whiskey until we were blue in the face, watching the sun rise everyday in the back of this wooden boat from the 50s," Purdy recounts. "I almost wrote the album like a child's experience. I never got to do the whole summer camp experience as a kid, so I guess I got into it as an adult."
As fate would have it, the album was also a springboard. While recording on his temporary island abode, Purdy received a call from Bryan Burke, a producer for ABC, who wanted him to write a song about a group of castaways living on an island. Thus a reprised version of Julie Blue's opening track, "Wash Away," landed on "Lost" and the mainstream was introduced to a backwoods songwriter from Arkansas. Since then, his relationship with ABC has blossomed, with four of his songs showcased on "Grey's Anatomy." One such placement in 2005 enabled him to return home after finding himself flat broke, and thus stranded, in Norway. More important to Purdy though, the TV spots have allowed him to keep cutting albums.
"Music has been the only thing I've ever been any good at," says Purdy, a former dockworker who left home in Arkansas for Los Angeles in 2001. "I played sports, but I was never the MVP. In school, I never got the best grades. My pops taught me how to work on a Chevy engine, but not as well as him.
"Songwriting just came so easy that it felt like this is what I was supposed to do."
The claim that songwriting is easy may appear an overstatement … that is, until you realize that Purdy has been cranking out albums at a rate even the record company juggernauts can't handle. (Currently, only Julie Blue and Only Four Seasons are available on CD, though you can check all of his songs out online at www.joepurdy.com.) In three years, he's released five albums, his latest You Can Tell Georgia, set for a fall digital release, was mastered two weeks ago … and he's got two more albums already in the bag.
"I would be so at odds with a record company," says Purdy, who records under the Reincarnate label. "When I sit down with them they're like 'What are we supposed to do with this?' I don't know, you figure it out. It's just my job to make the music."
Part of the reason for the ease of writing is because Purty sees music in everything. A night at the bar becomes a refrain, or a passing riverboat becomes an entire song — albeit a 50-second one. Another reason, he says, is honesty. There are no inhibitions in his songwriting, no eggshells to avoid stepping on, just complete disclosure.
"You can say whatever you want and no one scolds you. You can tell the truth," Purdy says. So just how personal are his lyrics? "As personal as it gets I guess."
While his music is uncommonly intimate, ironically, the level of honesty adds a universal quality to his songs as well. That's what makes Purdy such an extraordinary songwriter. Because his words register as real, you find yourself identifying with each experience to an astonishing degree. When he croons about the unsympathetic screeching of the subway on Only Four Seasons' "The City," you cringe as you remember the clatter. And when he sings about the mirror-like surface of the St. Lawrence at sunset, the reflection you see is your own.
All the more remarkable is the fact that Purdy has never written down any of his lyrics.
"I was there, I know what happened," Purdy says. "If it's true then you don't have to remember what lie you were telling."
Given his amazing memory and status as a self-proclaimed film buff, he also recalls movie quotes by the dozen. He rattles off several of his favorites from pictures both famed and obscure, and just before the end of a 45-minute coffee-fueled phone interview, he inadvertently hits one that fits his music perfectly.
He describes a scene from "Great Expectations" where Stella kisses Finn at the water fountain and quotes Ethan Hawke's narrative lines: "You remember it. You know what it felt like."
Most people probably don't know what it's like to swim naked in the St. Lawrence, nor have they ever met a girl named Julie Blue. But with his sincere lyrics and truth-be-told style, when you listen to Joe Purdy's music you know too. Honest.
Joe Purdy plays Jammin' Java Thursday, Sept. 21 at 8 p.m. along with headliner Charlotte Martin. Tickets are $12.