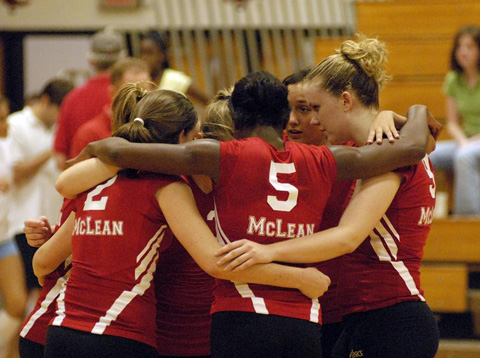 With back to back matches two nights in a row, the McLean High School girls volleyball team was not able to capture a victory against the unbeaten Langley Saxons (16-25, 25-23, 22-25, 11-25). The Highlanders rallied to take the second game with good passing and strong net play from the front line. Teka Tshishimbi led the offense with nine kills along with eight from Asha Toulmin and six from setter, Kate Comey. Lea Moisa had a great night serving which included two aces.
On Monday night, the Highlanders suffered their first district loss of the season to the Madison Warhawks (18-25, 25-18, 20-25, 20-25). After dropping the first game, the Highlanders came back with a convincing victory in the second but could not seem to keep up the momentum losing the third and fourth games.
"We need to learn how to eliminate some of our own errors and some of the closer games will go our way," McLean Head Coach Steve Stotler said.
McLean's record for the season now stands at 0-2 in District play and 3-6 on the season. The next match for the Highlanders will be at Stone Bridge on Oct. 4.