A startling change in the business plan by the homebuyers who demolished Arlington's 73-year-old Broyhill Mansion this April has stirred new emotions about the county's implementation of its rezoning to permit more "Missing Middle" housing.
Mustaq Hamza and Amanda Maldonado bought the luxury N. Vermont St. home built by developer M.T. Broyhill for $2.5 million in January when the price was lowered after four months on the market. They told the News-Press their original plan was to build their family's "forever house." But they changed their minds after what they described as negative interactions with some neighbors and the new countywide options for multi-family structures.
The wrecking crews, with minimal neighborhood notice, came in early April, and the county began accepting permit applications for "expanded housing options" July 1. This month, as reported first by the Patch, the Leesburg, Va., firm of Serafin Real Estate, began advertising this rare 1.42 -acre space (involving two lots) for $10 million.
"Overlooking the Washington Golf and Country Club to the west, and Washington National Cathedral to the east, this generational development opportunity sits just three miles from the Georgetown Waterfront," the literature says, touting a "trophy property" in "what is perhaps the single largest land offering to come available in Northern Virginia's most desirable North Arlington (22207) within the last two decades."
Zoned R-10, the property could allow "by right" development of up to six single-family homes, or as many as 36 units of multi-family units in six structures.
Neither Owner Mustaq Hamza nor the Serafin company responded to News-Press inquiries. But the dramatic upscaling is already reviving the years-long debate over the rezoning that allows duplexes, triplexes and six-plexes in what for decades were single-family neighborhoods.
"Oh boy! This is the biggest log yet for the Missing Middle fire," I was told by Jeanne Broyhill, whose grandparents built the 10-bedroom mansion she recalls fondly from girlhood.
Before the new plan was reported, neighbors Robert and Laura Tramonte on June 24 circulated a letter to neighborhood residents calling for a neighborhood meeting. "A project like that could have a significant impact on the value and quality of life in our neighborhood," it said. A look at land-use records "shows we may have the right to enforce a covenant that would prevent our neighbor (and future neighbors) from proceeding with this kind of development."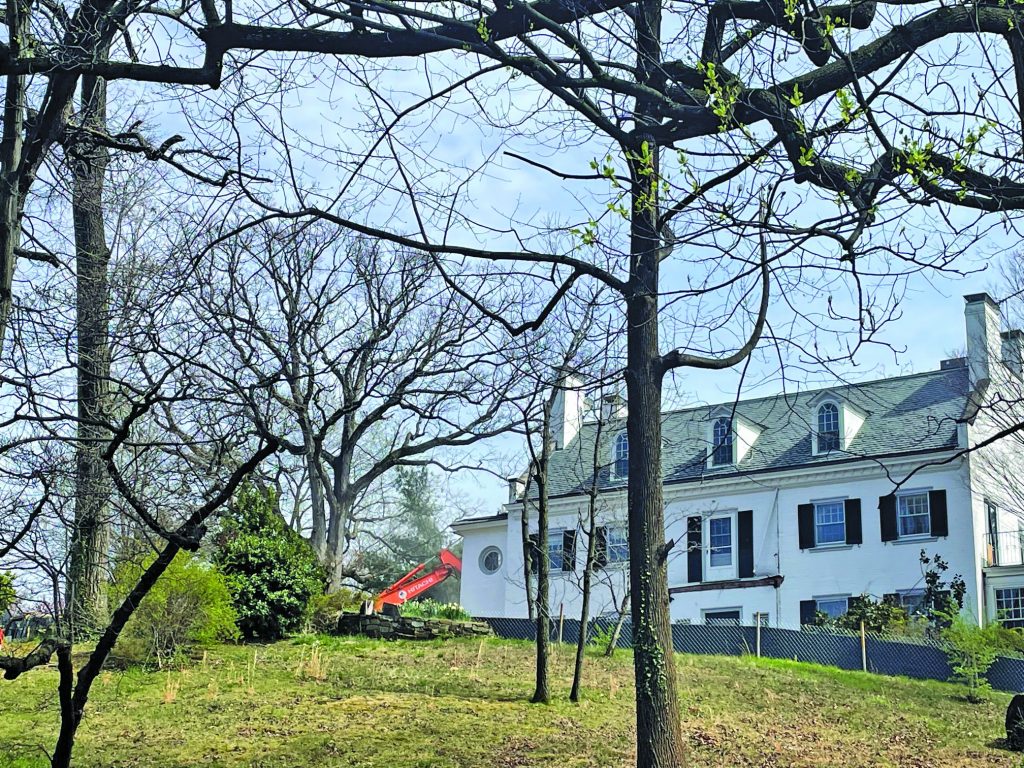 Local law firms that might be involved in future litigation declined to comment on whether such covenants that bar subdividing and multi-family units are enforceable.
"I'm disappointed but not surprised," said Mary Rhoads, who grew up in the home before her late mother Helena Metzger deeded the property to the Woodlawn Foundation of Opus Dei. "This gentleman Mustaq Hamza has been a realtor for nine years and his partner is in finance, so at $2.5 million, it was a steal. Let's be honest," Rhoads told the News-Press, "he did what any person would do. What I don't understand is the reasoning behind the demolition. He's actually putting the blame on Donaldson Run residents and 'friction.' " She described a lack of neighborhood meetings, a rushed letter from the demolition company and county approval that "came through quickly—even for Arlington. His intent all along was to demolish," Rhoads said. "You can't blame the neighbors. Now he destroys the dynamic of a pretty close-knit neighborhood at the stroke of a pen."
Another close-by neighbor, Vivian Kallen, tied it to the broader Missing Middle debate, calling the new development "sad, and hard to understand–it breaks my heart." She's lived since the 1950s in an Arlington "that has always been a community that values beauty, nature, and trees, while decisions were made by called The Arlington Way," she said. "I think it's gone from being a community to being a piece of real estate." Like many opponents of the Missing Middle policy, she believes it was rushed due to "internal pressures" for unanimity on the county board, that it will bring more traffic and crowded schools and won't deliver low-priced units. "It seemed to have been rammed down our throats," Kallen added.
When former county board candidate Chanda Choun, of the pro-Missing Middle group YIMBYs of NoVa, posted news about the Broyhill site on Facebook, ally Jason Schwartz expressed approval. "It's a 7-12 minute bike ride to the heart of Areas 2 and 3 on Langston Blvd. with lots of commercial/grocery," he wrote. "Any new housing in Arlington (even new housing not right on top of Metro stations) will be beneficial for lowering total vehicle trips and vehicle miles traveled."
But Joel Taubman cautioned that the plan "looks good on paper, and it will provide a few homes. Just wish it was closer to the denser areas where it could really be a big use."
A skeptical reaction came from Anne Bodine, speaking for Arlingtonians for Our Sustainable Future. "The 11,000 square-foot lot can be developed… right away. The one-acre lot requires a special use permit," she told the News-Press. "If the county were to listen to the community, it seems likely Expanded Housing Options would not be allowed on the larger parcel. It seems the more likely outcome would be very expensive single family homes, as the condo models for six-plexes very far from amenities wouldn't seem as marketable. Such development requires an up-front analysis of environment, infrastructure, and demographic impacts and until that happens, ASF would not support EHO development on either parcel."
The Donaldson Run Civic Association's website says the neighborhood was split on Missing Middle. Its president Bill Richardson told Arlnow that neighbors are concerned for "how much of the property will be covered with an impervious surface, with elements such as a house or a driveway. …One of the ideas that came out of the Missing Middle conversation was to further regulate lot coverage, as many residents were frustrated with existing standards that allow more trees to be torn out for construction of large homes."
County Urban Forest Manager Vincent Verweij told the News-Press "the demolition permit had removal of 43 trees, and conservation of 59 trees approved. There was no land disturbance permit submitted for building a replacement home, solely demolition. The permit followed standard tree conservation requirements, and the demolition was completed without any violations."
The first round of permit applications for Expanded Housing Options, posted on the county's tracker July 5, included eight for properties zoned R-5 and R-8, mostly in North Arlington: four townhouses, two semi-detached structures and two multi-family structures. On July 14, the second batch showed four applications and included three multi-family structures and one semi-detached.