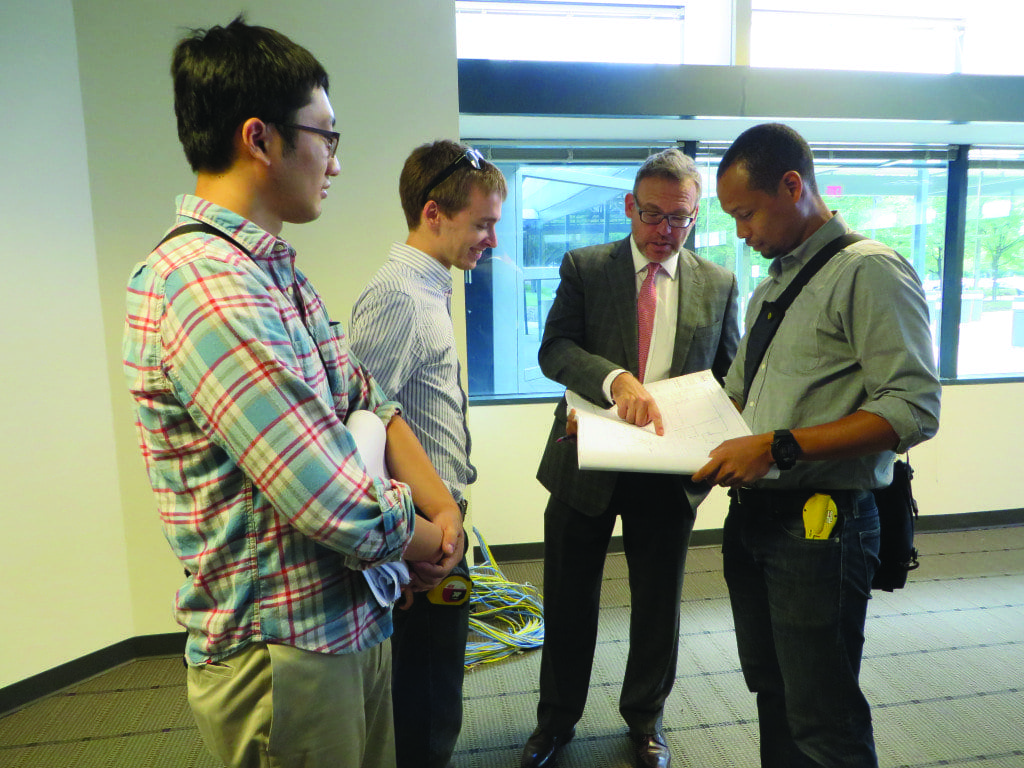 Engineering for three-year-olds? Logic in seventh grade? Economics for eighth graders, and Latin for fifth and sixth graders?
Mandarin every school year beginning in pre-kindergarten and, starting in sixth grade, physics, chemistry, and biology?
These are some of the student curriculum requirements at McLean's new BASIS Independent School set to open in the fall of 2016 in Tysons Corner in 100,000 square feet about a half mile from the Hilton.
"The children love engineering," said Mark Reford, vice chairman for global strategy for BASIS Independent School, who said projected enrollment for the first year at the new school is 400 for pre-kindergarten through grade 10, and, after grades 11 and 12 are added in 2017 and 2018, will total 800.
All BASIS Independent School students must take six AP exams between ninth and eleventh grades and pass at least one to graduate, but "no one seems to know a kid who did not earn one pass," according to Reford.
Tuition will be $25,500 for all grades but pre-school which will be $22,000.
"Our price point is about 40 to 50 percent below the cost of the traditional private school," Reford said.
And how do you do that?
"The short answer is, we focus on student learning. That's what matters and where we put our resources with really thoughtful discipline and focus on 'What do students need?'"
Reford said "more and more" private schools are becoming "financially bloated models," overloaded with administrative staff.
His school will offer no scholarships nor require students (and parents) to conduct fundraising projects during the year, Reford said. There will be no capital campaigns.
What about teacher recruitment? Is BASIS Independent School offering fat salaries?
Reford said BASIS Independent School received 14,000 applications for 400 teaching positions, which he partially attributes to word-of-mouth about its quality of students, and the independence the organization gives teachers.
"We follow the college model," and give each teacher a private office.
" We allow them to be creative, and we show them respect. We hold teachers accountable but we hire them because they are passionate [about teaching] and they want freedom, too."
Which is one of the reasons the new McLean school is not a charter.
Reford labeled Virginia's charter school law "too restrictive for our very, very particular curriculum" which emphasizes teacher freedom and creativity.
Virginia requires teachers to be accredited which, said Reford, "violates our long experience on who can be a good teacher," and it doesn't "fit with our learning culture."
Because Virginia lacks a statewide authority to grant a charter, approvals are left to local school boards which BASIS Independent School thinks is "highly unlikely" it could gain.
One of the new school's top competitors is Fairfax County's Thomas Jefferson High School for Science and Technology which Reford described as "an extraordinarily stress-filled culture [with] not much focus on the humanities" which McLean Independent will not ignore.
He points with pride to an atrium which suggests an "old-fashioned academic quad" which will provide "a sense of community."
Why Tysons Corner?
"Northern Virginia has an extraordinarily educated parent population," Reford said, "an incredibly vibrant area with a lot of overseas families who really like our programs." High incomes help.
"Tysons was our first choice because it's becoming a huge hub in the mid-Atlantic region" and "you can get here from 360 degrees."
BASIS Independent School leases the building at 8000 Jones Branch Drive from a Real Estate Investment Trust, and remodeling ($20 million) is underway which will include a theatre, gymnasium, and its new science labs for every grade.
BASIS Independent School McLean will have athletics and will join a league.
BASIS Independent School's students scored in the top one percent of the world's schools in reading and math, and in the top five percent in science in the 2012 Program for International Student Assessment test given to 28 million students in 74 countries.
"We are very focused on student learning and achievement," Reford said.
His background includes teaching English at Georgetown Day School, and he was an academic dean at Sidwell Friends School.
BASIS Independent School operates 16 public charter schools in Arizona, Texas, and Washington, D.C. (at 410 8th Street NW, formerly led by Sean Aiken, the new head at McLean).
The McLean school will be its third location, after the group opened its first schools last year in Brooklyn and Silicon Valley.
Parent sessions are underway, the office of admissions is open and applications for admission are currently being accepted. More information on the school can be found at mclean.basisindependent.com.