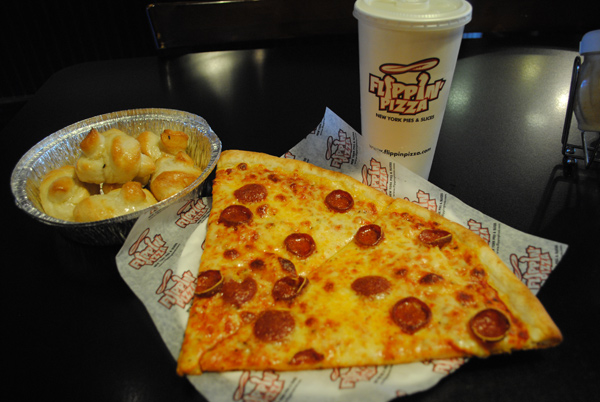 Of the many food-related debates, few are more heated than those over pizza. It's a cuisine with many regional interpretations. Cities and their residents have their alliances: New York and its jumbo pie slices, Chicago and its fork-ready deep dish, New Haven and its coal-fired Neapolitan traditions. Flippin' Pizza, a chain with locations across the D.C. area, enters that fray by making its pizza inspiration known.
They do New York-style pizza. From the borough-named pies on the menu to the giant black-and-white photos of New York landmarks from days gone by that line the walls of the Falls Church outpost, there's little doubt. And from raves by The Washington Post and Washingtonian magazine, to a three-year streak as Best Pizza winner in the News-Press' own Best of Falls Church contest, there's little doubt they do it well.
A compact menu of Flippin' Pizza's 18-inch pies lists 10 recommended topping combinations; each pie costs $19. The Brooklyn leads the list, a combo of pepperoni in tiny but potent slices, bits of peppered meat, mushrooms, and fresh garlic, all set atop a bed of crunchy, chewy crust, light tomato sauce, and melted cheese. The Brooklyn is joined by other New York nods on the menu, such as the Bronx pie of pepperoni and veggies and the Triboro three-meat blend.
Flippin' Pizza's pies are divided into two categories, Red Pies (those with tomato sauce) and White Pies (those without tomato sauce). In the absence of the traditional tomato sauce, diners can explore less common pizza ingredients like blue cheese dressing (on the Buffalo Chicken pie) and pesto (on the Pesto pie). Or, with the Four Cheese pie, pizza lovers can kick their beloved tomato sauce to the curb to experience the full impact of a quartet of stellar cheeses. This pie brings together all of the house cheese toppings – mozzarella, gorgonzola, ricotta, and Parmesan – in a blend that highlights the best of all the cheeses, from the distinct flavor of the gorgonzola, melted in with the mozzarella and Parmesan, to the creaminess of the ricotta in meringue-like dollops across the pie. A bit of basil and garlic rounds out that rich cheese flavor.
Custom Pies are also available; diners can stack any of the house ingredients at an additional charge upon a $14.50 cheese pie base. Any way it's topped, these pizzas contain no added oils, sugars, or high-fructose corn syrup, so the health conscious can rest at least a little bit easier (it is still pizza, after all). The level of customization (not to mention a 10-inch gluten-free pie option) makes picking crowd-pleasing eats easy, but Flippin' Pizza can still satisfy a party of one.
Pizza is served by the slice for a few dollars, and Slice Specials offer pizza-focused meals. For just $6, tax included, diners can get a quick lunch of two pieces of pizza and a beverage.
Pizza is paramount at Flippin' Pizza, but calzones are offered, too, and sides like chopped salads ($4.50 individual, $9 family) and garlic knots ($3) can turn their giant pies into a family meal.
The pizza war continues to be waged, with pie aficionados taking up issues from the best style in which a pizza is made to the very way it is eaten. But no matter their regional preference, and any which way they eat it, the bargain of a $6 lunch and flavor-packed pies at Flippin' Pizza will surely keep patrons satisfied.
Flippin' Pizza is located at 800 W. Broad St., Suite 103, Falls Church. For more information, call 703-752-8672 or visit flippinpizza.com. Restaurant hours are Sunday – Thursday: 11 a.m. – 10 p.m. and Friday – Saturday: 11 a.m. – 11 p.m.