Beer: It's a staple libation. At the bar or the game, from a can or a bottle, alongside a burger or a steak, beer is a part of dining and socializing for many of the 21+ crowd. But the way that we're drinking beer has changed in the last few years. More and more, beer drinkers are eschewing big-name brews in favor of craft beers and broadening their hoppy horizons.
In this little two-square-mile City of Falls Church, three purveyors have earned a regional reputation for their commitment to craft beers: Spacebar, a newly opened bar devoted almost exclusively to serving craft beers; Mad Fox Brewing Company, a restaurant that brews and serves its own signature beers; and Dogwood Tavern, a sports bar and restaurant that has found a way to satisfy both traditional and craft-craving drinkers alike.
With the sheer density of such establishments in Falls Church, the City is becoming a beer drinking destination, according to Bill Madden, Mad Fox's CEO and executive brewer.
Mad Fox Brewing Company CEO and Executive Brewer Bill Madden (right) and brewer Charlie Buettner are pictured in the brew pub's on-site brewing operation. But what is a craft beer? The Brewers Association, a nationwide organization of about 1,500 brewery members, 30,000 homebrewers, and others in the beer industry, defines a craft brewer by three key traits: small, independent, and traditional. These brewers must produce fewer than 6 million barrels of beer annually and be less than 25 percent owned by "an alcoholic beverage industry member who is not themselves a craft brewer." The Brewers Association also identifies certain specifications regarding the use of traditional ingredients such as malted barley. To local craft brew sellers, the definition is more elusive, but they can agree on what it isn't.
"It's not the mass-produced stuff," says Jeremiah Mahoney, general manager of Dogwood Tavern. "It's beer not brewed by the beer companies that dominated the market for most of the 1900s," says Lary Hoffman, who owns Spacebar with his wife, Erica.
It's also a beer meant for tasting and not just for drinking.
"It's more savor the flavor," Madden says. Mahoney notes that often craft beers have a higher percentage of alcohol by volume (ABV) than name brands like Miller or Budweiser, and as such aren't consumed just for the sake of drinking. Despite the high ABV, it isn't necessarily for getting drunk, either. Erica Hoffman says, "People are tired of the bar scene, of 'shots shot shots!' The beer scene is an alternative to it."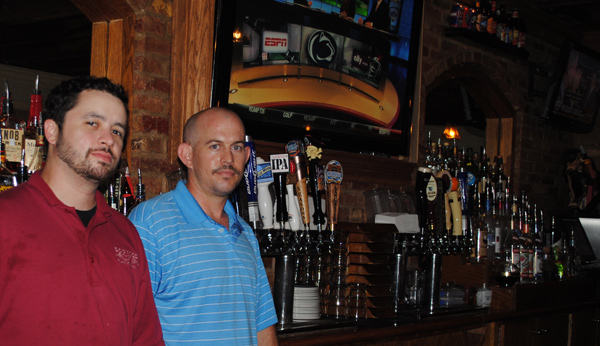 Jeremiah Mahoney (right), general manager of Dogwood Tavern, and bartender Drew Hickox are pictured before Dogwood's taps, which include both craft beers and big-name brews like Miller Lite. A culture of beer drinking has risen around craft beers that these local businesses have found their place within. The craft beer drinker enjoys variety. Craft beer offers that through brewers who experiment with a wide assortment of ingredients in making beer recipes. But diversity also comes from the very nature of craft brewing – many small operations, each with their own products, means a greater variety of beers.
At Mad Fox, Madden and his team of brewers interpret different beer-making styles and incorporate new ingredients in the beer-making process, which from brewing to fermenting to serving all takes place at Mad Fox's Broad Street locale. They keep 10 – 12 beers on tap, in a demand-driven rotation, with 3 – 4 cask ales served off of a hand pump. At any visit, the beer list could include their award-winning German-style Kölsch, an English-style cask ale, or the ever-popular India Pale Ale.
Spacebar keeps 24 beers on tap, with several additional beers available in bottles or cans, on a constantly changing beer list.
"Every time a customer comes in, we want them to see a different beer list," Lary Hoffman says.
Almost every drink at Spacebar, a sister bar to Clarendon's popular Galaxy Hut, is a craft beer. The ones that aren't don't seem to sell as well. The Hoffmans recall that the beer they had on tap by Yuengling, a big-selling national brand, was hardly purchased. Spacebar, the Hoffmans say, has become a bar that beer drinkers frequent specifically for those craft brews.
At Dogwood Tavern, though, Mahoney has both craft beer seekers and big-brand drinkers to satisfy.
"We try to find a balance," Mahoney says, "something everyone can enjoy."
The most popular beer at Dogwood is the Miller Lite; the second is an India Pale Ale by Lagunitas Brewing Company, a California-based craft brewery.
Mahoney is currently revising the beer menu, ensuring that all beer palates are satisfied.
He has his own beer preferences, but seeks the opinions of others – both those on his staff and bar regulars – to make sure the beer list has broad appeal. Some beers are brought on by customer request or by their popularity when they are featured as the Micro of the Month.
"The beer consumer is very opinionated," Madden says. "They know what they like and ask for it."
Spacebar owners Lary and Erica Hoffman serve from 24 taps at their newly opened craft beer bar.The Hoffmans agree that their Spacebar customers willingly share their reactions to the beer selection at the bar.
"People who come here are really coming here with that craft beer knowledge," Lary Hoffman says. Erica Hoffman adds that those who don't are still eager to try something new. Spacebar offers samples of its beers for adventure-seekers to try before they buy a pint. The beer list is also divided into five flavor categories – IPAs; ales; dark beers; light beers; and beers with wheat and/or fruit and vegetable flavors – which allows those trying something new not to stray so far from their preferred tastes.
Madden believes that beer knowledge is part of the reason why craft beer sells particularly well in the City of Falls Church. It's a "sophisticated market," Madden says, citing its well-educated, well-traveled residents who have experienced the types of different beer cultures that Madden emulates at Mad Fox.
Though craft brewing is by definition a small trade, it can still be big business.
Reflecting on Mad Fox's opening two summers ago, Madden says that the brew pub met a strong existing demand for this type of establishment in the Falls Church region.
"It was as if we unleashed this wild train ride that took us a while to get comfortable with," Madden says.
Last year, Mad Fox made 1,400 barrels, or about 2,800 kegs. While some customers bring large multi-pint growlers to be filled from the Mad Fox taps, the quantity of beer produced last year was enough to fill more than 300,000 glasses.
According to Brewers Association statistics, annual growth from 6 to 12 percent was cited in craft brew sales between 2004 and 2008. Domestic craft beer sales went from about 10 million barrels in 2010 to about 11.5 million in 2011 while overall beer sales nationwide have been stagnant.
Even those big brewers – who stand at the opposite pole of craft breweries and, in that difference, become the gauge by which craft breweries are measured – are getting into the business by making their own craft-like, flavor-focused brews.
But here in The Little City, the craft beer community is more collaborative than competitive, and these proprietors benefit from the company and the strength it provides to the local craft brew scene.
King Crafts
What's the most popular brew at each of these craft brew spots? The News-Press asked, and here are the biggest sellers:
Dogwood Tavern:
Lagunitas' IPA
6.20% ABV, $6 per pint
Mad Fox:
Orange Whip IPA
7.50% ABV, $6 per pint
Spacebar:
DC Brau's The Corruption IPA
6.50% ABV, $6.50 per pint