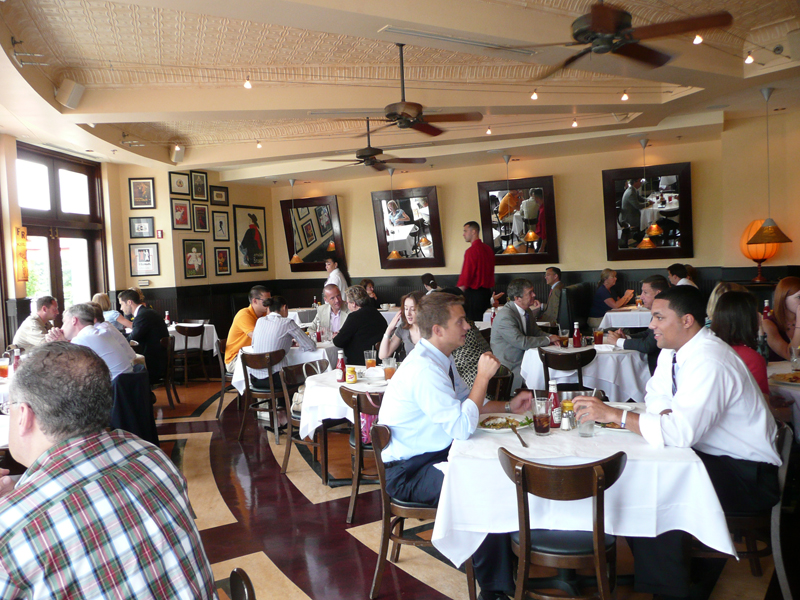 Falls Church's Bangkok Golden, located in Seven Corners Center, may be the third in a chain of restaurants that have been bringing Thai food to the Washington, D.C. area since 1999, but this particular outpost offers something special: Laotian food.
It was once something of a secret that this restaurant could cook up the cuisine of Laos, which shares a border with Thailand. The restaurant got some media attention a few years ago by way of an article by The Washington Post praising the hidden menu – a clipping of which the restaurant proudly displays just inside its door. More recently, though, Bangkok Golden has put together a full menu of its Laotian fare, and diners are invited to peruse two separate, distinct menus representing the food of both countries when making their dining selections.
Generally speaking, the Laotian food is spicier than the Thai food Bangkok Golden serves, and proof enough can be found on the Laotian menu, which asks "How do you like your food to be?" followed by the choices Laos Hot (joined by three chili peppers), Thai Hot (two), and mild hot (one).
Among the Laotian salads that can start a meal is a real scorcher, the papaya salad ($7.95). The fruit, sliced into a slaw, gives a first impression of a light sweetness accented by lime juice. That taste is fleeting, and transforms as the serious heat of the "Lao style spicy sauce" takes over. It's a thin, nearly translucent red-tinted sauce that coats the papaya strips, one that hardly warns of the heat onslaught to come. While the spicy sauce is flavorful, the heat does grow with each bite. And that's the mild.
Crispy quail pieces ($7.95) can also be selected to snack on before the meal as a starter. The lemongrass and ginger seasoned poultry gets a serious kick from black pepper, and the lava-red sauce that accompanies the tender, though scrawny, bits of bird packs an additional spicy punch.
It isn't all amped-up spice on the Laotian menu, though. The grilled dishes available as entrees can offer a more delicate approach. The tilapia fish filet ($10.95) has a bit of heat, but the greater part of its flavor is imparted by lemongrass and ginger, and a layer of dill that tops the tilapia. The dish comes to the table with a tiny woven basket filled with sticky rice.
The Laotian menu is about half the size of the more than 80-piece Thai menu. About a dozen dishes are listed as "Our Signatures," where recommended Thai eats can be found. Three curry puffs ($5.95) are highlighted as an appetizer, and offer a sweet and savory blend of chicken and potato in a crispy pastry shell made sweeter by the accompanying cucumber-onion sauce. A similar balance is found in the crispy duck with basil ($13.95), which joins small pieces of the duck and pepper slices in a thin sauce that makes for a sweet and spicy dish.
Thai favorites like pad Thai and various curries can be found elsewhere on the menu, but also on a modest buffet that Bangkok Golden sets out ($8.95 for lunch, $12.95 for dinner). It's a bargain for a buffet, but there's something to be said for getting food straight from the kitchen, where it can be custom-made with spice levels in mind. The prices and portions on both the Thai and Laotian menus make getting a few dishes for a table to share a good deal, as well. But most of all, there is irresistible adventure in sampling Laotian food, a cuisine that isn't often found in restaurants in the area. Diners on that journey, though, should be prepared for some heat along the way.
Bangkok Golden is located at 6395 Seven Corners Center, Falls Church. For more information, call 703-533-9480 or visit bangkokgoldenrestaurant.com. Restaurant hours are Monday – Friday: 11 a.m. – 10 p.m. and Saturday – Sunday: Noon – 10 p.m.