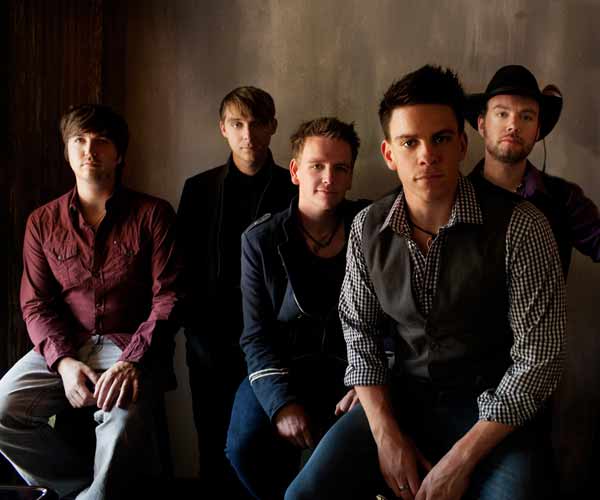 From the strum of an acoustic guitar to the soaring vocal harmonies, the single "I Could Be a King" from The Dunwells' debut album Blind Sighted Faith is unmistakable Americana. If you consider the banjo and pedal steel guitar stylings of the band's members, then the influence of the American folk music tradition is clear. It's surprising, then, that The Dunwells got their start across the pond, and that this Yorkshire-founded quintet is making an American form of music their own.
Brothers Joseph and David Dunwell, with cousins Jonny Lamb and Rob Clayton and longtime friend Dave Hanson, formed The Dunwells in 2009, picking up smaller gigs on the outskirts of their native Leeds and working their way up to London stages. A show at The Bedford in London would prove to be a breakthrough moment for the group. Tony Moore, of Iron Maiden fame but currently a music promoter, was in the crowd and would give the band the advice that would lead them to recording and touring success.
"He said we needed to come over to America, and that's where the story began, really," Joseph Dunwell said. "Our music goes down really, really well over here. I think since we've signed to an American record label, we've been given opportunities we wouldn't have necessarily gotten in the U.K."
It's been a steady stream of such opportunities since the band made came stateside, first playing at the 2011 Folk Alliance International in Memphis and later performing at the 2012 South by Southwest festival. The group signed a record deal with Austin-based Playing In Traffic Records in May 2011. From there they embarked upon recording their debut album Blind Sighted Faith, and found a spot to lay down the tracks that had no small amount of significance for the group: country legend Willie Nelson's Pedernales recording studio.
"It was one of the most amazing experiences of my life, recording that album," Dunwell said. "A band of five guys from Leeds coming to Austin, Texas, in Willie Nelson's studio, to record their debut album: You couldn't write something like that. It was amazing."
It was an album born from the roasting heat of a Texas summer, an 11-track folk-pop record ripe with the kind of full harmonies that conjure up comparisons to Crosby, Stills and Nash, whom Dunwell cites among the many influences that inform the group's eclectic sound.
The Dunwells recently signed with Concord Records, which will soon be re-releasing its debut album with a new single, "So Beautiful."
The album is due out in late August, and the band embarked upon a 40-city U.S. tour last week that will bring them to The Birchmere with roots rock singer-songwriter Alejandro Escovedo Sunday. The tour, which includes a date with Grammy-winning singer-songwriter Sheryl Crow, will take them through to October. It's ambitious; the band has never tackled a tour of such magnitude. But that ambition is tempered for Dunwell with some caution and humility as the band stands on the cusp of a tour that could bring their music to its widest audience yet.
"I'm just keeping my feet firmly on the ground," Dunwell said. "We've got a lot of work to do. It's a busy schedule that we've got, but we are having a lot of fun."
• For more information about The Dunwells, visit thedunwells.com.