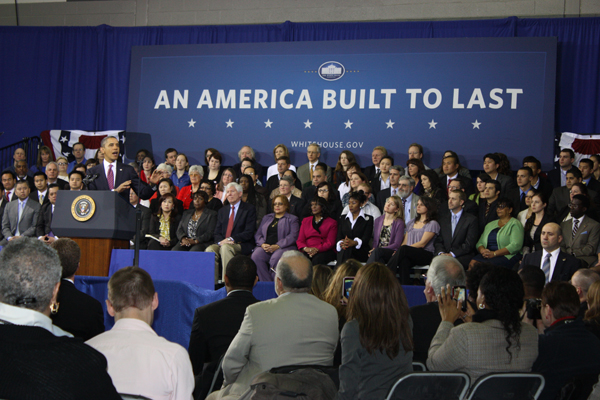 With five members of the Falls Church City Council sitting in the front row, center, a beaming President Barack Obama bounced onto the podium at the James Lee Community Center on Annandale Road this morning to a standing, cheering reception from 400 people, waved and proclaimed, "It is great to be back in Falls Church!"
All members of the Falls Church Council, and Assistant City Manager Cindy Mester sitting with them, got a warm handshake from the President following his 19 minute speech as he stepped down from the podium to shake as many hands as possible.
President Obama showed up following a 13 minute ride from the White House, his motorcade coming down N. Washington and out Annandale Road, to deliver remarks about the mortgage reform proposals he'd outlined in his State of the Union message last week.
He said he'd noted that home prices in the Falls Church area had dropped 25 percent from their 2006 peak, and in other parts of the country they've dropped far more. Ten million Americans, he cited, now owe more on their homes than they're worth.
His proposals call for Congressional legislation to ease the process for refinancing mortgages at the current record low interest rates that could save homeowners on average as much as $3,000 annually, and to convert foreclosed mortgages into rental contracts. Administratively, he added, he'll implement a "Homeowner's Bill of Rights" to avoid hidden fees, complicated fine print that may harbor "potentials for abuse," and to implement consumer safeguards.
Accompanying the president was his secretary of Housing and Urban Development Shaun Donovan, who returned to the White House for a scheduled 1 p.m. background briefing to reporters in the press room on details of the president's housing and mortgage initiatives.
The event was coordinated by a White House operative familiar to many in Falls Church. Kyle Lierman, who ran the massive Falls Church regional headquarters for Obama's election in 2008, is now in the White House Office of Public Engagement, and he told the News-Press today that when Obama's advisers decided to hold an event in Falls Church, "I told them I'd be glad to help."
He said he tried to find a location within the Falls Church city limits, but was excited to find the James Lee Center available because not only is it only a quarter-mile outside the City, but it has a rich history. During segregation is was a school for African-American students where Mary Ellen Henderson taught. Falls Church's middle school is named for Henderson.
With temperatures in the 60s and clear skies, a line formed, filled with area A-listers, in the parking lot outside the venue to clear through metal detectors to folded chairs and risers on the mat-covered gym floor at the center.
The president departed the White House at 10:44 a.m., began his remarks at 11:05 a.m., concluding them at 11:24 a.m. and following handshakes across the bunting, departed and was back to the White House before noon.
Falls Church Mayor Nader Baroukh, Vice Mayor David Snyder, and Council members Johannah Barry, Ira Kaylin and Lawrence Webb were front row-center with Mester.
Others from the City seen in the audience included Treasurer Cathy Kaye, Commissioner of the Revenue Tom Clinton, School Superintendent Dr. Toni Jones, School Finance Director Hunter Kimble, School Board members Joan Wodiska, Greg Rasnake, Charlotte Hyland and Cecily Shea and Planning Commission's John Lawrence and Melissa Teates with husband Gordon Theiss, Former Vice Mayors Marty Meserve and Jane Scully, with husband Malcolm, Former Del. Bob Hull, Laura Hull, F.C. Democratic Committee chair Betty Coll, Michael Diener, Eileen Levy, the News-Press' Nicholas Benton and Nick Gatz, Kathy Potter, Steven Spitz, Marie Pierre Menu-Orsinger, Sally Phillips, Edie and Tom Smolinsky, Stephanie Careao, Neil Comstock, and more.
Media coverage of the event centered on Obama's comments on overly-complicated mortgage forms, hidden clauses and complex terms. "I remember when Michelle and I bought our first condo, and we're both lawyers. We're looking through the forms and kind of holding it up, reading it again, asking 'What does this mean?' And that's for two trained lawyers. The forms, the confusion, the potential for abuse is too great because the forms were too complicated," he said.
In a fact sheet on Obama's "Plan to Help Responsible Homeowners and Heal the Housing Market," it says "the President is putting forward a plan that uses a broad range of tools to help homeowners, supporting middle class families and the economy."
Key aspects of the plan were listed as:
• Broad based refinancing to help responsible borrowers save an average of $3,000 per year.
• A Homeowners Bill of Rights, a "single set of standards to make sure borrowers and lenders play by the same rules."
• First pilot sale to transition foreclosed property into rental housing to help stabilize neighborhoods and improve home prices.
• Moving the market to provide a full year of forbearance for borrowers looking for work.
• Pursuing a joint investigation into mortgage orientation and servicing abuses.
• Rehabilitating neighborhoods and reducing foreclosures.
It notes that "millions of homeowners who are current on their mortgages and could find benefit from today's low interest rates face substantial barriers to refinancing through no fault of their own. Sometimes homeowners with good credit and clean payment histories are rejected because their mortgages are underwater. In other cases, they are rejected because the banks are worried that they will be left taking losses, even where Fannie Mae or Freddie Mac insure these new mortgages. In the end, these responsible homeowners are stuck paying higher interest rates, costing them thousands of dollars a year."
The President's plan would be available to homeowners with credit ratings of 580 or above. It is estimated to cost $5-10 billion, the cost to be fully offset by using a portion of the President's proposed Financial Crisis Responsibility Fee.