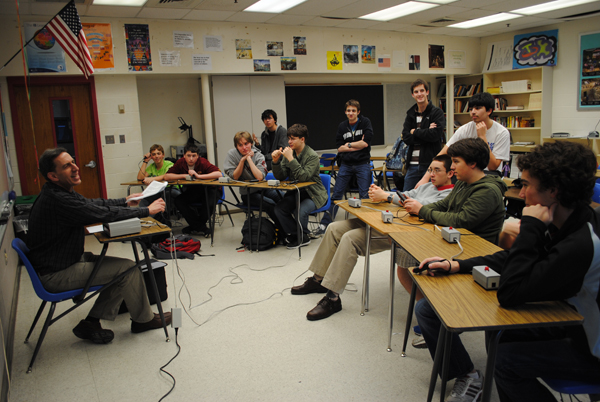 At the end of a banner season for last year's George Mason High School academic team – a season that included district, region, and state championships, not to mention a small-school national title – Mason teacher and academic team advisor Jamie Scharff was faced with the challenge of the year to come.
His starters, all seniors and repeat title winners with years of experience in competing in the knowledge-based question-and-answer activity, would be graduating. The few remaining students participating in the club had never been in competition outside of practice.
"I've never had that happen before," Scharff said. "It was a total rebuilding."
That rebuilding started with a few students who expressed interest in joining and taking a more active role in the group in the latter half of the last school year, like the team's captain, senior Michael Irvine.
Irvine initially became interested in joining the group as a junior in Scharff's Theory of Knowledge Class. Scharff tossed a few practice questions out to the class and Irvine was pleased that he was able to answer some of them correctly, realizing that "it's not just a bunch of stuff I don't know," he said.
Scharff sent students home with practice question packets over the summer to give them a jump-start on competition in the coming year, but the competition itself would be new territory for his team.
Irvine admitted that it was "pretty intimidating" competing for the first time, not to mention as team captain. "I didn't really know what to expect."
The team faced Clarke County High School Oct. 17 in the opening meet of the season and lost 200 – 240.
"A large part of that was nervousness," Irvine said. "Since then, it's come a lot more naturally."
The team picked up steam after its initial meet and ended its regular season with an 11-3 record – their second loss, by smaller margins, was also on Oct. 17 to Manassas Park High School, 210 – 235. Its third defeat, again to Clarke County, was a tight 195 – 205 match lost on the final question.
Manassas Park, Clarke County and George Mason are the top three teams in the district going into the Bull Run District Tournament this Saturday. Clarke is at the top of the standings, with Manassas Park and George Mason tied for second.
"We've made up a lot of ground since the beginning of the year," Scharff said. Picking up experience at competitions has helped, and team members also attend regular after-school meetings to run through practice questions, expanding their knowledge base and becoming more familiar with how to pick the clues to answers out of questions. Scharff said that students even stop by his classroom during Mustang Block to get a few practice questions in.
"We just know a lot more than we did at the start of the year," Irvine said.
Going into the postseason, Scharff is confident of his team's abilities.
"I feel like we might be as strong or stronger than them," Scharff said of Clarke County, a favorite to win the district championship because of the team's district-topping record this season.
Because Clarke was the top team in the district, they are guaranteed one of the two spots in the Region B tournament given to Bull Run teams. The second spot is given to the champion of the district meet. Should Clarke win the district meet, the runner-up would move on to the regional tournament Feb. 4.
The final post-season step is the state tournament Feb. 25. In the past three years, the winner of states has been the winner of the Bull Run District – twice that team was from Mason.
Irvine said that the team has a good shot at winning the district tournament, he but isn't looking much farther down the road than the coming meet. He added that "I think it's going to be hard to come close to the achievements of last year's team."
As the run up to the postseason lined up with winter break at their colleges, players from last year's team have been able to support this year's newcomers. Mason graduates and former academic team members Matt Baker, Jakob Hand, Asher Morse, Anuraag Sensharma, Crawford Taylor and Ross Wilson were able to stop by last week for a full reunion of the six-senior team, and to practice with this year's team.
"It's a good experience to see them and see the progress they have made," said Morse, last year's team captain, of this year's team.
While it remains to be seen whether or not the current academic team will bring home any postseason titles, one part of last year's story is certain to repeat itself – with a starting lineup heavy with seniors who will graduate this spring, Scharff will again have to build a team from the ground up.
"So I'll be in the same boat next year," Scharff said.