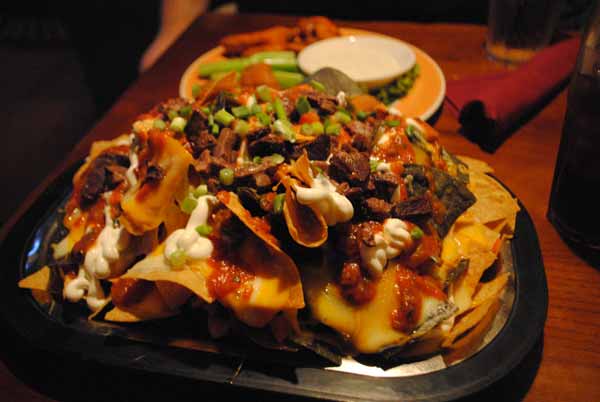 Dogwood Tavern is an ode to everything Virginia – even its name calls upon the official state flower and tree. And when it comes to decor, the state and its rich history is celebrated in art across the West Broad Street restaurant, with paintings, maps, and even photographs depicting the state and its important players throughout time.
While the stacked nachos and buffalo wings on the menu may not have been the standard fare enjoyed by George Washington when he called this state home, the menu says he and his buddies would have enjoyed them. Colonial appetites aside, there's much to love about the bar food offered up here.
The meal starts with the Tavern Bites section of the menu, serving up those bar favorites usually enjoyed with a nice, cold draft, in addition to some upscale seafood picks (like oysters served a few different ways). Most appetizer selections come in below $10.
The buffalo wings ($8.50), the crowning glory of any beloved bar, are served both with the standard, nicely spicy and tangy buffalo sauce and in an inventive honey-pepper sauce, which is more mild. Either way the wings are topped, they come wonderfully crispy on the outside, moist on the inside, and served with plenty of blue cheese sauce for dipping. Should picking between the sweet or the spicy take be too daunting for diners, they can order a combination of both styles on the plate.
The Heaping Nachos ($9) are true to their name. Ordering this dish results in a hefty mountain of cheese-slathered blue and corn tortilla chips being brought to the table, with enough cheese, tomato, jalapeno, salsa, scallion and sour cream to make sure every chip is dressed. Steak or chicken ($2.95 extra) and guacamole ($1 extra) can also be added.
Add tone-on-tone wood – from the paneled walls, to the floors and furniture – to give the restaurant that hometown bar vibe and televisions playing the night's big games every which way a diner might turn, and the pub experience is complete. But the restaurant goes further, with entree options that make this spot not only a good spot for a snack, but a dinner contender.
Sandwich options, be they the standard bread concoctions or wraps, are plentiful. The Big Chimney Build-A-Burger earns a spot of honor at the top of this menu section, and for good reason – the burger starts with the all-important certified Angus beef ($8, or turkey for $8, veggie for $7, and grilled chicken breast for $7), and diners can customize their perfect burger experience, picking the cheese ($1 extra) and the toppings (50 cents to $1.50 extra). From sweet and savory sauteed onions and smoky bacon strips to guacamole and even shaved ham, the toppings list offer a small field of promising options.
But burgers and all things bar food aren't all this spot can do – take the entrees menu, offering about a dozen picks for those with more refined tastes. Gourmet options like the Cedar Plank Salmon ($18) and Pecan-Crusted Trout ($18) mingle with down-home favorites like the Rappahannock Ribs (full rack $20) and Cornmeal Crusted Catfish ($16).
Daily specials, 50 cent wing night on Mondays, a raw seafood bar on Tuesdays, and a Sunday brunch, and Thursday through Saturday live music performances are enjoyable extras. Be it as a spot to watch the game, a restaurant for a good comfort-food dinner, or even a place to brush up on a bit of local history, Dogwood Tavern has cemented its spot as a favorite neighborhood bar.
Dogwood Tavern is located at 132 W. Broad St., Falls Church. For more information, call 703-237-8333 or visit dogwoodtavern.com. Restaurant hours are Monday – Friday: 11 a.m. – 2 a.m. and Saturday – Sunday: 10:30 a.m. – 2 a.m.