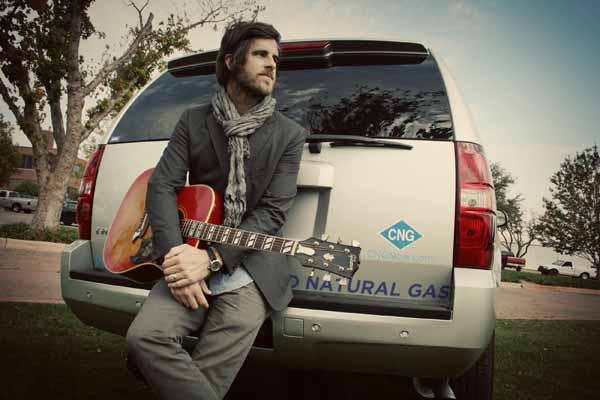 Graham Colton is, as the title of his latest tour might suggest, going natural this time around. For the two-month "Go Natural" tour that will bring him to Jammin' Java Friday, the Oklahoma City-born singer-songwriter has hit the road in an eco-friendly vehicle powered by compressed natural gas – a fuel that is both cheaper and emits less pollution than gasoline.
The decision was made with both cost and environmental impact in mind. Colton, admitting "it started with my pocketbook," said that touring for years on end has been costly. In his research on different types of alternative energies, he came across the idea of using CNG, and specifically found CNG Now, a group that promotes use of the fuel alternative.
"I said, 'Let me be a voice' – no pun intended – 'and let me do my thing and talk about this cause, because I believe in it,'" Colton said, regarding developing a partnership with CNG Now for the tour. In a blog on their website, CNGNow.com, Colton details the highs and the lows of his journey, taking a CNG-system-outfitted Chevy Tahoe across the nation.
"I'm really trying to document and report on my Facebook page and Twitter the positives and negatives of doing this. The infrastructure is being built up. I am somewhat routing from city to city, station to station," Colton said, explaining that touring with the vehicle means fueling up at the few gas stations in the country that provide CNG. "Some stations are wonderfully kept and amazingly easy, and some are in need maintenance or different types of help. That's something they want me to be really honest about, and talk about."
But "Go Natural" isn't just about the environment – musically, the pop-rocker is bringing things down to earth with acoustic shows and stripped-down sets.
"I've really returned to my roots," Colton said. "With the making of my album, and now being an independent artist, I feel more back to basics. It's certainly an experience I think fans get, night after night, when they come to the show. Hopefully they feel this is organic, natural, and a real honest night."
Colton's tour, launched in late October, followed the release of Pacific Coast Eyes Vol. 2, a follow-up to this spring's Pacific Coast Eyes that let the artist revisit three songs from the spring release and add three more tracks.
"You play them different live, and find little happy accidents," Colton said of the three songs – "Pacific Coast Eyes," "Everything You Are," and "1981" – that are reenvisioned on Vol. 2. "I wanted to capture that and give the fans stripped down versions or different versions."
Be it the similar topics, or the fact that the songs were written while he was touring for Pacific Coast Eyes, Colton said that the three new songs that made it into Vol. 2 – "Wide Open Inside," "Hold Onto My Heart," and "My Resignation" – just didn't feel like part of a new album, but rather "an addition to Pacific Coast Eyes Vol. 1."
It may not be a standard full-length album release, but making Vol. 2 is, for Colton, an instance of the liberties afforded to independent musicians in this high-tech age.
"It's an example of being an independent artist, to be able to say, 'Hey, I've got these new songs, I think you guys would like to hear them.' With the touch of a button on the Internet, I can get them out to the people, and they've received them well," Colton said. "In the past, I've got 12 songs, they go on an album. Now, it's different, and I think people really like it."
• For more information about Graham Colton, visit grahamcolton.com. To read Colton's CNG blog, visit cngnow.com/graham.