Diners looking for Hong Kong-style Chinese food should salute the chefs at X.O. Taste, who are executive officers of flavor and zest.
Diners looking for Hong Kong-style Chinese food should salute the chefs at X.O. Taste, who are executive officers of flavor and zest.
Though the "seafood restaurant" moniker might suggest the Seven Corners-adjacent spot might disappoint in its less aquatic offerings, the meats here are just as good as the restaurant's vast and excellent seafood options.
And – much like its sister restaurant, Bailey's Crossroads' Full Kee – the best of the meat and seafood picks become restaurant decoration, with lobsters scuttling about in aquariums at the back of the restaurant and crisp-skinned golden ducks hanging in a transparent case near the front. But unlike Full Kee, the restaurant has a very chic interior, where multi-color walls are accented with very few decorations, allowing the sleek tables and chairs, curious translucent light fixtures, and neon-lit bar to leave an impression of modern sophistication.
Meat and seafood dominate the appetizers, most of the standard Chinese take-out variety. But two standouts – fried vegetables, and the well-cooked, though poorly seasoned fried fish fillets accompanied by a heap of mayonnaise – make this portion of the menu seem unconnected. Disregarding these two outliers, the appetizers are still hit or miss. While the rave-worthy wonton soup surprisingly reveals bobbing pouches of little shrimp within a well-seasoned broth, the pan-fried dumplings house little more than bland, poorly-seasoned pork.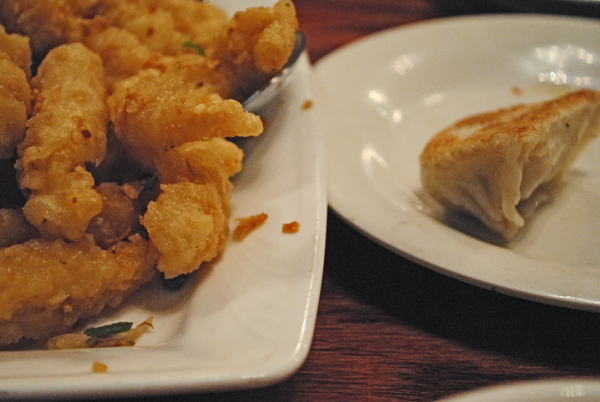 By wealth of options alone, the main courses fair better than the appetizers in satisfying diners. The restaurant's menu features more than 200 options at about $15 apiece, including noodle dishes, rice dishes, hot pots and skillet-served entrees with seafood, beef, chicken, pork and even frog.
The house-special fried squid is just that – squid stacked on top of squid, no vegetable or sauce filler required. The quality of the seafood shines through with this simple treatment, in which a thin breading brings some flavor and a bit of heat to the slightly chewy bits of squid inside.
The hot pot, or casserole, options are plentiful and feature cook-up meat and vegetable combinations served together in a covered metal bowl. In the sliced beef and tofu hot pot, a stack of oversized tofu pieces and some thick-cut slices of beef crowd a bowl filled with fresh, crunchy carrots and scallions, not to mention some delicious, meaty mushrooms. The whole concoction is served with a soupy sauce, which covers each bit and settles at the bottom of the bowl, ideally to slather the rice served with the dish. The sauce, though mild, is savory, and shows the quality of the meat and vegetables, but makes for a disappointing piece of tofu.
But not all of the restaurant's entrees cater to meat eaters – the menu offer an impressive selection of vegetable entrees, incorporating tofu and bean curd in some to add variety. In the fried bean curd with vegetables dish, a generous portion of fried, firm bean curd absorbs the mild, savory flavor of a tasty sauce that coats accompanying vegetables.
There are no desserts on the menu, save for a late-night offering of fried dough treats to satiate hungry party goers. But still, the meal often ends with something sweet, which the house offers complementary, forgoing fortune cookies.
Late-night hours make X.O. Taste a good pick for fine dining in the wee hours of the morning, but because of the restaurant's lunch specials – just short of 50 options all at around $7 apiece – X.O. Taste should be a contender for lunch, dinner or late-night snacking for diners in the area hoping to have their taste buds showered in the metaphoric hugs and kisses that a delicious meal can provide.
X.O. Taste Seafood Restaurant is located at 6124 Arlington Blvd., Falls Church. For more information, call 703-536-1630. Restaurant hours are Monday – Sunday: 11 a.m. – 2 a.m.