GEORGE MASON H.S.
Mustang Girls XC Place 4th; Boys Top 14th at Glory Days
The boys cross country team placed 14th out of 36 teams at the Glory Days Grill Invitational on Saturday; the girls placed fourth among their competition.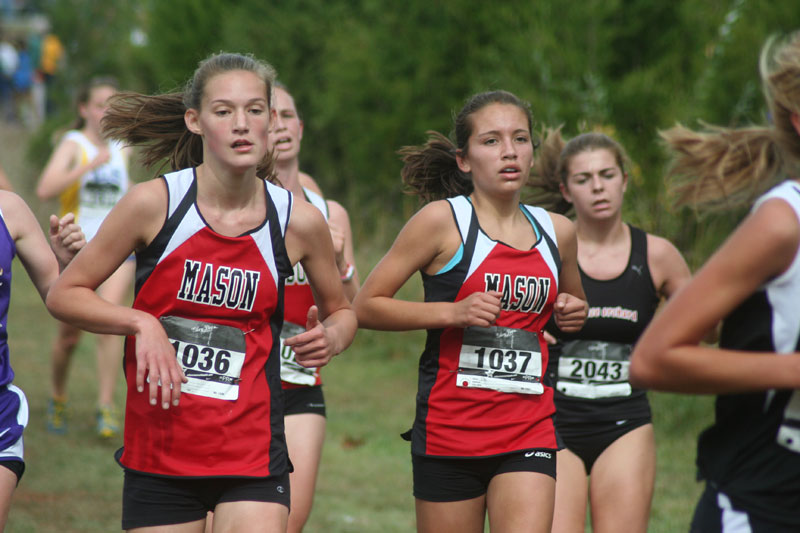 Falls Church H.S.

Jaguar Volleyball Edges Out Mount Vernon in 5th Set
Falls Church won 3-2 after fighting Mount Vernon High till the fifth game last Thursday. Hailey Oaks and Kim Bruyette led the point scorers for the Jaguars; Oaks had 14 kills and three aces, and Bruyette with 13 kills and five aces. The two teams traded blows, with Mount Vernon taking the first game, 25-19, and Falls Church following with a 25-21 win in the second. The Majors edged out the Jaguars in the third game, 25-23, but the Jaguars earned a 25-12 win in the fourth, with only six team errors. In the match-winning game, the Jaguars won 15-13.
Falls Church Football Takes Wakefield 28-27 in Overtime
Against Arlington rival Wakefield High School last Friday, the Falls Church Jaguars varsity football team won, 28-27, over the Warriors, in overtime play. Jaguar senior Marcus Hughes carried 38 times for 192 yards and three scores. The win brings Falls Church's tally for the season to two wins and four losses. The team faces Edison High in an away game this Friday, Oct. 16.

GEORGE MASON H.S.
Mustang Girls XC Place 4th; Boys Top 14th at Glory Days
The boys cross country team placed 14th out of 36 teams at the Glory Days Grill Invitational on Saturday. The Mustangs were anchored by senior Miles Butler who placed 42nd, posting a time of 17:36. Junior Jordan Robarge finished eight seconds behind Butler, coming in at 52nd. Rounding out Mason's top seven were Jeremy K. Brown, Matt Baker, Jesse Schaffer, Daniel Drawbaugh and Jeremy M. Brown, each finishing within 40 seconds of each other.
The girls cross country team continued its impressive season on Saturday at the same event, placing 4th out of 19 teams. Sophomore Eva Estrada led the way for Mason with a 5th overall finish and a personal best time of 18:44. Behind Estrada was a pack of five Mustang runners who all finished within 13 seconds of each other. Molly Breen, Hannah Beaman, Julie Estrada, Michele De Mars and Abby Perez came in with times ranging from 20:08 – 20:21, working as a team to give their team yet another top-five finish.
George C. Marshall H.S.
Marshall Football Struggles To Make Season Win
The Marshall Statesmen varsity football team lost their sixth season game, 21-7, on Friday night to the Langley High Saxons. In the first half, senior Steven Savage drove a two-yard touchdown run, and sophomore Aaron Aggen made the extra point.
At halftime, the score stood at 14-7, with the Saxons dominating the Statesmen defense. Senior Justin Stalcup was the Jaguars' lead rusher with 84 yards, and senior Ryan Walter connected on three different passes for 18 yards overall.
J.E.B. Stuart H.S.
Stuart Raiders Unable to Overcome Generals, 34-21
Stuart's varsity football team fell 34-21 against the Washington-Lee High Generals last Friday. A strong defense on the Generals' side made it difficult for Stuart to score, with a scoreless third quarter for the Raiders.
Senior Chris Ventura led the Raiders for yards with 16 carries and 32 rushing yards overall. Senior quarterback Jason Friday followed with nine carries and 23 yards.
Raiders Volleyball Trounces Wakefield, Ups Season Wins
The girls varsity volleyball team won 3-1 over Wakefield High on Oct. 13, bringing their season to six wins and 10 losses.

McLean H.S.
McLean Football Pulverizes T.J. Colonials, 38-0
Following a close loss to South Lakes last week and with its Homecoming weekend approaching, the Highlanders varsity football team delivered a powerful 38-0 win over Thomas Jefferson High on Oct. 9.
The Highlanders held the Colonials to 100 total yards overall, with McLean junior Jimmy Ludwick taking 12 carries and 81 yards, and sophomore Ryan McColgan with five carries and 74 yards.