When asked the most surprising part of his experience performing as Owl City, Adam Young is succinct in his response: "The response."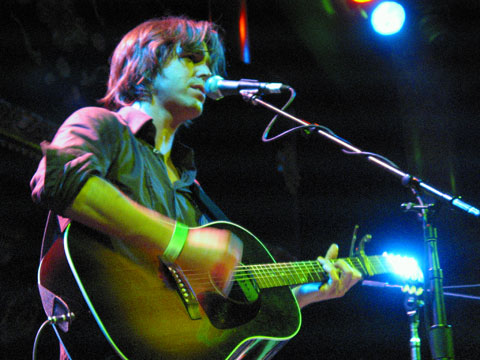 When asked the most surprising part of his experience performing as Owl City, Adam Young is succinct in his response: "The response."
Indeed, one glance at his MySpace page and its nearly 32 million plays, and it's instantly apparent that an enormous audience feels a deep affinity for the electro-pop songs Young began crafting in his parents' basement in 2007 to cope with insomnia. The results are even more staggering given that Young's first albums were self-release and he posted his first songs on a MySpace page without advertisement of any kind, even mention to friends.
"I wanted people to discover it organically," Young says. "Nothing is more irritating than a musician who wants to talk about nothing other than how cool his band is. I didn't want to force it onto anyone; I wanted to let it dissolve like an Alka-Seltzer tab in a glass full of listening ears."
The last simile demonstrates Young's captivating way with words that highlights each of his three releases, from the first independent EP Of June, to the Universal-backed, Billboard-charting Ocean Eyes, released this July. On "Fireflies," Young paints the following images as the song's narrator tries to fall asleep: "Cause I'd get a thousand hugs / From ten thousand lightening bugs / As they tried to teach me how to dance. / A foxtrot above my head, / A sock-hop beneath my bed, / The disco ball is just hanging by a thread."
By combining write-on-the-back-of-your-notebook lyrics, with haunt-your-head-for-days melodies that recall Postal Service — particularly Young's duets with Breanne Duren ("The Saltwater Room"), which are reminiscent of the give and take between Ben Gibbard and Neko Case — Young has crafted an intoxicating sound.
To hear him describe it, Young's writing process does not sound particularly unique: "I put on my pajamas, walk upstairs, sit down at the piano and push down on ivory with my fingertips." But hearing him describe the moment he knows he's on the right track, you get another taste of his gift for identifying the sounds that appeal to so many. "Something happens and the sounds that trickle into my ears make me smile. I remember what keys I pushed, I record myself playing, then sometimes I write words. Words that make sense to me. Words that make me feel."
According to Young, there's plenty of subjects from which he draws inspiration. His brief list?
"Oceans, the Midwest, mountains, jet skis, icebergs, skyscrapers, iceberg lettuce, historical shipwrecks, air travel, motorbikes, dentists with French accents, pizza, sandy beaches, stargazing, aquariums, Crocs, alpine skiing, space stations, indoor swimming, super tough biker chicks and eating three grilled stuffed burritos from Taco Bell right before going to Six Flags."
While writing has come naturally to Young, performing live was a tougher climb. When asked if he suffered from any butterflies before his first show in his hometown of Minneapolis, Young replied, "Unfortunately, there weren't any butterflies, but there were a handful of angry bees and hornets."
A few years' experience under his belt and now performing with four of his friends has helped ease his nerves a little bit.
"It makes touring a lot more fun and laughter in the van a lot more frequent. I wouldn't want to play shows without them. We all made fried chicken at my house today. We are a family. Of owls."
The family stops into D.C. on Sept. 12 to perform at the Rock and Roll Hotel. Tickets are sold out.
• For more on Owl City, visit www.myspace.com/owlcity.