Harry's Tap Room is known as a dining establishment with a conscience. It prides itself not only its cuisine's unique preparation, but on the food's local origins.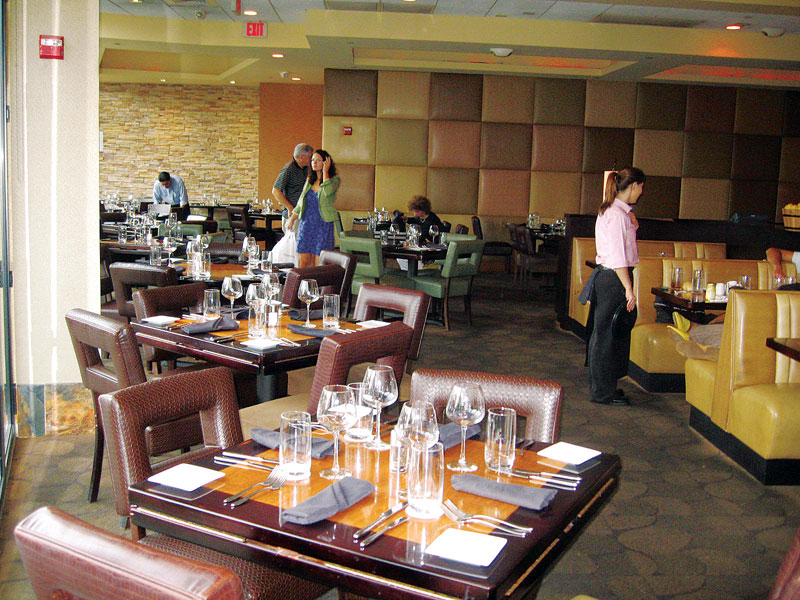 Harry's Tap Room is known as a dining establishment with a conscience. It prides itself not only its cuisine's unique preparation, but on the food's local origins.
Equipped with a stained wood interior, Harry's does not emit a usual "tap house" ambience. A contemporary-mod design runs throughout the restaurant.
The two-story restaurant's first floor consists of both smoking and non-smoking sections, with a floor-to-ceiling stained-glass divider. Dual bar-tops give thirsty patrons plenty of space to satisfy and mingle. And visitors can thank Harry himself for one welcoming aspect of this unique design vision, the often overlooked respite factor of the plump, comfortable chairs skillfully intended for relaxation.
Harry's also boasts chemical-free produce, while the all-natural beef and chicken used in all its dishes are said to be hormone-free. Hailing from Trickling Springs Creamy in nearby Pennsylvania, patrons can start a meal with Harry's selection of cheeses. The Baked Brie Cheese ($8) appetizer arrives wrapped in crispy philo and dashed with a port wine reduction and seasonal fruit. It is both sweet, crunchy and creamy at the same time. Other appetizers include Lentil, Chorizo and Potato Bruchetta ($7) and the Potato Crusted Ahi Tuna with Organic Radish Salad ($12), which truly highlight the chef's alfresco instincts with brilliant colors and striking flavors.
Continue your trip into the farm-raised food with the Twin Beef Tenderloin entrée ($19), which comes with your choice of house béarnaise sauce, horseradish, madeira or mushroom glaze. Entrees are not only beef, some standouts include the Calabash Fried Shrimp ($14), Paella De Harry's ($16), Seared Branzino and Shrimp Spaghettini Pomodoro ($17) are all fresh flavored, straight from the ocean and clean on the palate.
Tarragon Roasted Chicken Breasts ($14), Creole Cubans ($10) and Bison Burgers ($13) give diners the opportunity of culinary luxury along with affordability.
Straight off the ranch, Harry's offers diners a variety of delectable side dishes ($5). Farm2Table plates like Baby Patty Pan Squash, Cremini Mushrooms, fresh Sautéed Corn, Fried Eggplant, Bok Choy, Baby Carrots with Ginger and more. Also enjoyable is the multi-faceted Vegetable Sampler ($12).
Harry's menu says "We love brunch," and they mean it. The brunch menu is larger than most in the area. It is filled with trans-continental specialties, such as Brioche French Toast ($13) and offers six types of egg Benedict ($13 – 21). There are also salads, omelettes and sandwiches on the menu.
Don't forget "Brunch Libations and Eye Openers" when placing an order. This section features original Harry's beverages, including Harry's Mary, their take on a Bloody Mary, is made from scratch and served with a celery stalk, lemon, lime, stuffed olive, pearl onion and a hot cherry pepper.. If you like to keep it light, they also serve a variety of  fresh-squeezed juices. Though not a brewery, Harry's Tap Room carries an array of crafty beers, with local Virginia barley and hops, too. Try the Hook and Ladder Lighter stout ($6), which appeases the parched and comforts the nervous.
Happy Hour, consisting of a hefty list of $5 food specials, begins at 4 p.m. daily, continues all night Mondays and until 7 p.m. the rest of the week. It is a deal not to be missed.
Harry's Tap Room is an establishment for those hungry for raw energy. After all, it's only humane.
Harry's Tap Room
2800 Clarendon Blvd. #R800, Arlington
703-778-7788 • harrystaproom.com

Hours:
Monday – Thursday, 11:30 a.m. – 10 p.m.; Friday, 11:30 a.m. – 11 p.m.
Saturday, 10 a.m. – 11 p.m.; Sunday, 10 a.m. – 9 p.m.