The Japanese restaurant Maneki Neko of Falls Church was founded by Futoshi Takazato, formerly a sushi chef in Arlington, in 2002.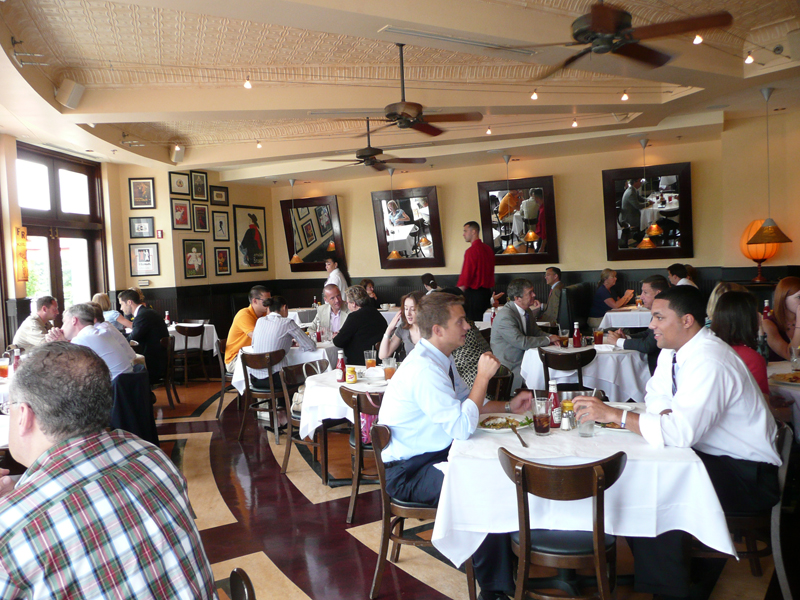 The restaurant's name means "beckoning cat," which in Japan is said to bring good luck.
Many of these white cats adorn the walls and shelves of the restaurant, waving and welcoming customers inside. I first noticed the soft, gold color of the walls when entering through the doors on Broad St. The wall opposing the sushi bar is adorned with a big red sun painted on it, not unlike the red sun that adorns the flag of Japan.
Upon entering, seating is available at the Sushi Bar, or at one of the few tables in the restaurant. The sushi bar has various colorful paper ornaments hanging from the ceiling. This is a very cozy and intimate restaurant, a good place for college students or even business meetings.
Takazato still takes pride in preparing the sushi himself at the bar, but he's hired some helping hands these days, like Maki Mabuno, who diligently prepared rolls for onlooking customers at dinner.
A bowl of Miso soup, which is served as part of the entrée order, helped cleanse my palate before the main meal. I began dinner with an order of Yakitori ($5.95), chicken served on bamboo skewers coated in teriyaki sauce. The chicken seemed to be a tad overdone, but it still was a good appetizer and the pieces of chicken weren't drenched in the teriyaki sauce.
Soon after I finished the yakitori, my entrée arrived, an order of chicken curry donburi ($10.25) served with a side of white rice. The curry was a combination of chicken with carrots, peas and onions, simmered lightly with onion, egg and curry. The curry had a bit of a kick spice-wise, but it wasn't overbearing and complemented the chicken, rice and vegetables very well.
Maneki Neko's sushi bar serves a generous array of sushi and sashimi. The biggest value of the sushi entrées is the Sashimi meal ($14.95 for 11 pieces and $16.95 for 15 pieces). There is also a vegetarian meal ($12.25 for 18 pieces) available, with a combination of avocado, cucumber and asparagus rolls.
One special that Maneki Neko also offers is the bento box ($8.95). A bento box is a single-portion takeout or home-packed meal common in Japanese cuisine. For this special, customers have a choice of sushi and meals from the kitchen including chicken teriyaki, noodles and tempura, a dish of deep fried battered vegetables or seafood.
The restaurant also offers several meal specials. Some that are currently available at Maneki Neko include items like Duck Ramen ($5.95), a noodle dish served in a meat broth, Beef Udon ($5.95), a hot noodle soup, and O-Den with rice ($10.95), a traditional winter dish with several boiled eggs, radishes and fish cakes. Evening specials run Monday through Thursday during dinner hours, 5:30 – 10 p.m., serving sushi for just $1 per piece. Maneki Neko even hosts sushi making classes – just ask them for information.
If you would like a little sake with your dinner, Maneki Neko of Falls Church is ready to serve you with a full plate.