The Falls Church High School boys soccer team challenged the Herndon Hornets in a home match on Friday, March 13, that ended with the Falls Church Jaguar's defeat, 2-1.
After losing their first season game to Annandale High School last Wednesday, the Jaguars had hoped the team's relative lack of experience would not affect the game's outcome. The junior varsity game against Herndon had excited Friday's crowd, with the Jaguars winning in the game's final minute.
Herndon started the varsity game with the ball in their possession. Both teams played strong defense early in the game, with each team experiencing several unsuccessful offenses.
Senior Michel Latham, a Falls Church goalie, stopped numerous attempts in the first 11 minutes of the game. Sophomore Connor Ross made the game's first goal for Falls Church with 27:41 left in the first half.
Falls Church dominated the Hornets offense, and blocking Herndon's goal attempts through most of the first half. However, with only 8:50 left Herndon scored a goal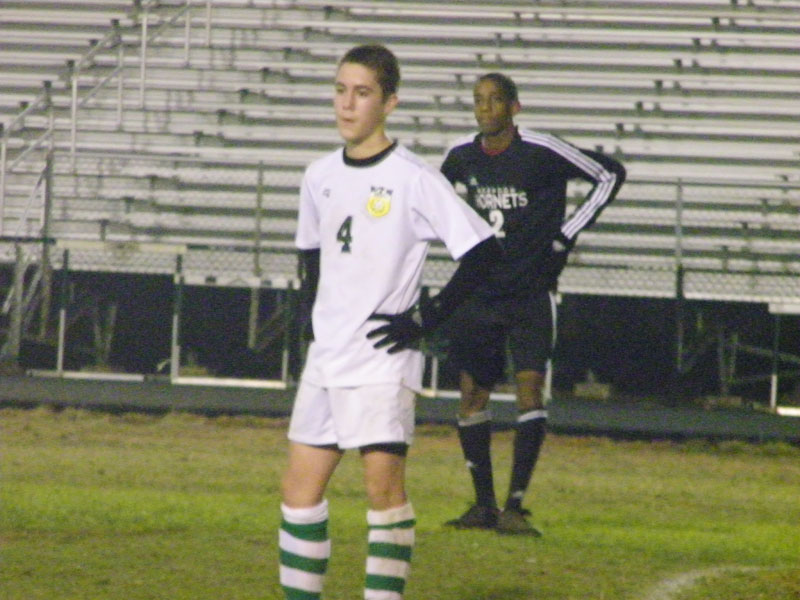 off a corner kick, making the halftime score 1-1.
The Jaguars ignited the second half with the ball possession, but Herndon was ready for the Falls Church offensive attack. The game would still be tied with 29:30 left in the game, with both teams' offenses making little progress offensively.
In the last 10 minutes drew closer, with fears of overtime, a penalty was called on Jaguars freshman Ohjay Porteria. The call was a handball penalty that gave Herndon a penalty kick. To the dismay of Falls Church onlookers, the Hornets scored on the penalty kick, taking a one point lead in the game.
Despite the lose, Jaguars played a great game, said Head Coach Randall Bolanos. "For the second game of the season we played very well. This team only has one direction to go, up," said Bolanos.
Bolanos has "high hopes for this season" that the Jaguars can avoid mistakes made in Friday's game, mistakes that led to game-clinching penalty kicks for the opposition.
The Falls Church boys soccer team took on George C. Marshall High this Wednesday, March 18, losing 3-1.