On March 22, the best skaters in the world will converge on the Staples Center in Los Angeles for the 2009 World Figure Skating Championships. Falls Church News-Press will be there, but before the first lutz is jumped, let's take a look at who some of the participants will be and who we might see on the podium.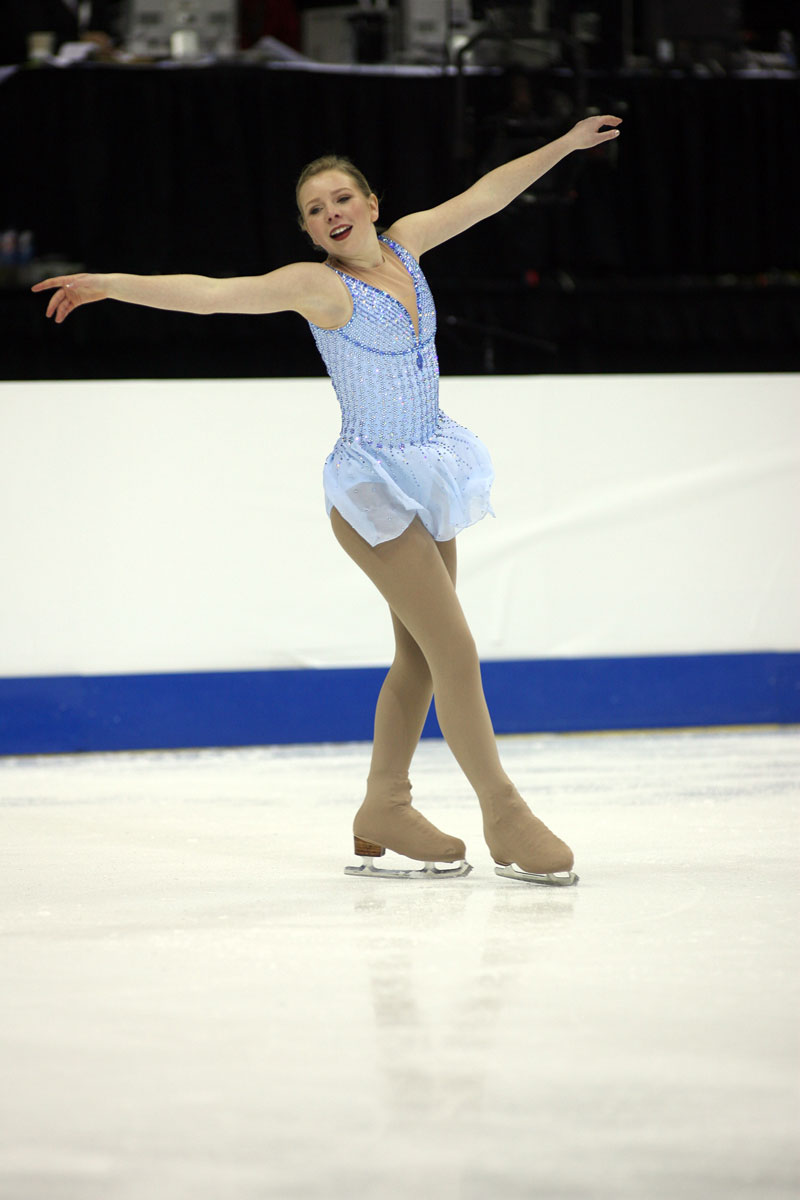 PAIRS
For the first time in a very long time the U.S. has a pair team that is seriously contending for a spot on the medal podium. Two-time U.S. Champions Keauna McLaughlin & Rockne Brubaker may break the U.S. draught that dates back to Kyoko Ina & John Zimmerman's World bronze in 2002. They're strong, well-matched and diligent in their training. This is their first trip to the World Championships because McLaughlin did not meet the age requirement last year. The pair, World Junior Champions in 2007, train in Colorado Springs, but she is a native Angelino, so they will have hometown support.
For McLaughlin and Brubaker to win a medal, they'll have to go toe to toe with the Chinese teams that have dominated pair skating in recent years, including former World Champions Qing Pang & Jian Tong, who won gold at the Grand Prix Final in December, and Olympic silver medalists Dan Zhang & Hao Zhang. The slight favorites for gold are the defending World Champions Aliona Savchenko & Robin Szolkowy of Germany, who won the recent European Championships.
MEN
The field is wide open following the retirement of defending World Champion Jeffrey Buttle of Canada and two-time World Champion Stéphane Lambiel of Switzerland. Former World Champion Brian Joubert of France won the 2009 European Championships, but he is not the most consistent skater. At any given competition he can come out with clean, intense, athletic performances or he can crumble.
Defending bronze medalist Johnny Weir, former three-time U.S. Men's Champion, did not qualify for Worlds this year. The top U.S. men's skater is the new U.S. Champion Jeremy Abbott, who is the first U.S. man ever to claim gold at the Grand Prix Final. In 2008, Abbott finished fourth at the U.S. Championships but received an 11th-hour invitation to Worlds when Evan Lysacek withdrew due to injury.
"It's a really great feeling going into Worlds this year having actually qualified, compared to last year where it was just a complete surprise," said Abbott, 23, who placed a credible 11th.
Abbott trains in Colorado Springs alongside fellow U.S. team member Brandon Mroz as well as ladies competitor Rachael Flatt, where their coach Tom Zakrajsek inspires them to be the best.
"Going into Worlds, I feel a lot more relaxed and comfortable than I did at Nationals," Abbott said. "Nationals, I felt like I was expected to win. I didn't feel like I was just one of the favorites. I felt like I was really expected to win and that put a lot of pressure on me. It was a little bit uncomfortable.
"Going into Worlds, I don't feel like I'm expected to win, but I do feel good being one of the top men in contention for that spot." Abbott is working on quadruple jumps, but will not say whether he will include one in either his short or long programs at Worlds. "Just doing the quad isn't enough. If you're going to do it, you have to do it and you have to deliver the rest of the program, the rest of the package-spins and choreography."
In addition to Joubert and Abbott, other podium contenders include Takahiko Kozuka of Japan, Patrick Chan of Canada and former U.S. Champion and two-time World bronze medalist Evan Lysacek, who is looking to rebound from a third-place finish at Nationals.
"Having the field so wide open this year definitely gives us an advantage because there are no clear favorites," Abbott said.
ICE DANCE
Ice dancing is another discipline where the defending World Champions will not be competing, in this case due to injury. Isabelle Delobel & Olivier Schoenfelder of France claimed the title in 2008, but Delobel sustained a shoulder injury at the Grand Prix Final that required surgery from which she is not yet healed.
Five-time U.S. Ice Dance Champions Tanith Belbin & Benjamin Agosto missed the U.S. Championships due to Agosto's back pain that caused them to withdraw from the Grand Prix Final after the original dance. The duo has been cleared to compete in Los Angeles and they say they are in top form. A silver medal at the Olympic Winter Games in Turin in 2006 was the best-ever Olympic finish for an American ice dance team, but they have struggled a bit internationally since then, finishing off the podium in 2008 for the first time in four years.
Belbin and Agosto will likely vie for the podium, but they may be eclipsed by the new U.S. Champions Meryl Davis & Charlie White, who finished third at the Grand Prix Final. Other medal contenders are European Champions Jana Khokhlova & Sergei Novitski of Russia, Belbin and Agosto's training mates in Philadelphia Oksana Domnina & Maxim Shabalin of Russia, Federica Faiella & Massimo Scali of Italy, crowd favorites who are a bit light on technical ability, Canadian Champions Tessa Virtue & Scott Moir, and Sinead Kerr & John Kerr, the first British ice dancers to win a medal at Europeans in 15 years.
LADIES
The battle for World gold seems to come down to Mao Asada of Japan, the defending World Champion, and Yu-Na Kim of Korea. Others to keep an eye on are European Champion Laura Lepisto of Finland, two-time World medalist Carolina Kostner of Italy and Joannie Rochette of Canada. For the first time since 1995, the U.S. has only two ladies competitors, and U.S. Champion Alissa Czisny and two-time U.S. silver medalist Rachael Flatt, 2008 World Junior Champion, are more realistically focused on securing the U.S. three berths for next year's Winter Olympics in Vancouver than they are on this year's World podium.
"It's going to be tough this year," Flatt, 16, admitted. "We're going to have to skate really well in order to get those three spots back for the Olympics. It's another challenge, and I'm very excited for it."
A straight-A student who adeptly balances skating with advanced placement classes in English, biology and chemistry, Flatt is a fierce competitor and unquestionably the most consistent U.S. lady over the past two years. After a seventh-place finish at the Four Continents Championships, Flatt made a decision to return to last year's free skate, and choreographer Lori Nichol came to Colorado Springs to update it.
"After Four Continents, we'd had some mixed feedback about the [new] program, between the music and the impression of it," Flatt explained. "That's really not what we wanted to hear going into Worlds, so we decided to go back to my old long because it was a really good program for me. I'm able to express it a little bit better. I have a lot of fun with it. That's okay. Sometimes I do have to make a change in order to better my skating."
At press time, Flatt said she is planning to do triple/triple combinations in both the short and long programs. Born in California, she's is considering Worlds a bit of a homecoming and she's looking forward to having her first skating coach, Tiffany Mayes, and old friends cheer her on. They'll witness firsthand the effort Flatt always makes.
"It's a constant process. There's always work to do done," she said. "Being consistent is how I train. It is what helps me do my best."