JV's Restaurant of Falls Church has been a timeless favorite for live, local tunes since 1947.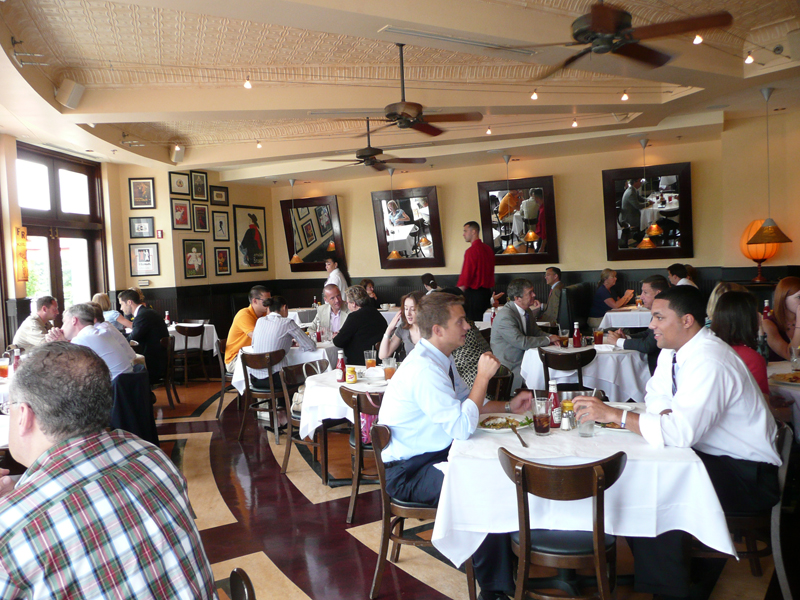 Located just off of Arlington Boulevard, its honky tonk-like feel is emulated through the country and bluegrass wall décor, as well as signed pictures of buzz-worthy customers.
The eatery's slogan, "Ageless charm without yuppie bastardization," makes clear the restaurant's avid support for down-to-earth clientele, including our proud U.S. veterans upon entering the dining space. Music can be heard any given evening, be it live or from the jukebox's speakers next to the bar, where bartenders are on hand for brew on tap.
Ideal for the economically-conscious, JV's caters to penny-pinching patrons without skimping on traditional American flavor. Only one item on the menu, a 16 oz. steak platter, runs over $10, while the remaining lip-smacking options cost just $7 or less. For a meal on the budget, it's hard to go wrong.
The Jalapeño Poppers ($4.95) are a recommended starter for taste buds in need of a cheese-paired, bite-size kick. Fried and served stuffed with a hearty helping of cheese, the combination was satisfying, though this appetite could have done with more pep and less cheese. For the zing-wary, other appetizers included mozzarella sticks, fried mushrooms, chicken wings and nachos, amongst others.
JV's Bacon Cheeseburger ($5.50) took center stage as the main course, sided with potato chips. The hamburger itself was cooked to perfection as ordered and was complemented by the strips of mouthwatering crisp bacon. The chips were a humble, yet tasty, side to this comfort-food favorite.
The restaurant also has regular live musical entertainment, with two acts playing on Saturday and Sunday nights — one at 5 p.m. and the other at 9 p.m. For customers who miss the live serenade, there's always the digital jukebox housing a great selection of classic and current music. Not only that, but JV's won a Wammie Award in 2004, named as a favorite place to play for those of the Washington Area Music Association.
It's easy to spend less than $15 on a meal. If you are looking for an inexpensive place to for a nice bite of Americana, and maybe want to take in some good entertainment, check out JV's. But if you want to go and wet your whistle, this place is perfect for that too. To find our who's set to jam onstage, visit JV's Web site at www.jvsrestaurant.com or its MySpace page at www.myspace.com/jvsrestaurant.
Better yet, looking for plans this March 17? Head on over to JV's for a performance by Honky Tonk Confidential, heading up its 6th Annual St. Patrick's Day Celebration. Fully equipped with Irish tunes and corn beef and cabbage to boot, the music starts at 9 p.m., but the eats start at noon.
JV's Restaurant
6666 Arlington Blvd., Falls Church
703-241-9504
Sunday: 11:30 a.m. – 1:30 a.m.
Monday: 2 p.m. – 2 a.m.
Tues – Sat: Noon – 2 a.m.
www.jvrestaurant.com
www.myspace.com/jvrestaurant