Public/Private, at the Arlington Arts Center (AAC) (3550 Wilson Blvd., Arlington).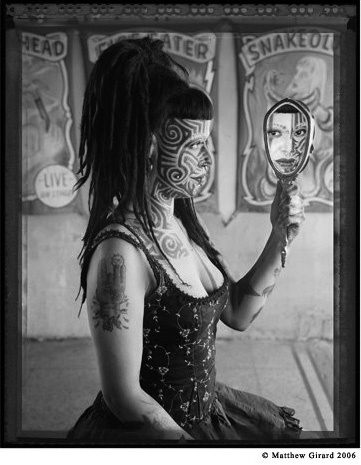 This exhibit runs through April 4. Gallery hours are 11 a.m. – 5 p.m., Tuesday – Saturday. For further information, call 703-248-6800, or visit www.arlingtonartscenter.org. Public/Private features the work of 12 artists dealing with aspects of space as we use and experience it.
Satomi Shirai a native of Tokyo, Japan currently residing in the Astoria section of Queens in New York City. The six photos she has on view here in the Tiffany gallery have a subtly staged cinematic quality that seems at first blush to be photo journalism. However, upon closer inspection, the viewer notices staged thematic geometric echoes that resonate throughout each image, each in its own way. While the space depicted is in fact her apartment, and features Shirai herself as a character within the space, they depict quirky behaviors that clearly push them outside of the realistic realm.
As shown, the images most closely resemble what movie poster collectors refer to as lobby cards. Still in use overseas, they are essentially extinct in the U.S. originating from a time before TV, movie theatres used them as on site film advertising. Typically with eight cards to a set, each lobby card would feature a single frame image from the movie. The goal of course was to show just enough to get you interested in the film, but not enough to give the story away. For just that reason, they remain the most boring and least satisfying section of movie poster collecting. The reduction in size from a projected 40 foot image to the diminutive 11 x 14-inch cards certainly didn't help matters. At 34 x 41-inches, Shirai's photos on view here would in fact more closely relate to the much larger formatted Italian lobby card type posters known as photobustas.
While lobby cards were little more than simple teasers, Shirai's photos are richly embedded with details that the moving image would find superfluous. In that way they differ from true movie stills, but none the less retain their inscrutably quizzical essence. Shirai's photos present us with a wealth of information, the tableaux before us are devoid of the contextual before and after action that would orient them into a coherent story.
While they are domestic depictions, they live intellectually nomadic lives forever wandering around in our imaginations searching for a home. The magic of Shirai's work lies in the captivating state of wonder they create. For all we can see, we are palpably aware of the enormity of what we can not see, or know. To see Shirai's works online, visit www.satomishirai.com.
It should be noted here that Satomi's photos often feature Greek items which relate to the Greek enclave in Astoria, where she lives. It fascinates her that immigrants come to America, yet bring their own culture with them and cling to it in their newly adopted homeland.
Former Arlingtonian Mandy Burrow hits on the same psychological note with her presentation of six real world personal collections of what might be best defined as domestic detritus. Given enough time, rarity and popularity, this mass-produced stuff becomes highly coveted collectibles. Lacking that, sooner or later it'll wind up in the trash can.
These seeming bits of nothing act as time traveling vehicles for their owners – objects that bring back memories, and thus allow the owner to literally touch a younger point in their lives.
As viewers, we look at these objects as the garbage they will likely wind up as, as they are not part of our personal memory bank. If ever there was a physical depiction of the old saw "one man's trash is another man's treasure," this would be it. To the owners, all of it has real value, and gives them temporary relief from the diaphanous, ever-moving slice of time we occupy in the here and now – the same slice of time that has seen us come into the world, live our lives and that inexorably carries us towards death.
These tidbits of nothing are, in effect, a howling protest against that death, clinging instead to life as we know it. For whatever fleeting psychological relief they provide against that inexorable slide towards death, they are quite valuable indeed. One of the most fascinating things here is how we value our own junk, yet feel so little empathy for other people's junk that we immediately identify it as trash.
Matthew Sutton takes us ever deeper down memory lane with his lower floor installation titled "Febreze Scentstories." Here Sutton has erected a booth equipped with Febreze scent cartridges each with four scent tracks, which, he hopes, will trigger memories that will propel you to then write down your memories on the paper provided. What separates Sutton's work from the two artists above is the common stimulus that leads each participant to their own individual memory experience.
While Proust is said to have spent the last 13 years of his life writing the seven volume novel, "In Search of Lost Time" (a.k.a. "Remembrance of Things Past"), you aren't expected to spend the rest of your life writing here. A single page will suffice. But far be it for us to stop you if you hit a groove.
Christian Moeller offers a short video loop of people interacting with a spotlighted overhead surveillance camera. Albeit far from a definitive interpretation, it seems to hit on the nature of fame (being in the spotlight) in the way that it finds its unwitting victims, they acclimate themselves to it, and then go to extreme lengths to stay in the spotlight after it no longer wants them there.
Ben Kinsley and Robin Hewlett staged a multifaceted community event in a Philadelphia alleyway for the benefit of the passing Google mapping camera car. The result leaves them as a sort of new fangled, high tech graffiti artist tagging the Google map Web site with their presence and antics.
Richard Saxton and Stuart Hyatt (plus about 30 others) built the Music Integrated Kiosk Exchange (M.I.K.E.) at the John Michael Kohler Arts Center in Sheboygan, Wisconsin last year. Essentially a modified corrugated tin grain bin. In its closed state, it has a vaguely homespun cartoon sci-fi look, as if it leapt out of a Red Rover or "Calvin and Hobbes" strip. Inside is a fully functioning sound studio, which opens up into a performing stage with platforms. It's a fascinating piece of seemingly adaptive vernacular industrial architecture. Blue prints and photos of the project are on view here at AAC. See www.jmkac.org/MIKE.