Upon entering Sakura Japanese Steak and Seafood Restaurant, the beautiful Japanese décor brings the authenticity of Japanese culture to life.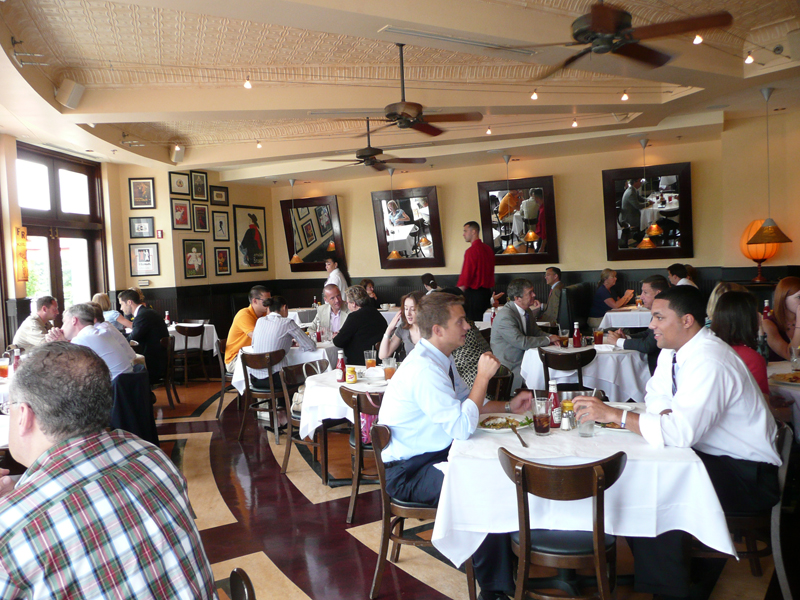 Marc Ha, Sakura's founder and president since the chain's inception in 1988, operates Sakura Japanese Steak and Seafood Restaurants in 19 locations throughout the Maryland, Virginia and New Jersey area. The Tysons Corner location opened in December 2007.
There are three sections to Sakura, each with its own personality. A sushi bar and full bar in the front of the restaurant are open for patrons who wish to enjoy an array of fresh sushi or relax with a drink before sitting down at their hibachi station. Being a spacious room with high ceilings and dark hardwood floors makes this a perfect place for a quiet meal for two.
Miniature figures of Japanese women dressed in kimonos displayed in a glass case match the colorful dresses the waitresses wear. Simple but elegant, a panel of multi-colored Japanese fabrics adorn the ceiling along with a kimono draped against the wall, making for dashing centerpieces for the bar area.
An imitation Samurai warrior and model of a Japanese house greets patrons as they enter into the hibachi room. It is hard not to notice the Japanese inspired architecture of the wooden awning, complete with intricate Japanese designs on one of the panels. On each of the walls there are colorful murals depicting scenes of Japanese lifestyles. Equipped with 18 hibachi grills, this room is also large enough for any size party.
The hibachi chef put on an amazing show, using his knife with the precision of a samurai sword. He started off with a flaming display as he heated up the grill. Excitement arose as he flipped eggs into the air with his spatula and made the classic flaming onion volcano, which were only a few of the tricks up his sleeve. He even played a fun game of "shrimp basketball," in which pieces of shrimp are launched into patron's mouths. Entertaining from the moment his rolled his cart to the table, the act is sure to put a smile on anyone's face.
The menu has a variety of items appealing to anyone with a huge appetite. My guest ordered the chicken and shrimp combination ($20), served with a choice of fried or steamed rice and a vegetable medley of red peppers, carrots, onions, zucchini, mushrooms, bean sprouts and broccoli. The dish came with an appetizer of grilled mushrooms, chicken liver or two pieces of grilled shrimp, a salad with ginger dressing and miso soup. Steak and seafood dipping sauce is also served with each meal. The filet mignon and chicken combination ($21), also served with your choice of fried or steamed rice and a vegetable medley, is an entrée worth considering. Grilled to perfection, each piece of steak and chicken will melt in your mouth.
The staff was very helpful in answering menu questions and made sure our drinks were always filled to the top. Whether it's to enjoy the clinking and clanking of the chef's utensils or to satisfy a craving for Japanese food, Sakura Japanese Steak and Seafood Restaurant has something for everyone.
Sakura Japanese Steak and Seafood Restaurant
8369 Leesburg Pike
Vienna, Va.
Open Monday – Thursday, 11:30 a.m. – 2 p.m., 4:30 p.m. – 10 p.m.
Friday, 11:30 a.m. – 2 p.m., 4:30 p.m. – 11 p.m.
Saturday, noon – 11 p.m.; Sunday, noon – 9 p.m.
703-356-6444
www.sakurasteakhouse.com