FCA-palooza
Illumination, the Falls Church Arts (FCA) show and sale, now at the Pearson Square facility (410 South Maple Ave., Falls Church).
During FIRSTfriday in Falls Church, March 6, the gallery hours will be from 6 – 8 p.m., and then again the two following weekends March 7 – 8, and 14 – 15. Saturday and Sunday hours will be 1 – 4 p.m. For more information, visit www.fallschurcharts.org.
This show opened last Friday evening at Don Beyer Volvo, with 68 artists exhibiting 126 works. The biggest and best show of the year on Falls Church Arts calendar, this year's show saw a similar crowd size with a similar quantity and quality of art works as last year's show. All of which isn't bad considering the intensely rough art market we're in at the moment. In a market that finds any sales at any price rough going, this show found a fair number of buyers in the crowd. Reasonable prices certainly helped things along.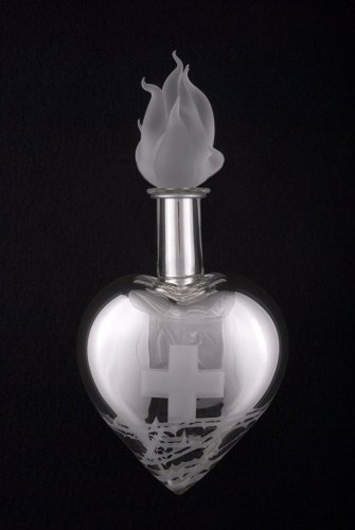 As we said last year, this group desperately needs a permanent home with decent exhibition space if it has any hope of becoming a player on the greater metro art scene. Well, FCA now has the space at Pearson's Square, on the site of the old duckpin bowling alley just off Lee Highway.
One really has to look no farther than this annual show to see just how badly this space has been needed. Last year this annual show was gutted when it left Don Beyer's showroom and moved to its temporary FCA digs on Park Avenue, with seemingly less than half of the works making the trip. This year's show has been held together for the most part, but necessity dictated hanging it salon-style on portable art fair-esque stands. While it offers a classic lesson in how art needs elbow room to show well, it remains a "doing the best we can with what we have" affair.
It'll be nice when this space is finished, leaving efforts and energies available for hosting bigger and better no-excuses art shows. We'll know FCA has truly arrived when tight curated solo and small group shows, as well as juried open call shows, are able to attract artists and visitors from around the region. In the meantime, the task at hand is fund-raising and building out.
Dealing with individual works in this show, there are a number of interesting pieces on view. Patricia Williams has a nice blue watercolor abstract titled "Celebration" that can be read in a number of ways. It seems like a nocturnal cityscape reflected from across a river, or possibly a cross-sectional view of plant seeds taking root and preparing to burst forth in a fast approaching Spring. The question of which, or what, it is could keep you entertained for a long time.
Terri Rea has another horizontal watercolor titled "Laundry Day" exhibiting the normally unseen. One could easily craft several metaphors for the airing of one's freshly laundered underwear. Whatever you make of it, it has a wonderfully playful wacky vibe to it.
Lisa Neher has a playfully painted image of a house on a street corner titled "Shining Through." While a fairly traditional view of suburban landscape, it's loosely painted lines, bent street sign pole and telephone pole offer a friendly and comfortable neighborhood view of a place you could easily call home.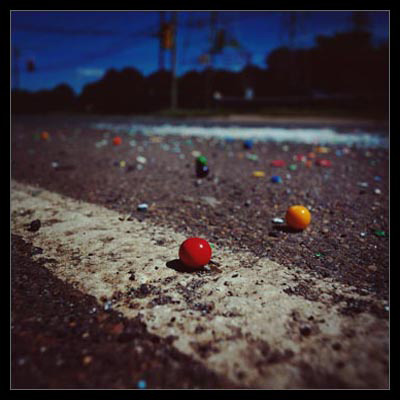 Phil Napala continues to make progress digitally degrading his photographic images. The two on view here seem more painterly than past images, especially "Gold Eucalyptus." It'll be interesting to see where he takes his work in the future.
Carolyn Grosse Gawarecki presents a watercolor titled "Heading over the Hill," depicting a number of cows at the crest of a low hill with thunderhead behind them. It reminds one of local artist Jeff Wilson's tornado paintings, without the high drama of impending doom.
Elizabeth Loftis comes in with what surely must be the most entertaining image in the show. Loftis' pastel image depicts mermaids cavorting in the Tidal Basin under a van Gogh-esque "starry night" sky. Titled "Sirens of the Tidal Basin," the work almost immediately calls to mind one of Washington's most infamous evenings, after which Wilbur Mills and Fanne Foxe managed to find themselves ignominiously exposed on the national stage. Mills' congressional career was over after that evening when he was pulled over for drunk driving at the Tidal Basin. Somehow stripper Foxe managed to dive, fall or jump into the Tidal Basin requiring the cops to rescue her. For better or worse, they just don't make "Banned in Boston" farcical scandals like that any more.
In other Falls Church News… Stifel & Capra is moving into the old large white antiques building at Little Falls and Broad Street across from the Post Office. Six artist studios spaces are available for rent. For complete information, e-mail Theresa@StifelandCapra.com.

Finding van Gogh's Katra
"Vincent" seems like a potentially interesting play opening this week at DCAC (2438 18th St. NW, Washington D.C.). Written by another guy known for his ears, Leonard Nimoy, a.k.a. Star Trek's Spock, this one-man play is performed and directed by B. Stanley, and depicts Vincent van Gogh's brother, Theo, the week after Vincent's death. Theo argues for his brother's artistic legacy as those around him attempt to write Vincent off as a crazy failed artist.
Nimoy wrote Vincent after studying the hundreds of real life letters between the van Gogh brothers. Performances are Thursday – Sundays at 7:30 p.m. through March 28. Tickets are $20. For more details and to buy tickets, call 202-462-7833 or visit www.dcartscenter.org/event.htm#Vincent.