There are two misconceptions about his music career that Luke Temple would like to clear up. The first is his past career painting murals in New York apartments.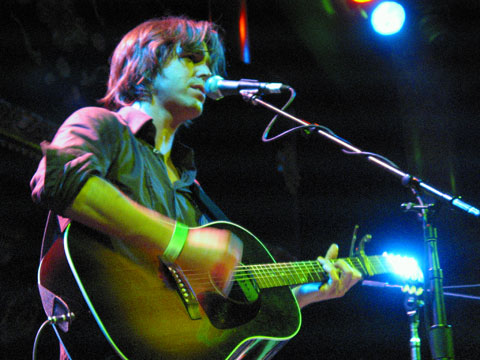 "The mural thing within the press has sort of gotten out of control," says the Brooklyn songwriter, who did spend time in art school and making more meaningful paintings than the much-discussed murals that have made an appearance in numerous music publications. "The murals were not an expressive thing for me. It's basically like hand-painted wall paper."
Next, the renaming of his act from Luke Temple to Here We Go Magic, did not signal the start of Temple writing in a group dynamic. Ironically, he says, he has never been more alone in making the eponymous LP release.
"This one was completely me," Temple says. "I really wasn't even interested in putting a band together, but when we released it, it started to generate some steam and it's not really solo performance music, so I put a band together."
But in the writing states, Temple embraced his isolation to inspire his lyrics, emptying even his head.
"I try to leave my mind as blank as possible. I feel like usually the most interesting images I create, or the most interesting configuration of words is when I'm allowing myself to be empty," Temple says.
"I just try to tap into something emotional and to me, emotions are more real than any sort of conceptualized thoughts or ideas. Usually I find it has a lot of meaning to me and when I listen to it after I'm finished, I find that I do identify with it, either through a yearning or something or a place I remember or want to be at. I just try to keep it open."
The openness leaves room for the listener to color Temple's creation with their own experiences. It's also part of the reason nearly every review has pegged Temple's sound as "expansive" and "hypnotic."
As Temple puts it, his songs build linearly through nuance and detail more than any abrupt changes in tempo or structure.
"I like making music that doesn't force too much on you and gives you room to let your mind drift where it will. To me that's the most interesting way to experience art or music," he says. "On stuff where there's a lot of instruments and syncopations and you sort of have to hold on for dear life, you sort of have to come to terms with the music on its terms because it's letting you know that it's far more complicated than you are. There's a kind of humility in my music and a kind of simplicity so the listener can feel really integrated into it as an experiential thing."
Often dressed up with delay and reverberating strings, the repetition of a verse, slightly varied with every iteration, greatly appeals to him … and apparently also to the writers in both Rolling Stone and the New York Times. Two of his celebrated peers, Sufjan Stevens and Death Cab for Cutie's Ben Gibbard, have also chimed in to applaud Temple's sweet, high-pitched pipes.
The buzz building around the latest album has been more palpable than in the past, Temple says, and he's eager to hit the road on a tour that brings him and his touring band to D.C.'s The Red and The Black on March 7.
"I actually feel that when we leave New York there will actually be people at our shows," Temple says. "Maybe no more than a handful, but that still will be more than I've ever experienced outside of New York."