Trinity's Junior Class Wins Metaphysical Pursuit
The junior class at the Trinity School at Meadow View has won Metaphysical Pursuit for a third-straight year. A team, representing grades 7 – 12 compete against each other in a game combining Jeopardy and Trivial Pursuit.
This competition is sponsored by the Trinity Life service organization and the winning team receives spirit points towards their class total.
McLean H.S. Hosts Annual Boar's Head Feast
McLean High School Choral Department will host their 57th Annual Boar's Head Feast at the Lutheran Church of the Redeemer (1545 Chain Bridge Rd., McLean) on Feb. 27 and Feb. 28 at 7:30 p.m. This year it will be hosted by the Madrigals with performances by the men's, women's and Armonia choruses. Tickets are $25 for adults and $20 for students. For reservations, e-mail comey8@mcleanchoral.org.
Casino Knight at Bishop O'Connell High School
Poker tables, blackjack tables and more will be found in the auditorium at Bishop O'Connell High School (6600 Little Falls Rd., Arlington). Casino Knight takes place on Feb. 28 from 7–11 p.m. The cost for admission is $10. For more information, visit www.bishopoconnell.org.
Sgt. Nichols Named 'Outstanding Mentor'
Fairfax County Police Sergeant Darrell Nichols has been presented with the Outstanding Mentor Award from the Virginia Mentoring Partnership for his work with Fairfax County Public Schools (FCPS) students for nearly a decade.
Nichols works with students mainly at Parklawn Elementary School in Alexandria and has been instrumental in recruiting other police officers to mentor FCPS students as well as helping establish mentoring programs at Annandale Terrace, Braddock and Cherry Run Elementary Schools.
Teachers of students Nichols has mentored say their students have been able to build self-confidence and social skills, and the teachers have seen improved classroom behavior. Staff members have noted that students enjoy seeing Nichols come to their school and praise him for building a bridge between the schools and the local community. Nichols has spoken on behalf of the FCPS mentor program to the Fairfax County School Board and has spoken to mentoring coordinators at a mentoring conference. He has also contributed to the FCPS Boys Leadership Conference.
Virginia Mentoring Partnership is an independent organization that provides training and technical assistance to mentoring programs around the state. It was developed in partnership with Virginia Commonwealth University and MENTOR, the National Mentoring Partnership.
Handful of Highlanders Granted Kudos
McLean High School publicly congratulated a handful of their highlanders this week. Six students were named as National Merit Scholarship Finalists: Paul Capp, Anthony Charles, Zachary Charles, Adam Scott, Athreya Tata and Miles Zinni.
For musical accomplishment, Jacob Buser gave a fantastic performance Sunday night at the Kennedy Center. Buser was a piano finalist in the National Symphony Orchestra's Young Artist Competition, which is not only prestigious in this area, but extremely competitive. He was the only student from Fairfax County Public Schools that made the finals.
Cecilia Lam was given kudos for receiving the 2009 McLean Rotary Youth Service award.
Finally, Meghan Percival and the Highlander Yearbook staff, was named a Pacemaker finalist. The Pacemaker is a contest run by the National Scholastic Press Association (NSPA). Since 1927, NSPA's Pacemaker competition has been considered by many to be student journalism's highest honor. McLean is one of just 57 schools in the nation to receive this honor.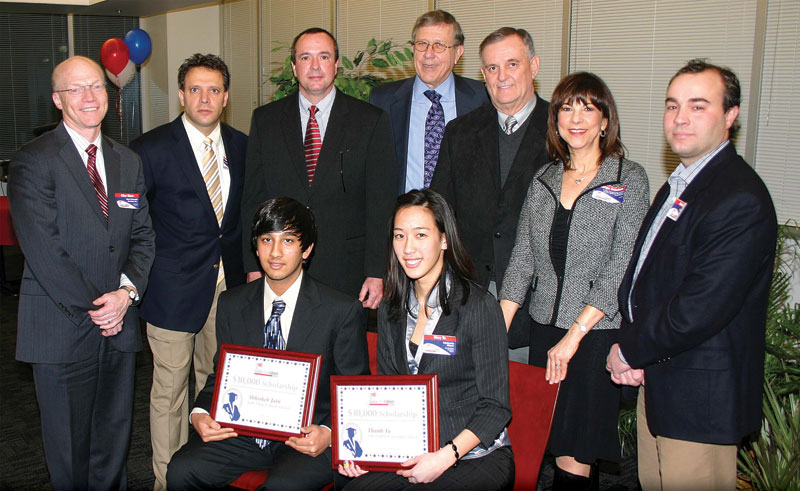 Also honored by NSPA were 10 yearbook and seven newspaper staffers having been named to the 2008-2009 Journalism Honor Roll: David Berk, Ned Burchfiel, Cristina Crawford, Danielle Fisher, Marissa Gitler, Anna Glendening, Neelankshi Kaul, Devan Kerley, Laura Landes, Faith Lee, Natalie Mabile, Cameron Meade, Sarah Megas, Jasmine Mohandesi, Yasmina Shields, Molly Welch and Katie Yensen.
Also excelling in the field of journalism is Talia Roth, a member of McLean's yearbook and newspaper staff, who was named the winner in this year's Virginia High School League (VHSL) Feature Writing Contest for basketball. Her story will be published in the 2008–2009 VHSL State Basketball Championship Souvenir Program.
In other news, first-prize teams recognized at this year's Science Fair include: Albrey DeClerck and Taehyung Kim; Melissa Khashei, Brittany Glenn and Billy Dvorkin; Linda Kim and Meryem Ok; and finally, Mathew Samuel, Harry Siggins and Nadar Sobhani. First-prize individuals were George Wilkes, Yuriko Salmon, Zach Charles, Prianka Das, Haleemah Qureshi, Anthony Charles, Jason Lin, Kyana Afshar, Kate Walker-Bawa, Kevin Lee, Rafi Enriquez-Hesles, Scott Feit, Jamie Rees, Edward Kim and Zeynep Arslan. All first-prize winners — teams and individuals — will advance to the Regional Science Fair on March 28 – 30 at Robinson High School.
Statesmen Academy Members Venture to Arsenal
Students enrolled in criminal justice at Marshall Academy of George C. Marshall High School took a field trip to the Blue Ridge Arsenal indoor shooting range on Monday, Feb. 23. The trip was designed to teach students how to safely handle firearms. Criminal justice students learn about criminal law and investigation, emergency response, search and seizures, arrests, crime prevention and career opportunities in the criminal justice system.
Hayfield Presents 'People's Rights' with Music
Hayfield Elementary School sixth-grade students will present "The People's Rights," a musical by John Scheidler and Sam Graber, on Friday, Feb. 27 at 8:45 a.m, where students will learn about government, citizenship and the amendments in the Bill of Rights in a Constitutional Convention cabaret setting.