Unique décor, relaxing music, and friendly service are part and parcel to the dining experience at Present, a Vietnamese restaurant right down Arlington Boulevard in Falls Church.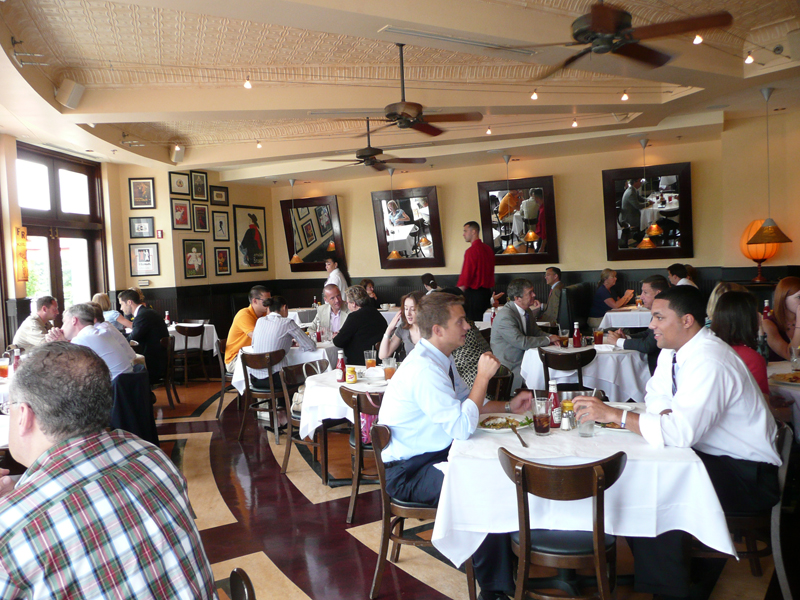 Upon walking into the dining room, we were greeted by a friendly hostess, and taken to our table right away.
Once seated, I noticed the Zen-like fountain behind our table, which complimented the music playing in the background and the soft lighting of the dining room.
Against one of the walls was an intricately designed wooden screen, in which images of waterfalls peek out from behind. There were also several paintings portraying Vietnamese characters and potted flowers throughout the dining area, which added to the calming ambiance.
Aside from the pleasant environment, Present has a wide variety of dishes on the menu. Each will be sure to dazzle patrons' taste buds with every bite. Our waiter recommended that we try some of their delicious appetizers, as they each came with their own unique preparations.
The Silken Shawl Imperial Autumn Rolls ($3.95) were unlike any spring rolls I'd ever seen, filled with marinated minced prawn and pork, then hand wrapped in a rice thread wrapper and deep fried until crispy. This appetizer can be enjoyed with a creamy peanut or fish dipping sauce.
One of my guests chose the more nutritious option of Green Paradise Spring Rolls ($3.95) to start off the meal. Filled with prawn and pork and rolled in a rice wrapper, hints of mint and whole basil make the flavor pop. Peanut and fish sauces also accompany this appetizer.
There is an array of delicious entrees from which to choose a satisfying dish. The Hay Stack in The Field ($10.95), a vegetarian stir-fry made with crispy egg noodles, tofu and assorted vegetables. The stir-fry was generously piled into a single purple cabbage leaf, alongside sliced cucumbers, thinly-shredded carrots and a hand carved rose garnish made out of a radish. The waiter also brought over sauce infused with dried chili peppers, adding a little hot spice to the dish.
Another guest enjoyed Gregarious Lemongrass Chicken ($10.95), sautéed with spicy lemon grass and garlic, sided with white rice and served on a single lettuce leaf. The waiter made sure to inform him that this dish had a spicy kick to it, but not so hot that his mouth would be on fire. Gregarious, indeed.
There are also dishes that a whole family can enjoy. Fish on the Steamboat ($22.95 and up) is the fish of the day steamed whole with onions, scallions, and ginger soy sauce. There is also the Duck in Winter Mountain ($11.95) in which the duck is simmered with ginger and served with the chef's special sauce.
Present restaurant recently opened up in October of last year, replacing a Korean restaurant, Beewon Secret Garden. Over the past couple of months it has made the headlines for its amazing service and for Luong Tran, Present's award-winning chef who was honored with distinctions for four consecutive years in Vietnam. Chef Luong Tran came from Vietnam to cook at Present, and uses his talent to create beautifully-presented Imperial Vietnamese dishes incorporating only the freshest ingredients.
Along with the impeccable service and relatively inexpensive prices, Present's talented chef and his delicious creations make a dining experience here quite a gift.
Present
6678 Arlington Blvd.
Falls Church, Va.
Open Mon-Thurs 11 a.m. – 10 p.m., Friday-Sat 11 a.m. – 11 p.m.
703-531-1881
www.presentcuisine.com