Seventeen-year-old George Mason High School senior Katie Potrykus, lead singer and guitarist of the Falls Church-based, all-girl rock band High Minded, has been a musical talent in the making since the age of three and has been blossoming ever since.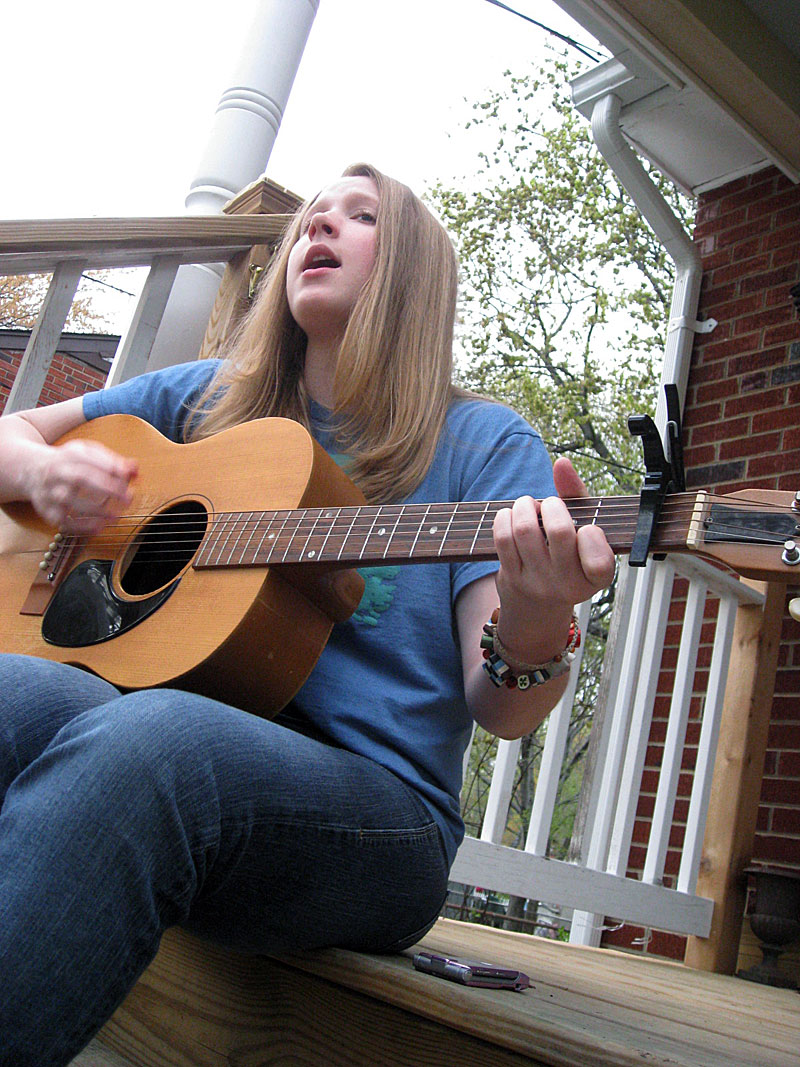 She was in fourth grade when she picked up piano, eighth grade when she wrote her first song using self-taught guitar and by the age of 16, she toured alongside her two older brothers, singing and playing a multitude of instruments from the keyboard to the flute and even the glockenspiel.
"My mom always said I was good, but that's what moms are supposed to say," said a modest Potrykus when asked how she first became aware of her talent.
Potrykus' mom, Jan Potrykus, said Katie loved to sing as a child, but it was a solo vocal performance in seventh grade that blew everyone away.

"Even her dad and I were amazed at what came out of her mouth that night and she's been singing her heart out ever since," said Jan.
Potrykus plans to pursue her musical forte following her high school graduation this summer, having already applied to three colleges – Duquesne University in Pittsburgh, Penn., Montclair State University in Montclair, N.J. and Shenandoah Conservatory in Winchester, Va. She may play coy when it comes to having any knowledge of her musical ability, but the chorus instructor at Mason High School, Lauren Glass, had no qualms about bragging on Potrykus' behalf.
"Katie's an exceptional musician. Not only does she have a beautiful tone to her voice, but she has an incredibly mature ear," said Glass, who added Potrykus recently learned how to arrange music for the class's a cappella group. What Glass noted to be a difficult skill, she said Potrykus picked up with ease.
Potrykus auditioned at Shenandoah Conservatory last weekend, where she sang "Down by the Salley Gardens," a traditional Gaelic song, for admissions judges.
"I first learned to play it on the flute, and then on numerous instruments, so getting to actually sing it this time was a lot of fun," said Potrykus.
Most music schools she's applying to require students to choose either an instrument or vocals as their concentration. Potrykus chose the latter with plans to double major in music therapy and music education.
She said she understands many parents' concerns about their children pursuing a life in the arts. However, she believes she'll have two solid career choices once she graduates college. Her father, Peter Potrykus, agreed.
"I'm thrilled, but I am also confident in her ability to channel her passions into a career. As any parent, I would worry about my child's ability to support themselves if they chose to follow an artistic future, but her plan to study music therapy combines a practical course of study with her love of music," said Peter.
A harpist for seven years, Jan said life's too short for any of their children not to pursue their passion. Potrykus even credited her mom, who's been involved with social work her entire life, for being an inspiration.
"I remember helping her when she worked at Mt. Daniel Elementary with special needs children or we'd visit nursing homes. I love working with people, which may surprise some since I'm kind of quiet, but I'm especially excited to use music to help people," said Potrykus.
But music wasn't always her first choice. Potrykus was convinced she'd grow up to be a marine biologist until she moved to Falls Church at the start of her sophomore year of high school. After meeting future bandmates, Alison Grant and Jackie Pacella, she came to realize playing music was all she wanted to do.
Grant, who plays drums, and Pacella, who plays guitar, were on the prowl for a singer and lead guitarist at the time. Potrykus and the girls started practicing in February 2007 and soon called themselves High Minded.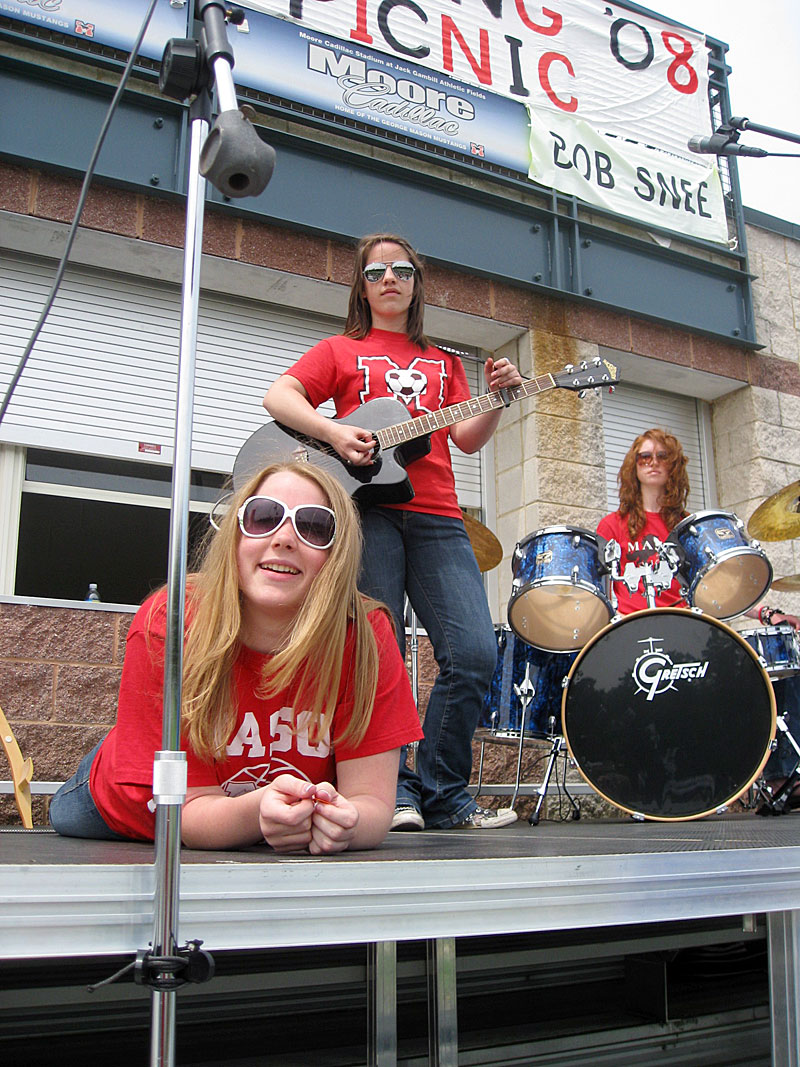 Since then, they've practiced on a regular basis and performed multiple times at Stacy's Coffee Parlor in Falls Church. High Minded's also been featured on its own episode of Mason High School's "Coffee House," a student-produced segment that airs on Falls Church Community Television Channel 12.
"We didn't have a drum set when we first started practicing, so Alison was literally playing on a trashcan, which was funny," said Potrykus.
High Minded wrote its first song together, but Potrykus eventually became the main lyrical provider. Pulling from quotes, others' stories and even bandmate Grant's poems, she'd start with one line and write from there. However, don't expect to hear any love ballads from this songbird.
"It's really hard to write lyrics that aren't corny, but still reflect my age. I can't write about love because I don't know what that is and I can't write about the world because I haven't seen much of it," said Potrykus.
Mason High School math teacher Joel Block said Potrykus' songwriting skills alone prove she's the real thing.
"In my 16 years teaching, I have never been more convinced that Katie is a musician I will hear from again," said Block, who noted Potrykus is High Minded's standout member. Although she said she has no desire to be in the spotlight.
"I actually don't want to be famous. I don't think I could handle performance. You have to be a certain kind of person to be a performance major – it's a lot of work," said Potrykus.
She credited much of her musical influence to her two older brothers, Ben Potrykus, 24, and Sam Potrykus, 21, both of whom she watched play in punk bands growing up.
"It definitely helped that my brothers were so into music and I think it rubbed off on me," said Potrykus. Sam admitted taking his sister's talent for granted back when they toured as kids, but developed a new appreciation for his little sister's skill after first seeing her perform with High Minded.
When Ben was asked where he sees Potrykus in 10 years, he said in an e-mail, "As a touring musician with a music therapy practice on the side, making tons of money and financially supporting her older brother, Ben, who works as her secretary."
To see videos of Potrykus performing with High Minded on "Coffee House," visit www.youtube.com/user/GMCoffeeHouse.