As Residents Seek Voice in Community Discussions, Blogs Are Becoming the Means to an End
For a city of around 10,000 citizens, Falls Church boasts a citizenry intent on engagement. With the most Starbucks per capita for a city of its size, the physical plane has plenty of room for active discussion, but in the modern age, citizens have increasingly turned to new media to participate in creating and digesting the news around town.
Welcome to electronic Falls Church.
The blog, or "web log," has been an integral outgrowth of the Internet age, placing in the hands of the computer saavy or barely literate an outlet for personal expression and community dialogue. Acquiring a blog through one of the main providers – typepad.com, blogger.com, wordpress.org, for example – is easy, quick and within minutes, individuals from all walks of life are online.
Falls Church has seen its share of activity online, with community web sites like George Mason High School's student newspaper, The Lasso. But it has seen the most growth in the world of blogs, aptly called the blogosphere. Perhaps a citizen is miffed by recent fiscal decisions made by the city's political bodies – for example, local government spending-watchdog Fiscal Watch (fcfiscalwatch.blogspot.com), which has been highly critical of affordable housing in the city.
Another citizen might like to let others know about a charity fundraiser or a new restaurant.
One Falls Church resident even launched a blog recently to find his beloved lost dog (helpfindrocky.blogspot.com).
What binds all of these individuals together is their central topic, Falls Church. Many blog sites experience an ephemeral bloom, popping up, engaging the community with a flurry of posts and then sitting online as a static skeleton. These sites can be opinionated, perhaps even personal or pointed, and are usually geared toward a certain audience like family and friends. They can also have a singular purpose like a volunteer medical service trip or, on the political end, sharp criticism of a government policy.
Others, however, have tempered their tones and sustained a dialogue and have become or are becoming sounding boards for the Falls Church community.
The most active blogs have developed an active base of writers and readers, and are characterized by a diverse, broad coverage of topics, providing their audiences with unique content that can attract and maintain a loyal readership.
Bloggers from around Falls Church shared their experiences with the News-Press, including tales of their inspirations and how they feel their blogs have contributed to furthering Falls Church's vibrant community.
Blueweeds
With the frequent updates and a thriving community of posts and ripostes, Blueweeds (blueweeds.typepad.com) prevails as Falls Church's preeminent blog, with an average of 15-18,000 page views a month.
Often times outspoken, and politically progressive in tone, Blueweeds is a product of its primary contributor and founder, Michael Gardner, a former chairman of the Falls Church Democratic Committee. Gardner has managed the site since bringing the rolling commentary on the state of life in Falls Church online in 2006.
"It's definitely grown beyond what I thought it would be," says Gardner, who began the site to communicate with family and friends.
Interest in blogging arose from Howard Dean's wired chairmanship of the Democratic Party, leading a campaign to build a netroots community, "a concept of building a real progressive community with people interested in local events, building relationships," according to Gardner.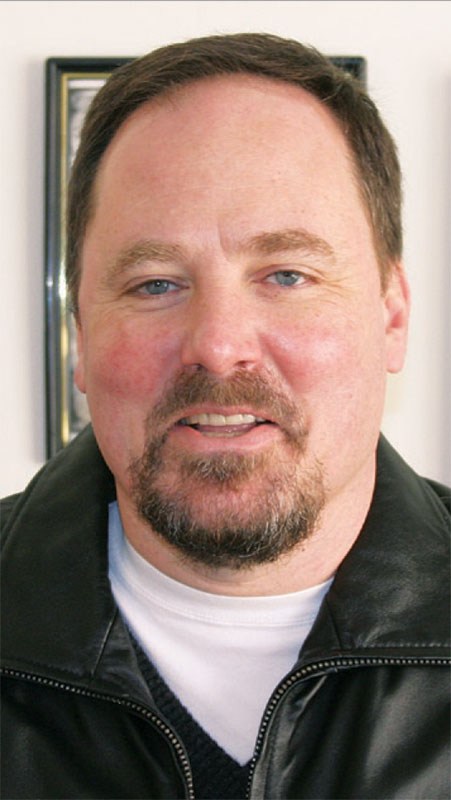 He is unabashed about his civic interest in Falls Church, or as Gardner called it, his "obsession with what goes on within the community."
To that end, Blueweeds has blossomed into an engine of community dialogue, between the visitors who comment on and debate the posts and the the team behind Blueweeds, which now includes city resident Bob Burnett, as of spring 2007, and former Falls Church City councilman David Chavern from July 2008. Each member of the team brands the blog with a perspective unique in scope and slant.
Topics range from the ubiquitous concerns of residential planning and the ongoing schism within the Falls Church Anglican and Episcopalian branches to the mundane and eclectic. Take for example a recent post that covered the LEGO Inaugural Ceremonies, or an older post on "Eleven Things about the Mayor," Robin Gardner, who is Gardner's wife, including her "dead-on" Ethel Merman impression. Whatever the issue around town, the Blueweeds crew has it covered.
Gardner admits his relationship with the city mayor lends Blueweeds an intimate tie into city politics, but one he insists does not taint his own analysis. "Finding the voice of Blueweeds has been answering this question," says Gardner. "We've had to find a balance."
As the main voice of Blueweeds, Gardner has struck that balance by mixing serious, often incisive analysis of governmental affairs with a "strong sense of whimsy" and cynicism.
While Gardner does not "pretend to be a professional reporter," Blueweeds covers a broad swath of Falls Church politics, each post awash with links to sources and supplementary material from city web sites – a singular privilege of online reporting.
"Blogs should be designed to communicate stories as immediately as possible," Gardner says, and engage the community in the news. "Newspapers have more detail on the issues that should dominate the discussion for the community."
Blueweeds generates as much news coverage as it does comments of all shades, from the most praising agreement to the biting criticism. "We get a lot of feedback, which is one of the intentions of writing about local stories." On occasion, Gardner says that some comments are deleted for "very critical or personal" attacks on the writer. "Regular readers understand that Blueweeds exists for them to communicate."
That understanding applies for the relationship within Blueweeds, whose authors act independently in posting to the site without any editorial supervision. "The beauty is if Mike disagrees with me, he'll post a comment," says Burnett. "Everyone has a unique perspective on things. I've had some people come up to me and say, 'How could you post that?' The point of blogs is it gives you an opportunity to post your thoughts."
Burnett, who works in communications for TDI and had been a planning commissioner, views Blueweeds, and his other blogs, as a "glorified billboard" where the community can interact. "I saw Blueweeds as an outlet for things I've seen going on on the national and local levels," he says. "I've been lucky at work to have people who have developmental expertise in planning consternation like we have in Falls Church.
"I think blogging is great. I was the kid who threw the note across the room in elementary school. And since I grew up in Falls Church, every now and then I can throw in something historical about Falls Church."
Even in disagreement, Burnett sees moments for pragmatism on the plane of existence in the city. "People can have different perspectives on politics in the city, but we can come together on where is the best coffee at the farmers market."
Chavern joined the team for similar reasons, he says. "I was happy to volunteer because that's an important thing with blogs: making it a vibrant community."
Chavern focuses on the developmental and educational concerns within the city, posting on issues "where I have a strong view" every couple of weeks. Like Burnett, Chavern aims for a more "independent" tone in his posts.
Despite his contributions Chavern does not consider himself a blogger, per se. "I'm not sure when people say, 'I'm a blogger.' Is it a full or part-time profession for me? It's difficult to say I'm a blogger," he says. "It's akin to saying there are people who write letters to the editor full-time."
The key to Blueweeds' success is Gardner's consistent "daily slough of material that you don't tend to get on other sites," says Chavern.
Chavern added that Blueweeds has had "a positive impact" on the Falls Church community. "Blueweeds gives readers insight that would have been kept at City Hall."
The Blueweeds team looks forward to continuing churning out regular posts from its three-man team, plus the occasional guest author, but new voices are always sought, says Gardner. "Blogs in general are lacking in female voices." He suggests that interested female denizens of Falls Church ought to visit the site and gauge their involvement.
The Falls Church Times
On a frigid December January evening, four Falls Church citizens assembled over some tea and biscuits (and, for some, beer and cheese) with little more on their agenda than to discuss a common interest – Falls Church.
The Falls Church Times (www.fallschurchtimes.com), born in May 2008, brings a different feel to the Falls Church e-community than its neighbors in the blogosphere.
Ostensibly, the site might lead a fresh visitor to surmise the Times has the operation of a newspaper. There are multiple sections for a variety of city-wide interests: "Around Town," "Features," "Schools," "Sports," to name a few. The name itself bespeaks a newspaper.
The Times writers, however, have no pretensions. "We're realistic," says Annette Hennessey, one of the blog's progenitors. "We're not a news source. We didn't want to make it such a formal thing." Instead, the Times covers "things that catch our fancy, to engage people in some discussion," she says.
The Falls Church Times emerged from the sidelines of a soccer game last May, says Hennessey, who started the effort with fellow contributer Stan Fendley, who coaches soccer, and the site's designer Dave Witzel. Since its inception, the blog has gained the services of longtime resident George Bromley and George Southern, who has experience in journalism.
Perhaps describing all citizen blogs, Bromley characterizes the Times writers as "objective citizen journalists, enthusiastic amateurs," yet the steady trickle of coverage from the Times reveals a heavy interest in Falls Church dynamics and a goal of "raising citizen awareness."
All of the writers contribute posts with a different lens, with an explicit aim to be a "non-partisan" site," says Southern, and, Hennessey adds, a "central information source" for Falls Church citizens interested in community activities.
"We're a blog in the sense that we're putting the facts out there," says Bromley, who posts many of the meeting announcements and cancellations for city functions. Otherwise, Hennessey says, posts concern "whatever catches your whim," covering news briefings of local store closings to community announcements for charity group fruit sales.
Yet, posts do engage in city dynamics. "We're a very busy city," Bromley says, with an active citizenry and an equally active city government. "It takes a lot of time just to cover the City Council, the School Board and the Planning Commission," he added.
Hennessey summarizes the Times' future development as engaging more voices in the posting output, especially among the younger generation. "It's one thing to make it easier to get that kind of information," she says. "It's another thing if it's difficult to find that information out."
One of Hennessey's inspirations came online, during a search for a school supply list. Hennessey, who describes herself on the Times blog as a "full-time mom," struggled to locate a supply list until she happened to notice the appropriate link. The link, however, was narrowly embedded within scrolling text along the top of the web site, making it likely other parents shared her frustration with the quixotic updates.
The result was a highly detailed posting on the needs, how-to's and major dates for the upcoming school year, with information for all of the city's schools including St. James Catholic School.
After their "soft launch" in May, the team has made one attempt at a "hard launch," passing out pamphlets announcing the blog at the farmers market. Over the next year, Hennessey expresses an interest on the part of the team "to get other people within the loop" to "broaden the reach" of the Times.
The Falls Church Insider
Falls Church Insider (www.fallschurchinsider.com) is a newcomer to the Falls Church blogosphere like its writer Brian Williams is a newfound resident of the City of Falls Church.
In fact, Williams, who is no stranger to blogs or the area, began the blog "from a personal standpoint" to record his involvement within the community.
Williams has lived around the perimeter of Falls Church for about nine years, as the founder and CEO of Viget, a media enterprise company. But now, both are residents of the city as of last year.
Williams manages several blogs, one for the workplace where his team helps clients with resources like the blog to improve their business, and another for a private readership among his family and friends. The Insider is the public face of Williams' journey in Falls Church and "a good way to get something out of that experience."
A walk last summer with his wife around town spurred on the idea for the Insider, says Williams, as a means of "inspiring other people to do the same thing."
Since starting up the Insider, Williams has covered his involvement with the Falls Church City TV board, to which the School Board appointed him last year. One of Williams' goals has been to bring the community TV station online with a live webcast. As Williams writes in a recent post, "In my view, the more connected and communicative our community can be, the better."
Williams hopes to make the Insider a sounding board for independent discussion, and to avoid the polarizing "that tends to be so prominent" in blogs. "There are two issues I'd love to engage the community in discussion," he says. "First, the school systems and how we're going to keep the schools really effective, and then, economic development and the progress of the City Center enterprise, in terms of bringing business and growth to the city."
At the moment, Williams employs the help of his brother and business partner Andy Rankin to add fresh material to the Insider, although Williams says he is interested in inviting others to the table.
Even with "no overarching strategy," Williams looks to maintain a consistent "single tone" in the blog, which might become "hard with too many people and too many points of view" posting. That said, Williams encourages commentary from visitors "to make Falls Church a very wired city where everyone participates online in an active discussion."