Normal 0 false false false EN-US X-NONE X-NONE MicrosoftInternetExplorer4
Falls Church's resident television celebrity, newscaster Gary Reals accepted a Dec. 23 buyout from WUSA Channel 9 where he's worked as an on-camera reporter since 1980.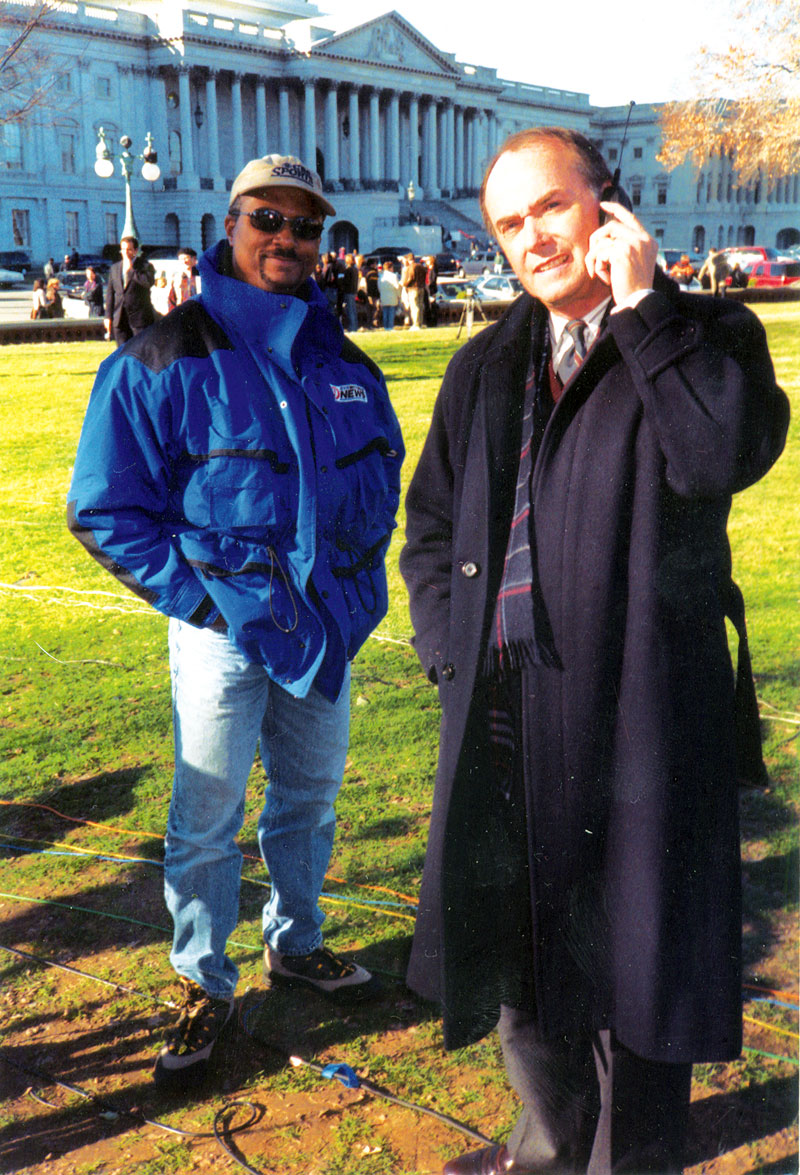 The station decided to change their news approach at the end of 2008 and transform their entire staff of reporters into "backpack journalists" who shoot, edit and report their own stories.
Station employees were given the option to receive training to acquire the necessary multimedia skills. Those who declined were offered a severance package of an undisclosed amount under the station's union contract with the American Federation of Television and Radio Artists. The alternative buyout was put on the table a few weeks following for reporters 50 years and older with more than 15 years of reporting experience. Reals, 60, jumped on the opportunity, telling the News-Press it was time to move on.
"The way I look at it, I've had a grand career in a very noble profession," Reals said. "But in the last few years, it's been a little less grand and much less noble and I'm sad about that."
Reals' decision to leave the station, however, wasn't an abrupt one. He said he'd been quietly exploring other job opportunities since last fall due to his personal dissatisfaction with the direction in which the news industry is heading. Reals called it coincidental that negotiations started percolating to the surface around Thanksgiving.
"It kind of hastened my decision to leave the news industry, which was the difficult choice I made in October, so the decision to take the buyout was quite easy," Reals said.
Channel 9's strategic decision to depart from how they'd been broadcasting has been building for a couple of years when they began to invest in a web operation. It was then when Reals first voiced concern to station executives that the amount of resources being put into the web department had the potential to hurt the news department and its product.
Now, two years later, online segments like wusa9.com's "Living Green" have become major entities in the station's nightly TV news, but Reals said actual news resources have been significantly reduced. He noted that three-person collaborations for one broadcast story was how news used to operate for a reason, despite the high production price.
"If you're involved in the shooting and then subsequently the editing, you can't be thinking too much about the journalistic aspect of gathering additional information. There's going to be less substance," said Reals.
Reals began his career in broadcasting with WMAL-AM radio as a part-time copyboy in 1970 while attending George Washington University (GWU). Then the station and television channel was a joint operation owned by Washington's Evening Star. He stuck with radio once the decision was made to divide the stations in preparation for selling the properties.
Reals worked as a behind-the-scenes reporter for the next five years until hitting the streets to report in front of cameras in January 1975.
"I've been on the streets pretty much ever since, and now I'm really on the streets," Reals joked.
Among his biggest stories, Reals covered the federal corruption investigation of former Maryland Gov. Marvin Mandel in 1977. He learned through his sources that one of the Mandel trial jurors had been bribed to hang the jury and broke the story immediately. U.S. Marshals sequestered the jury before Reals' story sparked a Baltimore media frenzy.
A subsequent late-night news tease seen by the jurors in their hotel room led to the case's dismissal.
"My report that broke prior didn't cause a mistrial but the 10-second news tease following did," Reals said with a laugh.
It was around that time that Reals made a career decision to no longer knock on doors for stories, but to pursue any news opportunity that presented itself. Little did he know that another type of opportunity was right around the corner – a spot at Channel 9 left open by news reporter Mike Buchanan who'd taken an executive producer position.
Reals made a call to set up an audition upon reading about Buchanan's promotion in the Washington Post. An on-camera, in-studio audition was followed by a field report. Reals, who'd never before been in front of a camera, recalled being less than polished for his moment in the spotlight.
"I don't have a lot of hair, so when the wind blows, it comes down in one string in front of my face. My eyes were darting, I was mumbling, and it was dreadful," Reals said.
It's been more than two decades since that tongue-tied Reals was hired by Channel 9, interrupted by a seven-year tenure spent at WJLA-TV Channel 7, before a homecoming in 1991. He said there was no real nostalgia the day he walked out of WUSA9's newsroom doors, but recalled the irony.
"What had happened coincidental to all of this, or perhaps not so much, was that Channel 9's newsroom had been gutted to be transformed into an 'information' center during the first week in December," Reals said. "Information – it's an old word but it's a new buzzword in broadcast news circles."
Reals said the trend is troubling and that cable news channels are quickly being permeated by personality-driven broadcasts instead of high-quality, objective reporting. He noted, however, things are looking up for small-town newspapers.
"The great newspapers are hemorrhaging, broadcast news and cutting back, and the only people who are prospering in a small degree, but doing a good job, are local and regional newspapers that still cover things like the Falls Church City Council," Reals said.
The larger newspapers are picking up on this, he said, and are now cutting Washington bureaus and putting a greater emphasis on more local coverage that will attract readers.
Reals isn't all sour grapes, however, and said he's looking forward to seeing what else is out there, perhaps positions alongside the government.
"It'd had never really had much of an appeal to me, but in the past year it's quite different now with our new leadership," Reals said.
Wherever he lands, Reals will retain his fans and co-workers who respect his decision to retire from news. Letters have already poured in.
"I've gotten a lot of nice sentiments from both viewers and colleagues and everybody who's taken the time to write agreed it's not about me; that's not humility," Reals said. "This is clearly much larger than me. It's about a whole vital institution."