"Black," at G Fine Art (1515 Fourteenth St NW, Washington D.C.) The exhibit runs through Nov. 15, and is open from Tuesday – Saturday, 11 a.m. – 6 p.m. Call 202-462-1601, or visit www.gfineartdc.com.
'Tis the week for black. O.K., so every week in the art world is a week for black… work with me here. One of the most intelligent shows around town is G Fine Art's current medley of artists riffing on the theme of black. Sorry, Marion, but what makes this show cool isn't a "black thing." What makes this show sing is the way it pits artists from New York and Los Angeles up against several artists from D.C.
I've long maintained that just because it carries a New York zip code doesn't make it good art and design. However, there is a certain duality to this notion. Art is an exercise in individual expression, surrounded by a community of influences. Everything is tied to its context. In our modern mass communication society, physical location seems less and less important… yet New York is still looked upon as the premier art center in the U.S.
No matter how loosely organized, virtually all art shows carry some thematic constraints. "Black" levels the playing field in a highly entertaining and rarely seen way. In a room full of heavy hitters generally limited to one piece per artist, the wheat separates from the chaff like oil and water in this show. It's the closest thing to an "art off" you're likely to ever see.
Oh, how we'd all like to be in a show with the likes of Frank Stella, Franz Kline, Hiroshi Sugimoto, Richard Serra, Ad Reinhardt and Ed Ruscha. Short of surreptitiously hanging our work on some museum wall, for most of us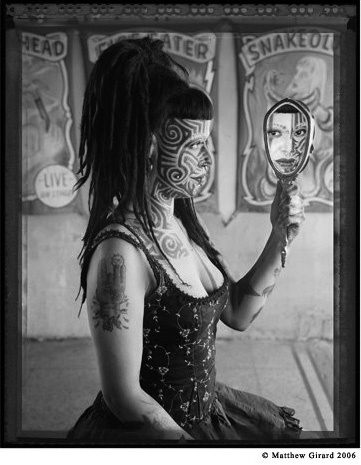 showing with the likes of these folks will remain nothing but a dream. However, rooting for the home team won't leave you feeling like an old Senator's fan at a Yankee's game. Satisfyingly, the D.C. crowd holds up quite well against this withering onslaught.
The forgettable L.A. entry from Ruscha is entitled "I have not forgotten." Well, one of us will remember.
On the other end of the quality spectrum is Richard Serra's etching entitled "Extension #3." It's an easy piece to walk past dismissing it as another minimalist riff on the completely mundane. At first blush, this print seems at odds with Serra's trademark mammoth curving steel plate sculptures. Close and careful examination reveals a surface texture akin to rough steel painted black. The ink runs off the paper at top and bottom, but stops tantalizingly short of the edge on the left and right.
The right and left edges are arced as if we are looking at a highly magnified cross section of one of his trademark steel plates, and thus fits quite comfortably within his oeuvre. Simple as the notion is, those two arcs are quite entertaining. The one on the left is insanely subtle. You desperately want to grab a yard stick and throw it up there to quiet your brain in its looping struggle to decide if the line is straight or curved. For such a simple piece, this one is a masterful delight.
Not to go unanswered, native Washingtonian and fellow sculptor Martin Puryear provides a small series of rectilinear prints. Largely black, they also feature violet, purple, and blue blocks of color. Some appear to be pure black, and only under extreme scrutiny reveal their subtle play of color. While lacking the textural qualities of Serra's work, the color play is enough to give Serra a good run for his money.
Second generation Washington Color School artist Sam Gilliam gives us a high gloss look at two stacked rectangles, with the smaller top one off-set to the left. The two forms create a sort of tension in their intertwined relationship, while the extreme gloss is a contradictory answer to Serra's pithy surface. This trio of artists work well together, and shows just how much you can accomplish with so little.
Another D.C. artist, Linn Meyers, provides us with a four panel series of inked images on clear frosted mylar sheets. The square panels are obsessively marked with flowing lines that revel in motion. At times seeming like cascading hair, at other times like wind whipping through a twister at far too close of a range. The lines stop at points of Meyers' physical limitations in mark-making, forming a dot, shadowed with a tiny blank speck and start up again on their journey across the image. Their movement is a stand out in this show that could almost have been as easily entitled "stasis" as it was "black."
Joyce Pensato also embraces movement in her energetic charcoal drawing entitled "Dark Side of Mickey." Like many, we thought Mickey had sold out to corporate influences long ago. Seems putting on the happy face has taken its toll and Mickey's come a bit unhinged here. It's a refreshingly humorous spin on what has become little more than a nauseatingly inane corporate cash cow.
Hanging next to the mouse is Bruce Nauman's print titled "Verso Recto (State1)." It's a series of finger tips laid out in two rows against a black field. From a distance the fingers read as negative space revealing a two story arched colonnade ala Roman aqueducts. It's an entertaining flip that begs for connections between human dexterity and sacrifice in the construction of the built environment around us.