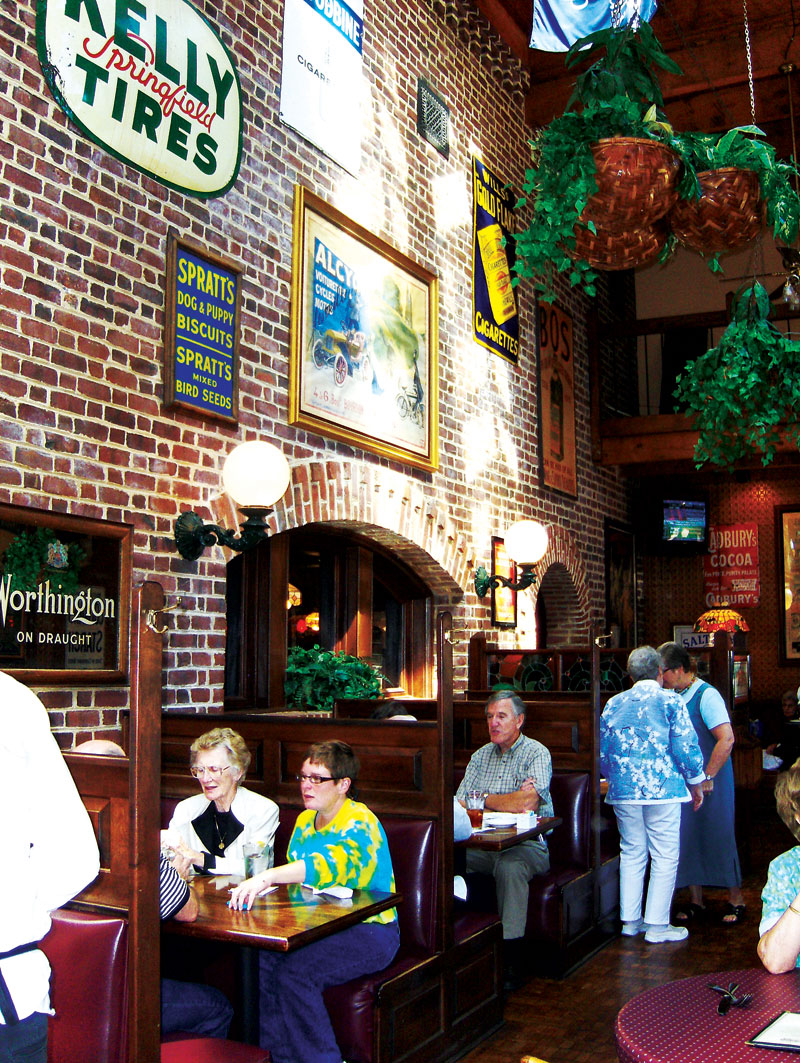 As Tropical Storm Hanna's showers and gloom finally dissipated, I stumbled upon a a restaurant in Fairfax that was comforting in any weather – P.J. Skidoos.
Skidoos is a one-of-a-kind, privately-owned restaurant that leaves a lasting impression. Skidoos' varying regional antiques and nostalgic framed photos feel strikingly similar to themes other restaurant chains have failed to capture.
The nook that I was seated in had a wistful feel of wartime America with its many WWII army recruiting posters and framed 1940s art. Not to mention that as soon as you walk on the rustic hardwood floors and sit down in the soft worn black leather booths with their large, but somehow fitting silver studs, one feels the age and quality of the environment.
The dining area was well separated from the large bar, which appeared rather crowded. Although you could only have so much of a problem with the echoing cheers and chatter from the crowds that floated to your table, since it was just more of the wholesome all-American fun that Skidoos strives to encourage within its patrons.
The biggest way that Skidoos strives to meet this goal is through there all-American menu.
Served at the beginning of the meal, the artichoke and crab soup that came with my entrée mixed the complimenting flavors of artichoke heart and crab meat in a hearty creaminess. This appetizer left me longing for one of those long winter days to curl up on the couch under a thick blanket and your favorite soup.
The specialty, Prime Rib ($14.95), fell nothing short of all-American. The cut of meat had a fresh taste and texture that many meat-lovers can recognize. The au jus left the meat with a juicy sweet flavor after being unsparingly dipped. This far into the meal, one might look at the side of baked potato and assume it was merely for decoration.
However, seeing the birthday party next to me with a candle-topped Chocolate Mousse dessert ($3.95), I couldn't resist. Served with a side of wafer, it was thick and rich, yet not overpoweringly sweet. I felt that it may have done better as the filling to chocolate cream pie.
The menu also offered a variety of salads, sandwiches, burgers, steaks and seafood. Nibbling off of my guest's plate I discovered more of Skidoos' offerings.
The Chicken Souvlaki ($7.95) was nothing but fresh and crisp: vegetables, chicken with a hint of rotisserie flavor, a soft, powdery pita to wrap it all in and it came with a side of peppery potato wedges as well.
The prices for food were reasonable, even for Skidoo's variety of steaks, none of which reach higher than $20. Bottled wines range from $18 – 65.
As well as offering an all you "care" to eat Sunday brunch buffet ($14.95) from 10 a.m. – 2 p.m., Skidoos offers banquet catering for private parties in a lower-level room that fits up to 150 people, as well as offering outdoor seating and a large classy bar.
The service was also excellent, with our waitress more than willing to answer my relentless questions about the restaurant's theme. The only thing I could really dig up was a story of how a previous customer has once offered to pay $5,000 for a company's sign that was once owned by his family. However, it still hangs in the restaurant adding to the authenticity of the atmosphere of old-time America.
P.J. Skidoos
9908 Fairfax Blvd.
Fairfax, VA 22030
703-591-4515
Hours: Daily 11 a.m.- 2 a.m.