Choosing to review Sweetwater Tavern in Falls Church caused me no inner struggle, having frequented the tavern many times.
From the exciting dishes, the exceptional service and the lovely décor that makes one feel right at home, Sweetwater has every aspect of dining out and dining well.
Normally, the tavern is crowded, and the legendary wait time is standard. As any patron will tell you, calling ahead before arrival is the best insurance against waiting upwards of 45 minutes. My guest and I were lucky this evening and promptly seated upon arrival.
One is hard-pressed not to lean back, relax and take in the atmosphere. While sampling the delicious bread basket that comes before the meal, we studied the warm, Western-themed details of the restaurant.
Cozy, plush red booths, muted lighting, dark wooden tables and an elaborate, prairie-inspired mural painted along one wall give Sweetwater an image of Western charm and hospitality. What's more, there's a constant buzz of activity and conversation from families, couples and groups of friends around the restaurant.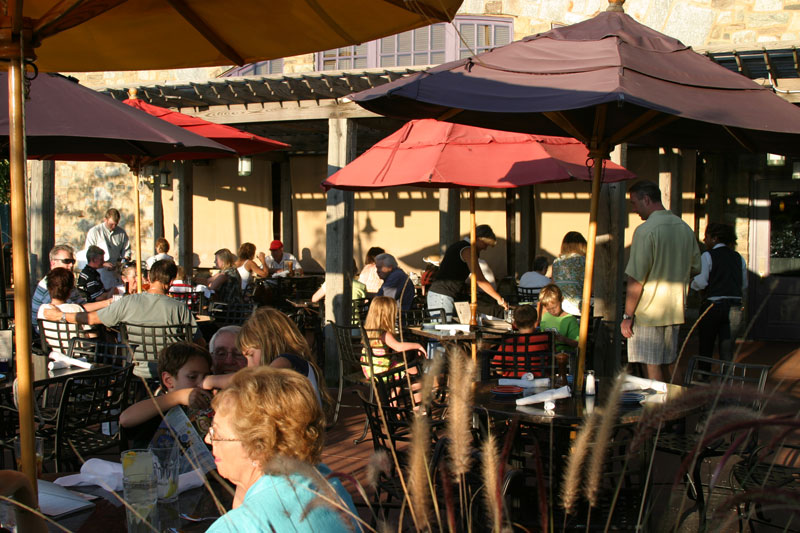 This particular adventure to the tavern included an appetizer, which for us was an amazing dish of lavishly glazed and perfectly seasoned chicken wings. When I say perfect, I mean perfect: the wings were large and meaty, beginning with a sweet taste that segued into a tart, slightly hot sensation. Ten wings, served with a rich, multi-flavored ranch sauce, ketchup and tiny, golden French fries, split between my friend and I were more than enough to make a dent in our hunger as we relaxed in the dimmed lights, the sounds of tinkling flatware and dinnertime chatter.
Opting not to follow the appetizer with a salad, I chose the jambalaya for the main course. Disappointingly, the jambalaya was not as spicy as I had expected. While the dish was distinctly well-crafted – tender chicken strips, Andouille sausage and juicy shrimp mixed together in a thick cream sauce over penne pasta, sweet tomatoes and scallions – it was surprisingly bland, with none of that spicy zing and exciting variety of flavors normally present in a jambalaya dish. I was a little perturbed by the creole sauce, which reminded me of a mild Alfredo.
For dessert, the waitress recommended the flourless chocolate waffle, and having heard rave reviews about this mysterious confection, I agreed to give it a try.
The waffle is doughy and light, with hot, temptingly rich chocolate ganache at its center and served with buttery smooth vanilla ice cream. While the ice cream was exceptional with a bold vanilla flavor and velvety texture, the waffle was at best above average: the outer layers were not sweet and had no flavor, but the melted ganache in the inside was to die for. Heavy, extremely sweet, and warm, this filling was the "cherry" to complete the meal.
Additionally, the tavern also boasts a highly attentive, upbeat staff that topped off beverages throughout the meal and gave prompt answers to questions about food.
While I have been partial to other dishes at previous visits to Sweetwater, this time was no less superb as usual, due to the inviting atmosphere, superior service and the hearty meal at a suitable price.
Sweetwater Tavern
3066 Gatehouse Plaza
Falls Church, Va. 22042
703-645-8100
Sunday -Thursday: 11 a.m. – 11 p.m.
Friday – Saturday: 11 a.m. – midnight