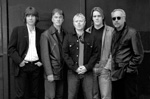 Ladies and gentlemen! Children of all ages … Let's get ready to rummmbbbllleee!
Wait, wait, wait … that's not going to fit here. Yes, the combative title of songwriter Matthew Ryan's latest album, Matthew Ryan Vs The Silver State, fits the billing of a Vegas prize fight, right down to Nevada's nickname. But within the words on this album, seldom to you find the glitz, the glamour, the excess that typifies title fights … even metaphorical ones.
No, with tracks like "American Dirt," "Could Have Been Worse" and "Drunk is Disappointed," Ryan has set the scene for a scrap that may be better billed as a back alley brawl, with Ryan raising his dukes to defend what he believes in and protect those he loves.
"I liked the physicality of it," Ryan says of the title. "I've got nothing against the State of Nevada. I wanted to use it as a symbol and I hope it works on both levels, as a primal name and a story." Those stories found on the album relate some of the struggles Ryan and those close to him have confronted in their personal lives to a larger level, particularly regarding the country's future. The sentiment that change is needed is more covert than overt, more Dylan than De La Rocha if you will, but the gritty portraits Ryan paints in each song add up to address the national picture.
"I think it's pretty obvious that there are a lot of things coming to a head, and we're gambling if we don't confront them. So it has to get physical at some point."
Ryan understands he can't challenge every problem plaguing the present, but he knows he wants to contribute to the solution. He similarly knows that to do that, he's going to have to wade right into the fray and take a few punches.
Recently, Ryan urged the reservation of snap judgments, something of a cultural specialty these days. He posted on his MySpace page that people should refrain from entirely judging a person — in this case, Barack Obama's embattled pastor, Rev. Jeremiah Wright — from a few short sentences. The reprisal was rapid and, as anticipated, acidic.
"The people that agree with you don't come on and say 'Yeah, thanks for saying that man,'" Ryan jokingly laments. "You just get all the vitriol about how you've got it all wrong."
Similar sentiments may color perceptions of Ryan's lyrics as pessimistic — for example: "The bigger the dream / The bigger the trap / The bigger the black in disappointment / I crossed my fingers 'til they were broke." However, such a view would miss Ryan's intent. By critiquing the current flaws, including those in his own life, he hopes to improve things one small struggle at a time.
"I think anyone that's ever experienced anything that challenged them knows that you just can't tackle everything at once," he says. "I think you've got to look at how we want to be remembered as a generation and I think that will change a lot of it."
• For more on Matthew Ryan, visit www.myspace.com/matthewryan. Ryan will visit IOTA Club and Cafe later this spring on May 6.