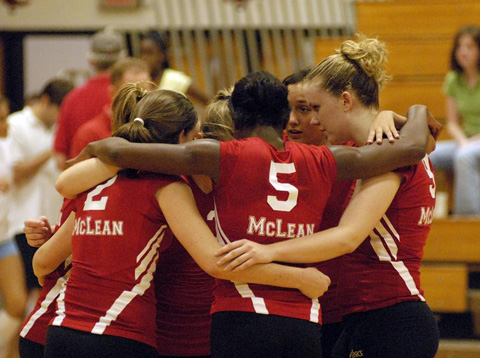 Stuart Shows Well, While Statesmen Slip
The McLean High School varsity boys basketball team came out with tons of energy for the championship game of the McLean Holiday Tournament. They hustled, contested shots, scrapped for every loose ball and knocked down their open looks.
And that was just during pregame warm-ups.
The Highlanders kept up their intensity after the opening tip as well, and cruised past Centreville High School to take the tournament crown for the second consecutive year, winning 70-52.
Eleven different players scored for McLean, with senior Tarek Ammoury leading the way with 23. Fellow senior Peter Kanellias chipped in 10 points of his own.
The Highlanders opened up strong and never looked back, running out to a 21-8 first quarter lead. They took advantage of open looks, knocking down nearly every opportunity as Ammoury, junior Peter Brosnan and senior Alex Russomanno all made jump shots.
Defensively, McLean's pressure got Centreville out of rhythm, causing the Wildcats to miss shots and turn the ball over. The Highlanders kept up the heat in the second quarter as well, and carried a 39-21 lead into the halftime break.
Centreville fought back in the second half, finally appearing to figure out the Highlanders' defense and connecting on a number of scoring opportunities. McLean never allowed Centreville back in the game, however, as key buckets by Ammoury and Kanellias maintained a comfortable margin over the Wildcats.
Following the game, Ammoury was named tournament MVP for his performance throughout the three-game tournament.
In the tournament's fifth-place game, the J.E.B. Stuart High School Raiders put together an impressive performance against Fairfax High School, pulling out a 73-60 victory.
"We did pretty well," Stuart Head Coach Antonio Harris said. "We cut down on our turnovers. We played hard. [Fairfax] was a big team, tough inside."
Without two of their post players — missing the game because of disciplinary issues — the Raiders adjusted well to having players in new positions and jumped out to an early lead, going up 15-6 at the end of the first quarter. Sophomore Antonio Harris and junior Dominique Kosh hit a series of shots to lead Stuart offensively.
Emerging from halftime facing a 31-22 deficit, Fairfax increased its defensive pressure, going to a full-court press. Back-to-back three-pointers by senior Sean O'Brien and junior Chris Regensburg pulled the Rebels within five at 45-40.
"They didn't handle [the press] very well for the first three possessions," Coach Harris said. "Again, people were in different positions because of the discipline issues. We had to call a couple timeouts and draw some things up."
His team responded, and Harris scored four of the Raiders' next six points to give Stuart a 51-40 lead. Fairfax never got within seven points of the Raiders the rest of the way. Harris finished with a team-high 23 points. Kosh added 17, and senior Mahamed Ibrahim poured in 15.
Not having much success in years past, the victories in this year's holiday tournament are an important stepping stone for a program trying to turn itself around.
"I think that the benefit of this [tournament] experience is that we're winning," Coach Harris said. "We won two games out of the three. And that was one of our goals … we wanted to come in and get a couple of quality wins against teams we don't usually see and we did that and we feel pretty good about that."
The Raiders appear to be on the path to success. Both Harris and Kosh look to be dynamic scorers and for the most part the team displayed good discipline on both ends of the floor.
"Last year wasn't a very good team, and you've got to teach guys how to win first before you start worrying about championships," Coach Harris said.
After dropping their opening-round contest to Yorktown High School, the Marshall High School Statesmen engaged in a hard-fought battle with Fairfax in their second game. Despite impressive performances by sophomore guard Stanley Watts, senior guard Nate Whittington and senior forward Daniel Blakely, the Statesmen were unable to hold their first half lead and fell, 67-64.
The Rebels led 66-61 with under a minute remaining, but Whittington's three-pointer brought the Statesmen within two points with 11.8 seconds left. Fairfax hit one of two free throws to make the score 67-64. With 8.3 seconds remaining, the Statesmen got two shots off behind the three point line but neither found the bottom of the net, and Fairfax got the victory.
In the seventh-place game, Marshall once again suffered a heart-breaking defeat, as Dominion High School's last-second heave sunk the Statesmen.