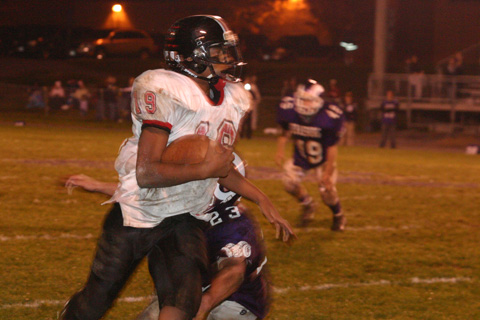 Joel Chandler's 17 points and eight rebounds paced the George Mason High School boys varsity basketball team over Falls Church High School, 59-37, in the opening round of the Pohanka Chantilly Classic holiday tournament last Thursday, Dec. 28.
A sharp and relentless defensive performance spurred the Mustangs to a 15-5 lead after the first quarter, with pressure on the Jaguars' ball handlers resulting in six Falls Church turnovers in the first quarter. Moving the ball well all night long, Mason scored in transition, as well as in their half court sets. Routinely senior guard Mike Schwengel (nine points) would penetrate the lane and find an open teammate. Mason's Anthony Andrianarison found himself the beneficiary of Schwengel's court vision all night long, recording a season-high 14 points, nearly all from opportunistically lurking in the low blocks for a last- second dish from his teammates.
"I think we were able to do some things against Falls Church because we actually believed we could," Mason Head Coach Chris Capannola said. "It really is a confidence thing. We got some easy baskets early and got some stops early and things just snowballed from there."
The Jaguars never seemed in sync all night long, falling behind by 14 at the half and drawing no closer in the second half. Jeremy Jones led Falls Church with 13 points, while junior Evan Hansen bulled his way to 10 points, all in the low post.
The rest of the tournament, which concluded Saturday, Dec. 29, was not kind to either team. The Jaguars dropped their next game, on Dec. 28 to Riverbend and then fell in the Seventh Place Game to Hanover, 66-40, on Saturday. Winston Veney had a team-high 12 for the Jaguars against Hanover, while J.J. Dowdy added 10.
Mason, meanwhile was manhandled by Chantilly, 73-27 on Friday. Chandler led the Mustangs with 13 points, the only Mason player to finish in double digits.
"Wow. That pretty much sums it up," Capannola said in the aftermath of the loss. "Chantilly is the most complete team I have ever coached against. As undermanned as we are numbers-wise [Mason is dealing with a slew of injuries at the moment], we were that much more overmatched talent-wise against them. They are a tremendous team."
While the loss to Chantilly was more lopsided, a 63-37 loss to Thomas Jefferson High School on Saturday in the tournament's Fifth Place Game was more discouraging to Capannola.
"We did not compete at all against Jefferson and that was very disturbing," he said. "There was no passion out there and we seemed as if we had no desire to be on the court. No matter who we play, if that is the best effort we can give, we will not win another game."
Mason ought to receive a boost in talent, if not motivation, when the Mustangs resume their schedule on the road January 7 against Potomac Falls. Center Jordan Cheney and guard Jake Johnson are among those set to return from injury at that time. Mason (3-7) begins its Bull Run District schedule on January 9, at home against Manassas Park High School.
The Jaguars (0-10) will seek their first win of the season on Friday, Jan. 4 when the team takes on rival J.E.B. Stuart at home at 7:45 p.m.