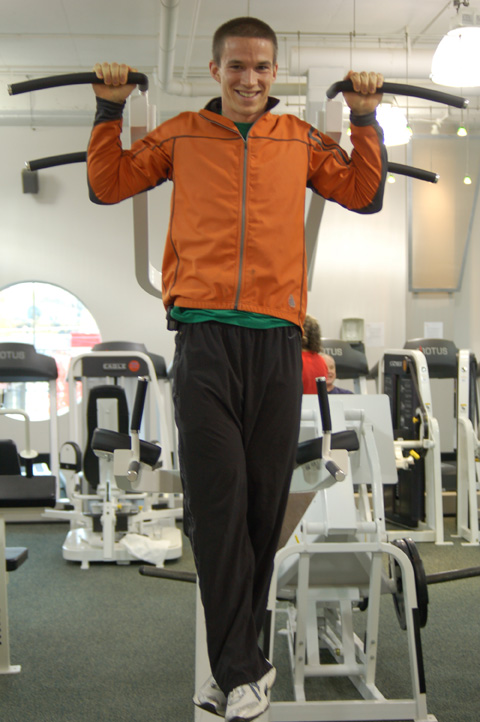 Fitness Trainer Slides Face First For Olympic Shot
Tom Abbey grew up in Buffalo, New York, so he's no stranger to sledding head-first down snow banks. But, technically, he's never competed in the event he hopes will qualify him for the 2010 Olympics.
A Division I 400 meter hurdler in college, Falls Church's Abbey was discovered as a potential Olympian while studying for his personal fitness trainer certificate earlier this year by a former Olympic bobsledder.
Because of his athleticism and the fact he weighs under 180 pounds, he was considered an ideal candidate to compete for a slot on the U.S. skeleton racing team for the 2010 Winter Olympics in Vancouver.
Abbey took up the offer with enthusiasm, not the least bit phased by the fact he's never done a skeleton race, even as he prepares to leave for the Lake Placid U.S. Olympic Training Facility in Upstate New York next week.
"All I know is that you're flat on a sled going head-first at 70 miles an hour with your arms stiff to your side and your face about an inch from the ice," he grinned while talking with the News-Press at Falls Church's Vantage Fitness Tuesday.
Abbey is a personal trainer at Vantage Fitness, and Garrett Rambler, Vantage's owner, is helping him raise the $1,200 he needs to make the trip to Lake Placid.
Abbey qualified as one of only 19 across the entire U.S. for an invitation to the tryout by performing general athletic drills, including sprints, jumping and powerlifting.
Due to arrive at Lake Placid on Dec. 1, he will be introduced to the actual skeleton race there, working two hours a day for a week. His hope is that he'll qualify for the official U.S. Olympic Development program, and then for the U.S. Olympic team.
Abbey competed in track and field at the University of Buffalo before coming to Northern Virginia in 2004. He's worked as a track and field coach, including signing on as a sprint coach at Centreville High School just last week. He's worked as a personal trainer at Vantage Fitness since May.
Next Tuesday, Nov. 27, at Argia's Restaurant, 124 N. Washington St., a fundraiser to help Abbey pay for his Lake Placid trip will be held from 5:30 p.m. to 8:30 p.m. Checks can be made out to Tom Abbey.
For the event, Argia's bartender, Falls Church native Kavon Atabaki, also a trainer at Vantage, has devised a special drink, a "Skeleton Slider." Rumors are that it will include some blue Curacao, but other ingredients remain a closely-held secret.