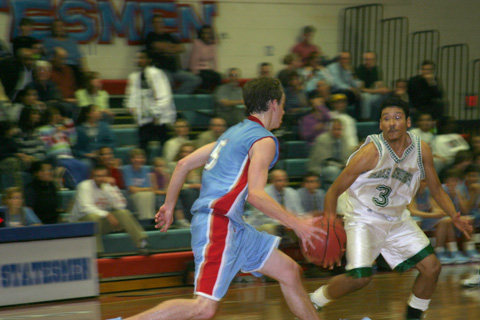 The post-season run of the Marshall High School Statesmen came to an end last Friday, as the team fell in the Division 5 semifinal to Stone Bridge, 49-29.
The Statesmen actually outscored the No. 1 Bulldogs in the second half, but four first-half touchdowns by Stone Bridge proved too deep a hole.
Marshall mounted its valiant, but ultimately fruitless come back in the third quarter when running back Doug Howell put the Statesmen on the board with a five yard run. Harold Sweet ran in from eight yards out for another score, before recovering a fumble on defense and returning it 71 yards for the touchdown. Suddenly the Statesmen trailed by only two touchdowns, 35-21, the closest they had been since the first quarter.
Stone Bridge responded with a 38-yard touchdown pass from Patrick Thompson to Ryan Moody. The Bulldogs put the Statesmen down for good when John Bladel intercepted a Marshall pass and scampered 45 yards to the end zone. A three-yard touchdown pass from Sweet to Craig Murphy and a two-point conversion run by Howell accounted for the final points of the game.
After Stone Bridge scored the first two touchdowns of the game — a one-yard run by Jeron Gouveia and a two-yard run by Thompson — the Statesmen fell victim to a series of big plays.
Stone Bridge running back Matt Irwin broke free for a 71-yard touchdown run for the game's third touchdown, then Gouveia took a pass from Thompson 99 yards for the score to make it 28-0 at the half. Moody then opened up the third quarter by returning the kickoff 70 yards for another six points.
Marshall ought to take some comfort in the defeat. The Statesmen were just the third team to score more than 14 points against the Bulldogs all season long. Stone Bridge hadn't allowed more than two touchdowns since a 41-14 loss to Robinson Secondary School on September 7.
The loss ends a remarkable season for the Statesmen, one in which a victory over rival Madison High School in the final game of the regular season sent Marshall on to the playoffs. It was the first win for Marshall over Madison since 1999. The Statesmen advanced to the semifinals after defeating Mt. Vernon 35-14 in the Division 5 Quarterfinals.